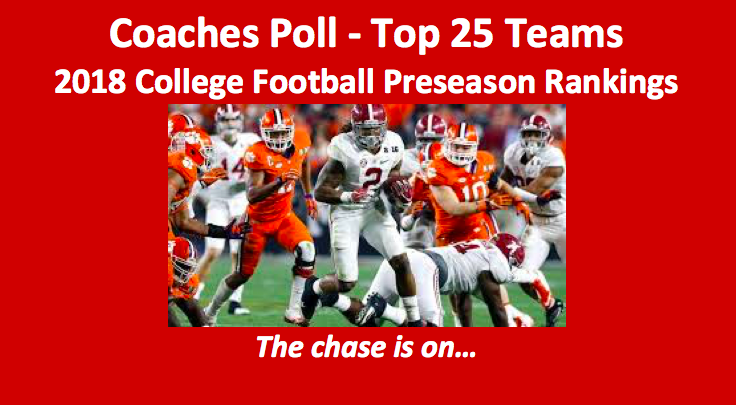 Our 2018 College Football Preseason Rankings are taken from the Top-25 Coaches Poll. There are some potentially good teams missing from this list such as Memphis, North Carolina State, Northwestern, and South Florida. There are a few listed that you may question. Of course, some of the teams that start out on this top 25 list will not be on it when bowl time comes around. In addition, some will move up, while others will move down.
Movement in Top Spots
Of course, the big deal is when the number one team moves down a notch, or perhaps even two. Might that happen? Will Alabama still be number one when all is said and done? There's a good chance that they will be. But only time will tell. There are a few teams that have a shot at knocking them down from their 2018 college football preseason ranking perch.
The Tide's schedule includes a tough SEC East Missouri team and from the SEC West, Auburn, Mississippi State, and Texas A&M. Any of these team's are capable of taking town Alabama. Also, the Crimson Tide open their season in Orlando against the ACC's Louisville Cardinals. The Cardinals are not a major threat, but odd things can happen in openers. Especially those where there is no clear home advantage.
2018 College Football Preseason Rankings- Other Top Teams?
If you're a sports bettor, then you want to consider these four teams as possible number one contenders, Clemson, Ohio State, Georgia, Oklahoma, and Washington. All are capable of getting to the top. We also like, as dark horses, Penn State, Wisconsin, Auburn, and Notre Dame. But only time will tell.
The 2018 College Football Preseason Rankings
Use the links below in our 2018 College Football Preseason Rankings list to navigate to each team's page. Also, every one of the team below, as well as all 105 other FBS clubs, are previewed and analyzed in our college football conference pages. You can get to those teams and their previews through our Conference Hub. To return to our College Football Preview Main Page select this link.