NCAA Previews
#24 LSU Tigers Preview
Do the Tigers Have Enough in Their Tank to Stay in the Top 25?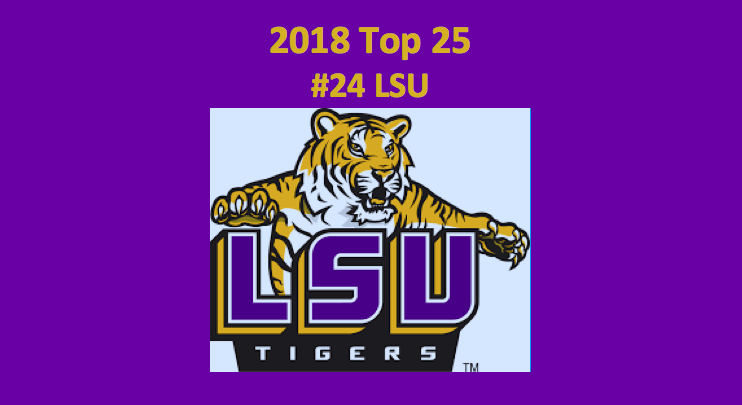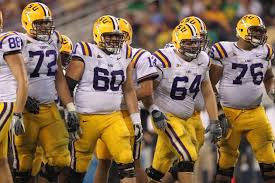 Our 2018 LSU Tigers college football preview sees coach Ed Orgeron (15-6 LSU, 31-33 Overall, 1-1 Bowls) as having a tough task this season. LSU starts ranked 24th nationally, 14 notches below SEC West opponent Auburn. They have major challenges at quarterback and running back. The good news is that the defense looks fairly sound as D-coordinator Dave Aranda gets the opportunity to fully install his system. But how can the Tigers, who have one of the toughest schedules in the nation, stay competitive in the very tough SEC West and against non-conference opponents who come armed with experienced offenses?
Offense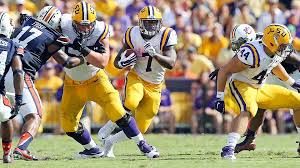 One issue that certainly relates to offensive output and quarterbacking is LSU's switch from using the rush and to focusing on the pass. Orgeron and his coordinators are installing a pro offense and that certainly will shake things up. Will it be transfer Joe Burrow, a junior from Ohio State? That's who most are betting on. He does have the characteristics needed to run a pro-style offense. LSU's top-three receivers are gone. Senior TE Foster Moreau ((24 REC, 11.6 AVG, 3 TDs) returns as the team's top pass catcher. Junior WR Stephen Sullivan (11 REC, 19.9 AVG, 1 TD) will be a target.
The offense sees not one running back return who has a touchdown to their credit. Top ground-gainers Derrius Guice (1251 YDs, 5.3 AVG, 11 TDs) and Darrell Williams (820 YDs, 5.7 AVG, 9 TDs) will be tough to replace. Inexperienced but talented sophomore Clyde Edwards-Helaire will see action as should senior Nick Brossette (19 ATT, 5.1 AVG, 0 TDs). But their appears to be no one really ready to completely fill the vacancies in the RB spot.
There is some good news, the offensive line returns five of six starters. That should certainly help protect the QB and open up running lanes. This is a talented, tough, and experienced line. But how much can they help an offense achieve or come close to its 2017 PPG average of 27.6 (9th SEC, 76th Nationally).
Defense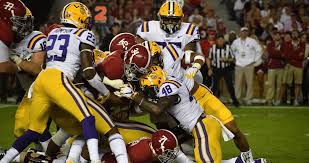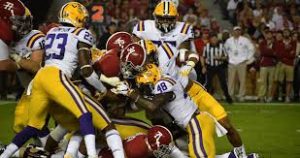 In 2017, the LSU defense allowed 18.9 PPG (4th SEC, 14th Nationally). If Aranda is able to successfully apply his system, they may be able to once again stuff the rush and stop the pass. The team was ranked 24th in the nation versus run yardage and 21st against passing, while being 12th in overall yards allowed. Junior OLB Devin White (133 TKLs, 4.5 SCKs, 9.5 TFL) comes back as the team's top tackler. The highly motored White broke up three passes, snagged one pick, and accumulated five quarterback hurries. Sophomore corner Andraez "Greedy" Williams notched six picks in his first season while breaking up 11 passes. He's a game-changer. Both starting safeties are back and junior DE Rashard Lawrence (32 TKLs, 1.5 SCKs, 2 TFL), who made three picks, is a tough and smart competitor.
Special Teams
The special teams look good on punts and kick returns. While the field goal kicking game, which was on-again-and-off-again last season, could be the same this year. They used two placekickers. Cole Tracy, a senior transfer from Assumption College, may be the team's new PK. In punting, the Tigers will once again use Zach Von Rosenburg for boomers and Josh Growden for the shorter ones. Von Rosenburg out 11 within the 20, while Growden placed 13 in the magic mark. The return game will have to deal with losing D.J. Chark who brought back two punts last season for TDs.
2018 LSU Tigers College Football Preview: Final Word
The Tigers are going through a major transformation in each area, and with the 10th toughest schedule in college football that could mean a challenging and sometimes frustrating season. Interesting to note that last season this team did much better against the spread in the second half of the season. With that in mind, our 2018 LSU Tigers college football preview sees the meeting with the up-and-coming Miami Hurricanes (Sep 2) as being a big challenge for the Tigers. A very tough matchup for this team will come when they travel to Auburn (Sep 15). Also on the schedule is Georgia (Oct 13). The good news for LSU is they are at home for this one. The Tigers host the Crimson Tide (Nov 3). That's always a major challenge. Expect a low score. They finish the season away versus a very talented Texas A&M team (Nov 24).
Top Three Takeaways
Lots of changes could mean confusion
RB is a major challenge and concern
Defense appears to be fairly solid
2018 LSU Tigers College Football Preview Projection: 8-5 Record Overall/ 4-4 SEC; Finish: 5th SEC West
For Easy Navigation Follow the Links Below
This team's Conference Preview Page
Top 25 Hub
All College Football Conferences Hub
College Football Preview Main Page