NCAA Previews
#6 Washington Huskies Preview
Can the Huskies Win the Big Games this Season?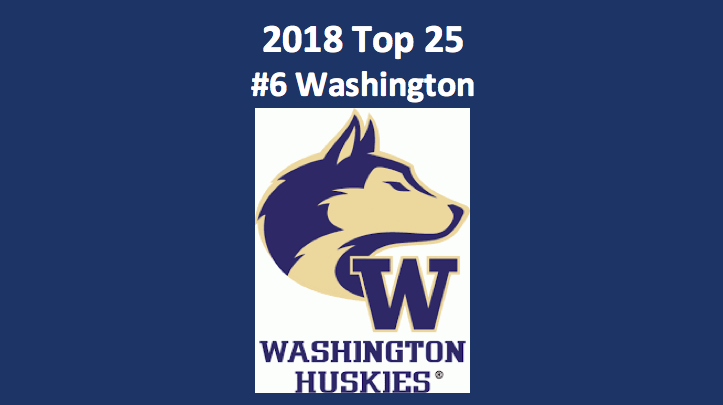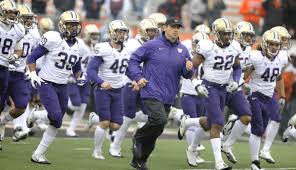 The Washington State Huskies have gone 22-5 over the past two seasons. Still, last season was a disappointment for the team as they finished 7-2 in their conference and tied with Stanford for the top spot in the North. They played Penn State in the Fiesta Bowl and lost 35-28. However, according to the research for our 2018 Washington Huskies college football preview, this team comes into the season with one of the best offenses in the Pac-12 and the finest defense in the North Division. They have the experience, talent, and skill to take the Pac-12 title. And coach Chris Peterson (37-17 Washington, 129-29 Overall, 6-5 Bowls), who starts his fifth year with the Huskies, certainly knows how to shape a winning club.
Offense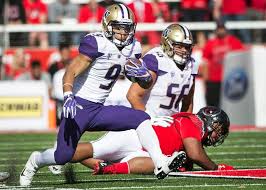 Washington fielded one of those teams that had a fine offense that although they didn't accumulate huge numbers of yards did score a lot of points. The Huskies averaged 36.2 PPG (2nd Pac-12, 17th Nationally) while the racked up 405.5 YPG (9th Pac-12, 58th Nationally). Going into this season, our 2018 Washington Huskies college football preview finds that this team will benefit greatly from a deep and experienced O-line. They are the best in the conference, as well as being one of the best in the nation. That will certainly help the Huskies ground attack, which is led by senior Myles Gaskin (222 ATT, 1,380 YDs, 6.2 YPA, 21 TDs). Also, ready to go is sophomore Salvon Ahmed (61 ATT, 388 YDs, 6.4 YPA, 3 TDs.) The Gaskin/Ahmed combo is a potent one-two punch.
QB Jake Browning (68.5 COMP%, 19 TDs, 5 INTs) threw for 2,719 yards last season. He a sound field general who will enjoy an improved and more experienced group of pass catchers. Junior wideout Aaron Fuller (26 REC, 11.2 YPC, 1 TD) and sophomore TE Hunter Bryant (22 REC, 15.0 YPC, 1 TD) are back. Also returning is senior WR Chico McClatcher (10 REC, 12.8 YPC, 0 TDs). He had a shortened season due to an ankle injury. The year prior, he had 31 catches and five TD grabs, while averaging 18.5 YPC.
Defense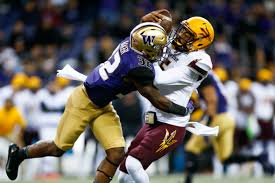 Along with coming into the season with one of the best offenses in the Pac-12, this 2018 Washington Huskies college football preview notes that they feature one of the finest defenses in the conference. The defensive backs include six players from last season with starting experience. Included are senior strong safety JoJo McIntosh (50 TKLS, 1 PBU, 1 INT), junior free safety Taylor Rapp (59 TKL, 2 SCKs, 1,5 TFL, 1 INT), junior NB Myles Bryant (57 TKLs, 5 TFL, 8 PBU, 1 INT), and sophomore CB Byron Murphy (16 TKLs, 7 PBU, 3 INTs).
Senior ILB and leading tackler Ben Burr-Kirven (84 TKLs, 1 SCK, 3 TFL, 5 PBU, 1 INT) is the glue in the linebacking unit. Senior ILB Tevis Bartlett (48 TKLs, 4 SCKs, 8 TFL, 2 INTs) and sophomore OLB Ryan Bowman (32 TKLs, 5.5 SCKs, 4 TFL) are solid playmakers. The D-line is first-rate, and includes senior NT Greg Gaines (30 TKLs, 2.5 SCKs, 2.5 TFL, 3 PBU). Despite losing Vita Vea (44 TKLs, 3.5 SCKs, 2 TFL) to the pros, this is a very fine frontline.
Special Teams
Placekicking was an issue last season, as then freshman Van Soderberg and senior Tristan Vizcaino struggled. The Huskies may give red-shirted freshman Peyton Henry a shot. Junior punter Joel Whitford (42 Punts, 42.3 YPP, 15 w/in20) did well. Dante Pettis, who ran back four punts for scores, has to be replaced. Ahmed and Sean McGrew are back to return kicks. Both are solid.
2018 Washington Huskies College Football Preview: Final Word
In some ways, our 2018 Washington Huskies college football preview finds, the Huskies have a kind schedule, but it doesn't start out that way. They open in Atlanta against Auburn (Sep 1). That will be a major test for both teams. In the middle of the season, Washington will certainly be tested by Oregon (Oct 13). That game is on the road. The home game versus Stanford (Nov 3) could be for all the marbles in the Pac-12 North. Last year Stanford won those marbles, as they have done four-of-five past seasons. Washington is 3-10 against that Cardinal team. To end the regular season, the Huskies play Washington State (Nov 23) in the 111th Apple Cup. The Huskies have won five straight by an average of 24 points.
Top Three Takeaways
Very stingy defense
Fantastic O-line and ground game
Kicking game needs work
2018 Washington Huskies College Football Preview Projection: 11-3 Record Overall/ 8-1 Pac-12; Finish: 1st Pac-12 North
For Easy Navigation Follow the Links Below
This team's Conference Preview Page
Top 25 Hub
All College Football Conferences Hub
College Football Preview Main Page