NCAA Previews
#5 Oklahoma Sooners Preview
Sooners Have Dynamite Offense and Questions on D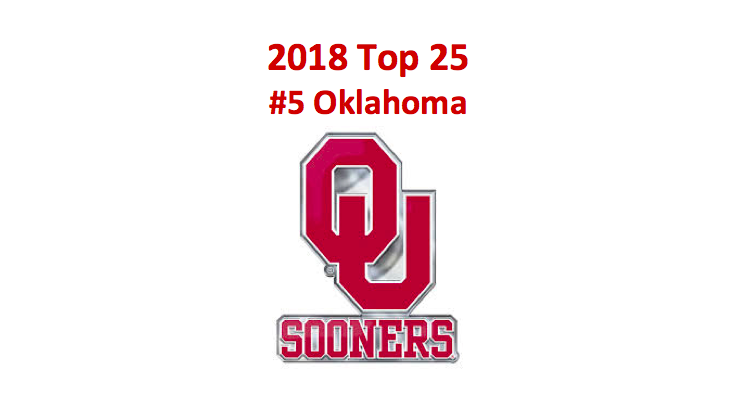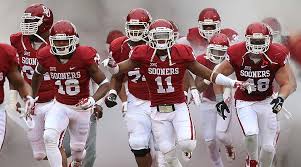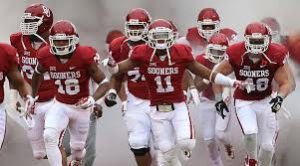 The Oklahoma Sooners were 12-2 last season. One of the loses was to Georgia 54-48 in double-OT in the CFP Semifinal game in the Rose Bowl. That was a big blow for the Sooners who last season had dominated just about everyone. Our 2018 Oklahoma Sooners college football preview sees this team as struggling to make it back to the championship series. However, don't think that head coach Lincoln Riley (12-1 Oklahoma and Overall, 0-1 Bowls), who starts his second season as the guy at the helm, won't be keeping his team focused on the ultimate goal.
Offense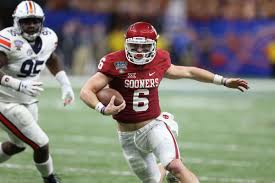 The Sooner offense generated 45.1 PPG (1st Big 12, 3rd Nationally) last year. They did so on the ground and in the air. They were first in the conference and the nation in total yards with 579.6 YPG. The major question for this offense is who will replace three-time All-American Baker Mayfield at QB? We expect it will be junior Kyler Murray (85.7 COMP%, 3 TDs, 0 INT) who tossed 21 passes last season. Two of the Sooner's top three receivers return with junior WR Marquise Brown (57 REC, 19.2 YPC, 7 TDs) being the top performer last year. Sophomore wideout CeeDee Lamb (46 REC, 17.5 YPC, 7 TDs) had a fine freshman year. Both are deep threats and part of a premium unit.
The rush attack includes junior Rodney Anderson (188 ATT, 1,161 YDs, 6.2 YPA, 13 TDs), who made Second-Team All-Big 12, and sophomore Trey Sermon (121 ATT, 744 YDs, 6.1 YPA, 5 TDs). Their efforts will be greatly aided by what is one of the best offensive lines in the nation. The players up front will make a major difference on this team.
Defense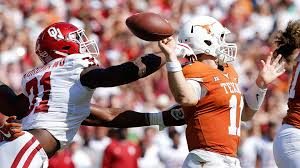 The Sooner offense scores so many points that it leads one to think that a defense that allows 27.1 PPG (5th Big 12, 68th Nationally) is no big deal. But in the CFP Semifinal last season that lack of premium D was a big deal. This team was 87th nationally in passing yards allowed with 238.4 per game. There is good news. The defensive backs are more experienced and improved. Junior CB Parnell Motley (63 TKLs, 4.5 TFL, 9 PBU, 2 INTs) is the one returning starter in this group. But he is an exceptional talent. True freshman corner Brendan Radley-Hiles was impressive in the spring and should get to start. Senior strong safety Khalil Haughton (29 TKLs, 1 PBU, 0 INT) gets a chance to be a difference-maker. Still, this unit may be challenged by its lack of experience.
In researching this 2018 Oklahoma Sooners college football preview, we discovered that the linebackers could be problematic, as they lose their top tackler Emmanuel Beal (95 TKLs). Sophomore Kenneth Murray (78 TKLs, 6.5 TFL, 3 QBHs) put up some fine numbers in his frosh season and will start. Junior SLB Caleb Kelly (56 TKLs, 1 SCK, 2.5 TFL, 1 INT, 4 QBHs) could have a breakout year. The defensive line is the weakest squad on this side of the ball. With the loss of Ogbonnia Okoronkwo (76 TKLs, 8 SCKs, 9.5 TFL, 6 QBHS), they don't really have a pass rusher. The Sooners must find one.
Special Teams
Special teams were a problem last season. Shane Beamer has been brought in to assist in this area and improvement is expected. The Sooners have a rarity in senior Austin Seibert. He's a fine punter and placekicker. Seibert averaged 42.3 YPP and put 11-of-43 within the 20. He was 81-81 on extra points and 17-21 on field goals. He nailed one from 51 yards last season. The return game has to be more dynamic.
2018 Oklahoma Sooners College Football Preview: Final Word
This club has a very tough schedule. Our 2018 Oklahoma Sooners college football preview has this team opening at home against the Florida Atlantic Owls (Sep 1). The Owls are a C-USA team, and the Sooners should handle them (literally). But they should not underestimate the FAU ground attack and their fine secondary. Oklahoma visits Iowa State (Sep 15). This is a team that surprised the Sooners last season, beating them 38-31. The game against Texas (Oct 6) will be played in Dallas. Often less than seven points separate these two clubs once the game is done. Later the Sooners are at TCU (Oct 20), which may have the best D in the conference. They finish the season at West Virginia (Nov 23), against a team that has a daunting pass attack.
Top Three Takeaways
One of the best offenses around
Very difficult schedule, a lot of potential pitfalls
Defense has the potential to give up big plays
2018 Oklahoma Sooners College Football Preview Projection: 11-3 Record Overall/ 7-2 Big 12; Finish: 1st Big 12
For Easy Navigation Follow the Links Below
This team's Conference Preview Page
Top 25 Hub
All College Football Conferences Hub
College Football Preview Main Page