NCAA Previews
#7 Wisconsin Badgers Preview
Can Wisconsin Take Down the Big Ten Championship?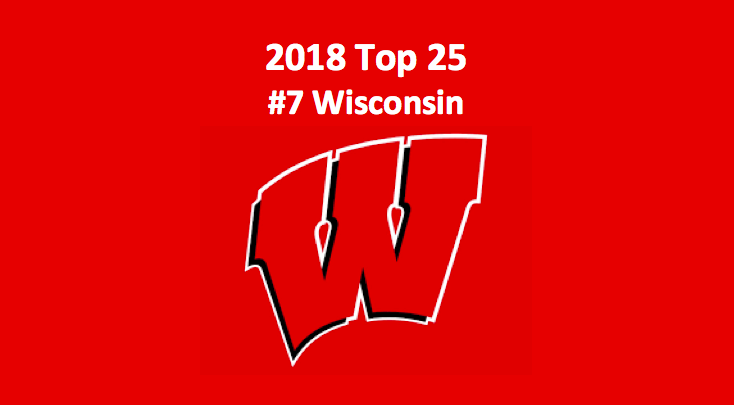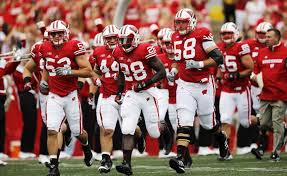 The Wisconsin Badgers, who went 13-1 last year, are looking forward to another solid season. In 2017, they lost the Big Ten title game to Ohio State 21-27. Then they met Miami in the Orange Bowl where they beat the Hurricanes 34-24. The Badgers seem to be a perennial contender, as for the past 16 years, this team has been bowl-bound, earning a record of 8-8. Our 2018 Wisconsin Badgers college football preview notes that head coach Paul Chryst (34-7 Wisconsin, 53-26 Overall, 4-1 Bowls) has a very fine offense and defense to work with. By the way, Wisconsin is 3-0 in bowl appearances with Chryst and 4-0 for the past four seasons. Nothing less should be expected of them in 2018.
Offense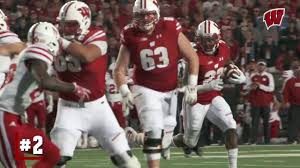 The Badgers can score, as they put 33.8 PPG (3rd Big Ten, 28th Nationally) on the scoreboard, and they can especially run. Wisconsin averaged 222.9 YPG (2nd Big Ten, 23rd Nationally) on the ground. We expect that they will be burning up the turf once again in 2018. The team's four top rushers from last season are back. That includes the powerful and evasive Jonathan Taylor (299 ATT, 1,977 YDs, 6.6 YPA, 13 TDs), now a sophomore. He was unstoppable in his freshman year. Junior Braderick Shaw (96 ATT, 365 YDs, 3.8 YPA, 4 TDs) can also power through. The ground attack is helped greatly by one of the most seasoned and tough offensive lines in the country.
The Wisconsin passing game is not as potent as their rush. Junior QB Alex Hornibrook (62.3 COMP%, 25 TDs, 15 INTs) is a sound pocket passer, but he needs to reduce the number pf picks he throws. Seven of the team's top pass catchers are back. That's good news, as this is an experienced and deep group. WR Quintez Cephus (30 REC, 16.7 YPC, 6 TDs), a junior, led the team last season in touchdown catches.
Defense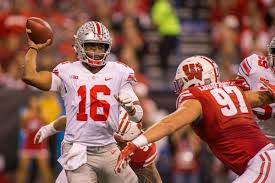 Our 2018 Wisconsin Badgers college football preview notes that the defense has been stripped of seven starters. Will that affect a team that last season allowed 13.9 PPG (1st Big Ten, 3rd Nationally) and held opponents to 262.1 total-yards-per-game (1st Big Ten, 2nd Nationally)? The linebacking unit is the best group on D, and the secondary is quite strong. Two senior ILBs, who were first and second in tackles, Ryan Connelly (88 TKLs, 3 SCKs, 8 TFL, 1 INT, 3 QBHs) and T.J. Edwards (81 TKLs, 2 SCKs, 9 TFL, 7 PBU, 4 INTs), are back. They are massive against the rush and pass.
Also, ready to go is OLB Andrew Van Ginkel (39 TKLs, 6.5 SCKs, 3.5 TFL, 2 INTs), a senior who last season tied for second in sacks and was second in TFL. The defensive backs include sophomore CB Dontye Carriere-Williams (30 TKLS, 6 PBU, 1 INT) and senior strong safety D'Cota Dixon (55 TKLS, 3 PBU, 1 INT). The secondary is, however, less experienced than the 2017 group, and there may be some drop-off here. Speaking of drop-off, the D-line has less experience and depth than they did last season. Senior NT Olive Sagapolu (17 TKLs, 3 SCKs, 1.5 TFL) will serve as the cornerstone for this unit.
Special Teams
How does our 2018 Wisconsin Badgers college football preview view the Badger's special teams situation? On punt runbacks, Nick Nelson, who ran one back for a TD and averaged 8.6 YPR, will have to be replaced. Receiver A.J. Taylor may get the call. Taylor averaged 23.5 YPR on kickoffs last season. Senior PK Rafael Gaglianone (59-59 XP, 16-18) was stellar last season. He was 4-of-4 from 40-plus yards, including a 52-yard field goal. Junior Anthony Lotti (57 Punts, 40.0 YPP, 25 w/in20) was solid.
2018 Wisconsin Badgers College Football Preview: Final Word
Our 2018 Wisconsin Badgers college football preview finds that this team's schedule is not as daunting as it might be. They start their season at home against WKU (Aug 31). The Badgers have won 22 straight home openers. One tricky game, mid-season, will be when they visit Michigan (Oct 13). Wisconsin will be going up against a team that's strong, experienced, and balanced on both sides of the ball. Another road contest, this time at Penn State (Nov 10), could be harrowing. The Nittany Lions have won the last three meetings in this series. We do think, after every game has been played, that the Badgers will be facing OSU for the Big Ten title.
Top Three Takeaways
Big time rush attack and great O-line
Hornibrook needs to reduce INTs
Solid defense that will be led by LB unit
2018 Wisconsin Badgers College Football Preview Projection: 11-2 Record Overall/ 7-2 Big Ten; Finish: 1st Big Ten West
For Easy Navigation Follow the Links Below
This team's Conference Preview Page
Top 25 Hub
All College Football Conferences Hub
College Football Preview Main Page