NCAA Previews
#8 Miami Hurricanes Preview
Miami is the Best in the ACC Coastal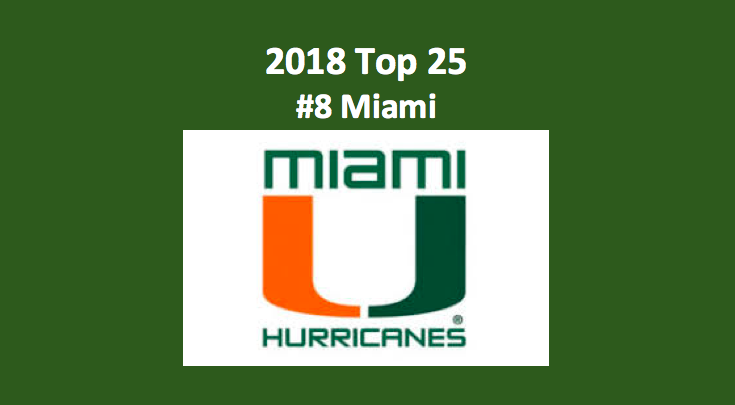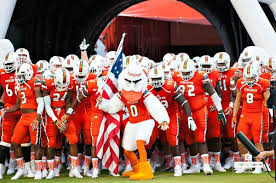 In the past three years, the Miami Hurricanes have been on the plus side in the win column. In 2017, their 10-3 record was their best mark since 2003 when they were 11-2. Our 2018 Miami Hurricanes college football preview expects that once again they will post double digit wins. We also expect this team to win the Coastal Division. But beating Clemson, who we believe will win the Atlantic, for the ACC crown will be very difficult. Coach Mark Richt (19-7 Miami, 164-58 Overall, 10-6 Bowls) starts his third season with the Hurricanes. He has some very solid players and units on both sides of the ball. In addition, the Hurricane schedule is neither too difficult nor is it easy. This Miami team should have a very fine season.
Offense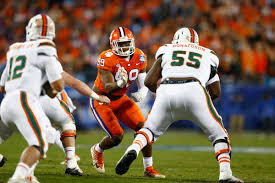 The offense, which averaged 29.1 PPG (5th ACC, 59th Nationally), will once again be led by QB Malik Rosier (54.0 COMP%, 26 TDs, 14 INTs). Rosier, a senior, has some good throwing and running chops. On the ground, he averaged 3.6 YPA, gaining 468 yards and scoring five TDs. In terms of passing, his priorities should be raising his completion percentage while lowering the number of picks he tosses. Despite losing his top two pass catchers, the receiving group sees six players return who caught 10 or more passes each in 2017. Junior Ahmmon Richards (24 REC, 18.3 YPC, 3 TDs) and sophomore Jeff Thomas (17 REC, 22.0 YPC, 2 TDs) are back as the number one and two receivers.
The rush attack will feature junior RB Travis Homer (163 ATT, 966 YDs, 5.9 YPA, 8 TDs). Plus, of course, Rosier. There are some talented freshmen who should get some carries too. There's a decent amount of depth and experience in this unit. The O-line is not the best in the ACC, but they've improved over last season. That should help both the ground and air games.
Defense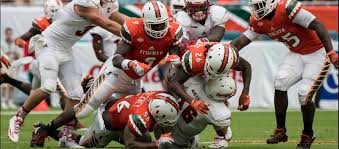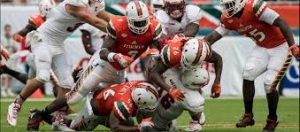 The Miami defense looks to be very good. Six-of-seven top tacklers are back. Our 2018 Miami Hurricanes college football preview finds that this side of the ball is strong from front to back. Included on the frontline are two fine DE, senior Demetrius Jackson (18 TKLs, 3.5 SCKs, 4 TFL) and junior Joe Jackson (59 TKLs, 6.5 SCKs, 5 TFL, 6 QBHs). Illinois grad transfer DT Tito Odenigbo has been added for depth.
The linebacking group includes three experienced starters. Sophomore MLB Shaquille Quarterman (83 TKLs, 2.5 SCKs, 4.5 TFL, 5 PBU, 4 QBHs) has a fine freshman season. Two juniors start in the other two LB spots, with Michael Pickney (68 TKLs, 3.5 SCKs, 7.5 TFL) at WLB and Zach McCloud (48 TKLs, 2 SCKs, 2.5 TFL) at SLB. Plus, there's plenty behind them. The defensive backs are also seasoned and deep. Senior corner Michael Jackson (43 TKLs, 5 PBU, 4 INTs) led the team in picks, while senior FS Sheldrick Redwine (59 TKLs, 6 PBU, 2 INTs) is the top-returning defender against passes. These two units are the best of any in the ACC.
Special Teams
the special teams struggled last season, as PK Michael Badgley (45-46 XP, 17-23 FG) was inconsistent from 40-plus yards out. Freshman Bubba Baxa will get a shot at replacing the departed Badgley. Sophomore punter Zach Feagles (72 Punts, 38.6 YPP, 25 w/in20) will look to get more distance. Braxton Berrios, who averaged an astounding 15.9 yards per punt return, has to be replaced. Thomas will run back kicks. He averaged 21.6 YPR.
2018 Miami Hurricanes College Football Preview: Final Word
The Hurricanes first game is against LSU (Sep 2) in Arlington. Lately, the Canes have done well versus the Tigers. We expect them to snag a win here. At home, Miami plays a solid North Carolina team (Sep 27) and after that, they have a big home game versus Florida State Oct 6). Our 2018 Miami Hurricanes college football preview notes that the first game should fall to the Hurricanes, while the second is a toss-up. Miami is vulnerable, as the Seminoles offer a fine offense and a very solid D. The Canes travel to play Virginia Tech (Nov 17). That should be a win.
Top Three Takeaways
Cane D is one of the best, top LB & DB
Rosier needs better COMP% and fewer INTs
O-line is improved from last season.
2018 Miami Hurricanes College Football Preview Projection: 12-2 Record Overall/ 7-1 ACC; Finish: 1st ACC Coastal
For Easy Navigation Follow the Links Below
This team's Conference Preview Page
Top 25 Hub
All College Football Conferences Hub
College Football Preview Main Page