NCAA Previews
#3 Ohio State Buckeyes Preview
Can the Buckeyes Get to the College Football Playoffs?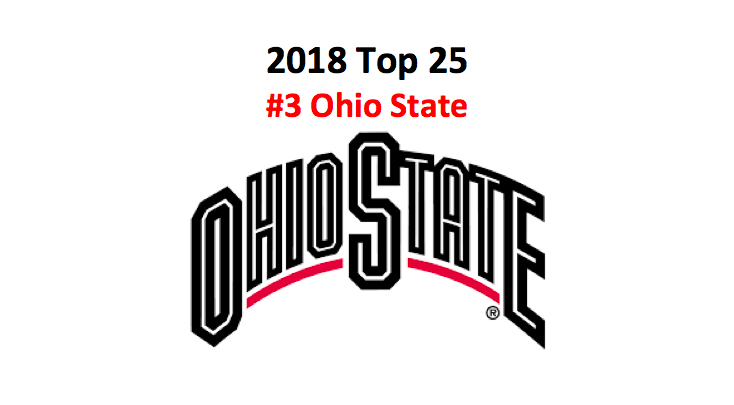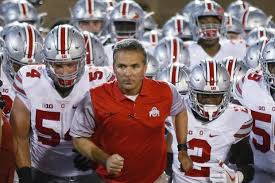 Our 2018 Ohio State Buckeyes college football preview asks the basic question everyone at OSU wants to know. Can this team have a shot at the big stage? That is, the College Football Playoffs (CFP) Or will they play in a bowl game? Head coach Urban Meyer (73-8 OSU, 177-31 Overall, 11-3 Bowls) and his Buckeyes we're snubbed last year by the CFP selection committee. After going 10-2 in the regular season and beating the Wisconsin Badgers 27-21 for the Big Ten Conference championship, they were selected for the Cotton Bowl. They did not disappoint, as the Buckeyes beat the USC Trojans easily 24-7. But the fact is, they were not given a shot at the national title. These guys will certainly be motivated this season.
Offense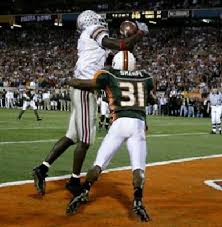 The offense has a lot going for it. It is true that QB J.T. Barrett and his 3,053 yards in the air, 798 rushing yards, and 35 passing TDs and 12 rushing scores have to be replaced. But this is OSU. Sophomore Dwayne Haskins (70.2 COMP%, 4 TDs, 1 INT) didn't play much. He tossed 24 passes. But he did lead the comeback win against Michigan last year. We expect he'll be in good shape when the season begins. He does have the best O-line in the conference defending him. They are exceptionally deep and talented.
He'll have the six top receivers from 2017 to throw to. That includes WR Parris Campbell (40 REC, 14.6 YPC, 3 TDs) and Terry McLaurin (29 REC, 15.0 YPC, 6 TDs). Wideout Johnnie Dixon (18 REC, 23.4 YPC, 8 TDs) caught just 18 passes but eight of those receptions went to touchdowns. Sophomore TB J.K. Dobbins (194 ATT, 1,403 YDs, 7.2 YPA, 7 TDs) and junior TB Mike Weber (101 ATT, 626 YDs, 6.2 YPA, 10 TDs) both return after solid seasons. Weber was not able to play the entire string of games in 2017 due to injury. He's back and healthy.
Defense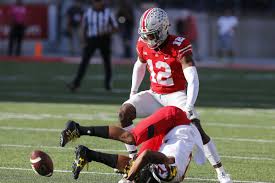 Our 2018 Ohio State Buckeyes defensive line is college football preview finds that the defensive line may be the best in the nation. The two D-ends, junior Nick Bosa (34 TKLs, 8.5 SCKs, 7.5 TFL 9 QBHs) and sophomore Chase Young (19 TKLs, 3.5 SCKs, 2.5 TFL), can be unstoppable. OSU led the nation in TFL with 114. If there's a weakness, it's the linebacking unit, but they do have talent. Six of the nine LBs are back, including sophomore MLB Tuf Borland (58 TKLs, 1 SCK, 2.5 TFL). However, Borland is dealing with an Achilles heel injury and may be compromised. The secondary must also deal with the loss of Denzel Ward. The star D-back broke up 15 passes, grabbed two picks, and made 37 tackles last season.
Special Teams
On kick returns, Paris Campbell averaged 36.6 YPR, K.J. On kicks, Hill is good for 25.0 YPR, but is only averaging 5.5 YPR on punts. Getting that figure up a bit will help. Sophomore Drue Chrisman will punt once again. He kicked 51 in his freshman season, putting 25 within the 20 while averaging 44.2 YPP. Senior Sean Nuenberger (71-71 XP, 17-21 FG) is about as good as it gets when it comes to placekicking.
2018 Ohio State Buckeyes College Football Preview: Final Word
Adding everything together, we certainly believe that OSU will take down its division and win the Big Ten. Consequently, we do think they will go to the CFP. Remember, they did win it all in 2014 by rolling over Oregon 42-20. Our 2018 Ohio State Buckeyes college football preview sees that OSU has a chance to be 12-0. They start with two at home, Oregon State (Sep 1) and Rutgers (Sep 8). Then they meet the TCU Horned Frogs on Arlington (Sep 15). This will be a test, as the Buckeyes face a daunting defense. They have a major road test at University Park, Pennsylvania, when they meet Penn State (Sep 29). That could be a loss. It should be fairly easy sailing after that. That is until they play Michigan State (Nov 10) in an away game and Michigan (Nov 24) at home. Note, Meyer has been suspended for the first three games of the season. Will that have any effect?
Top Three Takeaways
Urban Meyer and his team can smell the CFP berth
O-line and D-line are very tight and strong
A few heads up, as on D issues with secondary and LB; on offense, new QB
2018 Ohio State Buckeyes College Football Preview Projection: 12-3 Record Overall/7-1 Big Ten; Finish: 1st Big Ten East
For Easy Navigation Follow the Links Below
This team's Conference Preview Page
Top 25 Hub
All College Football Conferences Hub
College Football Preview Main Page