NCAA Previews
#18 Mississippi State Bulldogs Preview
Bulldogs Are Going to be Competitive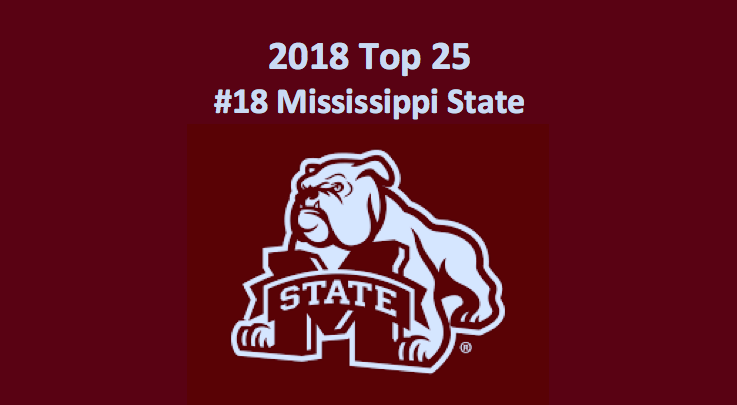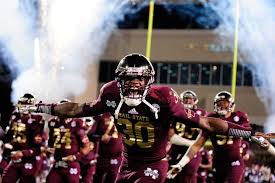 The Mississippi State Bulldogs are in the SEC West with the Alabama Crimson Tide and the Auburn Tigers, as well as the Texas A&M Aggies. Those are three very tough teams to compete against. Still, for the most part, Mississippi State does a good job staying in the game. Last season, they were 9-4, and each of the last nine seasons, this team has recorded a winning record. Our 2018 Mississippi State Bulldogs college football preview projects that they will do so again. That's despite the fact that these Bulldogs will be led by first-time head coach Joe Moorhead, who comes to this team with a perfect 0-0 record. Moorhead has inherited a team that despite some of its shortcomings, is overall sound on both sides of the ball.
Offense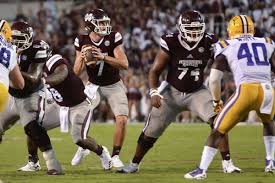 The Bulldogs have a fine O-line, which is good news for their aggressive ground attack. This is a highly experienced line. The Bulldogs have a slew of fine rushers, including QB Nick Fitzgerald (162 ATT, 984 YDs, 6.1 YPA, 14 TDs) and RB Aeris Williams (236 ATT, 1,107 YDs, 4.7 YPA, 6 TDs). Both are seniors with a lot of great experience. Two sophomore running backs are also ready to go, Keytaon Thomas (75 ATT, 446 YDs, 5.9 YPA, 6 TDs) and Kylin Hill (78 ATT, 393 YDs, 5.0 YPA, 2 TDs). The Bulldogs averaged 251.7 YPG (2nd SEC, 11th Overall) in rushing last season.
On the other hand, the Miss State air game was ranked 14th in the SEC and 112th in the nation, as it accumulated just 166.9 YPG. Fitzgerald (55.6 COMP%, 15 TDs, 11 INTs) needs to be more accurate and cut back on his picks. His receiving unit is thin. Topping all pass catchers on the Bulldogs is senior Jesse Jackson with 27 receptions. He had no TDs. Don't look for State to score many of its points through the air, or to even move the ball through the air. This team averaged 32.0 PPG (7th SEC, 41st Nationally).
Defense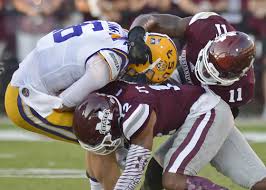 Our 2018 Mississippi State Bulldogs college football preview has determined that this team has perhaps the best D-line in the SEC, a better-than-average secondary, and a weak LB unit. On the line, senior DE Montez Sweat (48 TKLs, 10.5 SCKs, 5 TFL, 6 QBHs) is fearsome. Junior NG Jeffrey Simmons (60 TKLs, 5 SCKs, 7 TFL, 5 QBHs) and senior DE Gerri Green (38 TKLs, 5 SCKs, 6 TFL, 5 QBHs) are formidable upfront. The Mississippi State line is simply one of the best around.
The defensive backs include the very productive senior safety Mark McLaurin (79 TKLs, 6 PBU, 6 INTs). He got his radar trained right on the ball. The other senior safety, Jonathan Abram (71 TKLs, 2 SCKs, 3 TFL, 5 PBU), is exceptionally solid. The linebacking group includes Erroll Thompson (46 TKLs, 2.5 SCKs, 3 TFL), a player who's starting to make himself known as a difference-maker. Junior transfer NB Brian Cole has the chops to start. Last season, the Bulldogs D allowed 20.9 PPG (6th SEC, 26th Nationally). We think they'll post a similar stat in 2018.
Special Teams
Punter Logan Cook, who averaged 42.7 YPP and put 20 of 52 within the 20, has to be replaced. Former high school All-American Tucker Day, a sophomore, may be the right guy to do so. Sophomore PK Jace Christmann (42-42 XP, 12-14 FG) was solid in his first season. Deddrick Thomas, who averaged 17.3 YPR on punts, ran one back for a score in 2017. The kick return game needs to be revitalized.
2018 Mississippi State Bulldogs College Football Preview: Final Word
The Bulldogs should do well in their home opener, as they host SF Austin (Sep 1). The next week, they are at Kansas State (Sep 8). That should be a win, but the Wildcats could make things difficult. The Florida (Sep 29) visits later in the month. Our 2018 Mississippi State Bulldogs college football preview offers that this will be a big test for the Bulldogs, as the Gators have the second-best team in the SEC West. Two other challenging home contests follow, as Auburn (Oct 6) and Texas A&M (Oct 27) visit. The Alabama Crimson Tide (Nov 10) welcome Mississippi State for what will be their ultimate test.
Top Three Takeaways
Great O-line and ground attack
QB Fitzgerald can run but needs to hone passing skills
LB unit weak link on D
2018 Mississippi State Bulldogs College Football Preview Projection: 9-4 Record Overall/ 6-2 SEC; Finish: 3rd SEC West
For Easy Navigation Follow the Links Below
This team's Conference Preview Page
Top 25 Hub
All College Football Conferences Hub
College Football Preview Main Page