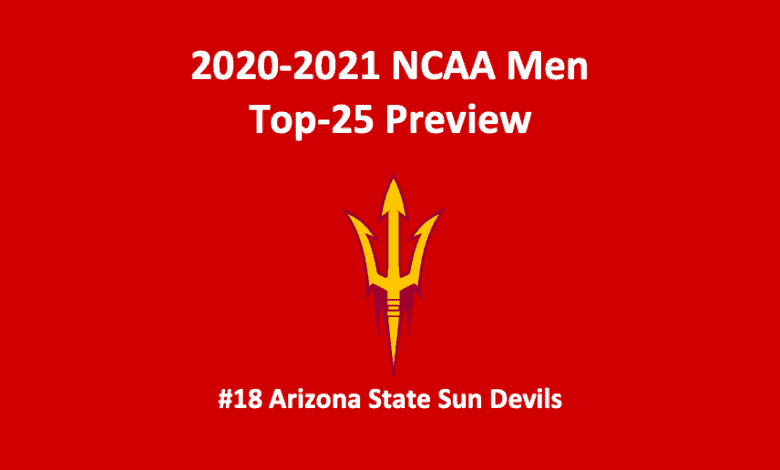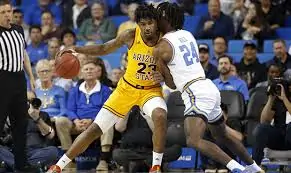 Our Arizona State basketball preview 2020 – 2021 observes that the Sun Devils have finished in the top three of the Pac-12 for two years straight. Last year, ASU was 11-7 in the conference, ending up in a third-place tie with the USC Trojans. Overall, the team went 20-11. The Sun Devils had a strong start, as they won nine of their first 10 games. By the way, that one loss occurred in their tenth game of the season, and it was to the #18 Baylor Bears. The final was 63-58. Over their next 10 games, ASU was 5-5. Their final run was a bit more satisfying, as they ran off seven wins over the course of a dozen games. However, when push came to shove, the ASU was definitely pushed out of the way by other Pac-12 teams, losing four of their last six. Those four loses were to USC, UCLA, Washington, and #14 Oregon. A lack of consistency plagued coach Bobby Hurley's team.
Stats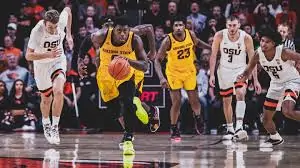 Statistically, ASU was unimpressive. Their top stats were in three-point field goals per game, which averaged 7.3 (165th Nationally, 4th Pac-12), turnovers per game, which totaled 13.2 (189th Nationally, 7th Pac-12), and field-goal defense, which came to 42.8% (174th Nationally, 7th Pac-12). Their best stat was scoring offense where ASU averaged 73.8 PPG (103rd Nationally, 3rd Pac-12) After that, at best, they were 10th in the Pac-12 and 204th or higher in the nation. Plus, in scoring defense, the Sun Devils were 12th in the Pac-12, allowing 70.5 PPG. That gave them a PF/PA differential of +3.3. It's not terrible, but it's also not great. The Sun Devils struggled mightily in rebounding. ASU was last in the conference and 222nd nationally as the team's rebound margin came to -2.3.
Arizona State Basketball Preview 2020 – 2021 – Players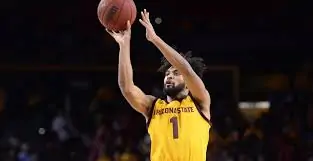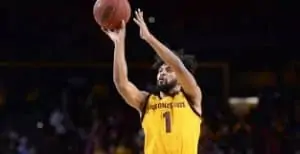 ASU welcomes back two-thirds of its starting backcourt. Senior point guard Remy Martin, the team's leading scorer returns, as does senior wing Alonzo Verge Jr. Plus, the backcourt welcomes freshman guard Josh Christopher. The five-star recruit, who's definitely NBA material, will crack the starting lineup immediately. With premium guard Rob Edwards gone, Christopher is certainly a welcome addition.
Along with losing Edwards in the backcourt, ASU saw forward Romello White depart. He was, yet, another top-notch player. Together, Edwards and White averaged 22.8 PPG. The frontcourt will feature junior Taeshon Cherry and sophomore Jalen Graham. Plus, bringing more experience to the paint, there's senior forward Kimani Lawrence. Joining the vets are two freshmen, Marcus Bagley and Pavlo Dziuba, who bring even more scoring punch. Expect to see both coming in to contribute on offense.
Frontcourt
Last season, Cherry averaged 4.6 PPG and 3.4 RPG, while Graham was good for 3.2 PPG and 2.8 RPG. He also averaged 1.0 BPG. Cherry played 18.8 MPG, while Graham was good for 10.9. Their expanded roles will mean a lot more will be expected of them. Lawrence, who averaged 17.1 MPG, put up on average 4.9 PPG while grabbing 2.6 RPG. He offers solid skills and dependability. Bagley and Dziuba could help increase frontcourt scoring. Bagley is a blue-chip prospect who's a true game-changer and pure shooter. He's an electrifying player. Look for the Sun Devils to utilize his talents early in the season.
Backcourt
Last year, senior PG Martin averaged 19.1 PPG and 4.1 RPG. He also grabbed 3.1 RPG. Although not a deadeye shooter, Martin often gets the job done. Last year, he hit 43.5% of his field goals and 33.5% of his threes. However, if you're looking for a crunch time, dependable point-maker, he's not it. He is a tenacious defender. Last season, Martin averaged 1.5 SPG. Plus, he tends to make few mistakes.
Verge, who averaged 14.6 PPG, can be erratic. Although he hits a respectable 43.8% of his shots from the field, his three-point mark is only 28.9%. At times, he can try to pour it on when he should be more patient. Verge needs to take a chapter out of Martin's book. Freshman Christopher has to make a quick impact. Our Arizona State basketball preview 2020 – 2021 finds that like Bagley, he's a pure scorer and exceptional athlete. Hopefully, the Martin, Verge, and Christopher trio will make beautiful music on the court.
Sun Devils – Make or Break for 2020-2021
Our Arizona State basketball preview 2020 – 2021 finds that there's a lot of potential on this team. The backcourt offers some decent scoring chops and Martin is a solid point guard and court general. The two starting front men have the potential to rise to the top, while five-star recruits in the paint and at the arc could be difference-makers.
But it's odd, as the team Hurley has put together, to some degree, has been created haphazardly. There is this feel of uncertainty around the ASU men's basketball team, as in one is always wondering what's the next surprise? Who's leaving and who's arriving? Still, they do have a lot going for them. Finally, consistency could be a major issue. There are a lot of new pieces to put together. Consequently, coach Hurley has his work cut out for him. Is he up to the task?
Arizona State Basketball Preview 2020 – 2021- Final Word
Our Arizona State basketball preview 2020 – 2021 notes that in 2015 coach Hurley was brought in to build up the ASU men's basketball program. It took him about three years, but for the last two seasons, they have been competitive. The trick now is finding consistency as they work towards the next level.
The Pac-12 is not the most prestigious conference. In fact, of the majors, it's in the middle. But it still has some very tough teams. Plus, if ASU is going to be taken seriously in any manner, their nonconference schedule certainly needs to include teams from the Big 12, Big Ten, and other such conferences. That makes the next steps difficult. However, this is a good team with some very fine talent. If they can put all of the pieces together early in the season, the ASU Sun Devils will have a shot at the Pac-12 title and more.
Arizona State Sun Devils – 2020-2021 NCAA Projection
Pac-12 Finish – Third
NCAA Tournament Result – Second Round