NCAA Previews
#11 Notre Dame Fighting Irish Preview
The Irish Look Like a Very Solid Independent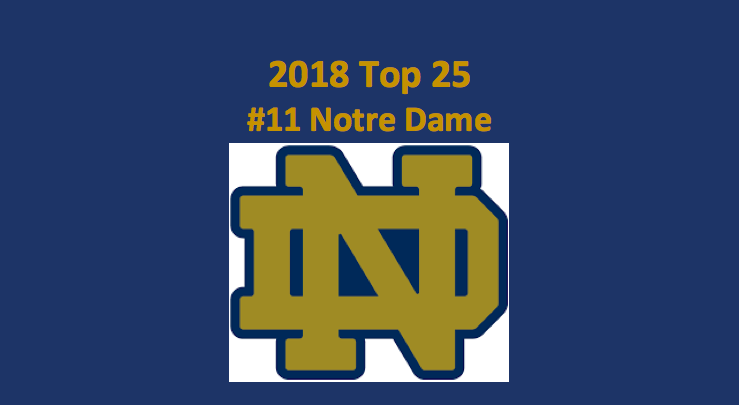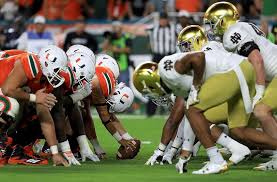 Coach Brian Kelly (69-34 Notre Dame, 122-56 Overall, 6-4 Bowls) has brought the Fighting Irish through some very fine seasons. Such as 2017 when they were 10-3 and beat LSU 21-17 in the Citrus Bowl. And, he's taken then through some tough ones, such as 2016 when they recorded three wins and eight defeats. Our 2018 Notre Dame Fighting Irish college football preview projects that this year, Kelly and this team will have a season more akin to that of 2017 rather than 2016. The Fighting Irish come into 2018 with an offense that can score points and a defense that can control and shutdown opponents.
Offense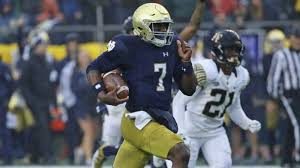 The Notre Dame offense tends to offer a balance between the rush and pass attack. Junior QB Brian Wimbush (49.5 COMP%, 16 TDs, 6 INTs) passed for 1,870 yards last season while rushing for 803. On the ground, he averaged 5.7 YPA and scored 14 TDs, making him a running QB who passes. Wimbush could certainly improve on his completion percentage. In terms of the passing game, Equanimeous Brown (33 REC, 15.6 YPC, 4 TDs) and Kevin Stepherson (19 REC, 18.9 YPC, 5 TDs) are both gone. Brown was the team's top receiver and Stepherson caught the most TD passes. Three juniors, Chase Claypool (29 REC, 13.9 YPC, 2 TDs), Miles Boykin (12 REC, 21.1 YPC, 2 TDs), and Chris Finke (6 REC, 17.0 YPC, 0 TDs), will all start at the wideout spots. Each has experience.
The rush attach loses Josh Adams, who recorded 1,430 yards and nine TDs last season. He averaged a robust 6.9 YPA. Senior Dexter Williams (39 ATT, 360 YDs, 9.2 YPA. 4 TDs) gets the call. He is fast, but Williams has been plagued by injuries and an inability to adapt to the Irish playbook. The O-line is the best of the Independents, but there have been some losses, which will affect it effectiveness this season. That could certainly reduce Notre Dame point totals. Last season, they averaged 34.2 PPG, placing them 24th in the nation. Their running game was ranked seventh and their passing game came in at 103rd.
Defense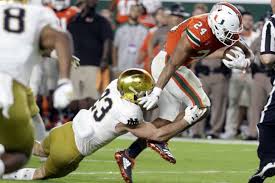 The Notre Dame defense sees nine starters come back. In 2017, they held opponents to 21.5 PPG (31st Nationally) and 369.2 YPG (46th Nationally). Those returning players will help former Notre Dame defensive assistant coordinator and current defensive coordinator Clark Lea. Lea takes over for the successful Mike Elko who left to serve as Texas A&M D-coordinator. The defense line is well-manned, and includes senior DT jerry Tillery (56 TKLs, 4.5 SCKs, 4.5 TFL, 11 QBHs) and junior DE Daelin Hayes (30 TKLs, 3 SCKs, 3.5 TFL, 4 QBHs). Our 2018 Notre Dame Fighting Irish college football preview observes that this frontline could hold teams to under four yards per rush this season. They are that good.
The linebacking unit is also exceptionally solid. Senior MLB Te'Von Coney (116 TKLs, 3 SCKs, 10 TFL, 5 QBHs) harasses quarterbacks and running backs at will. Senior WLB Drue Tranquill (85 TKLs, 1.5 SCKs, 9 TFL, 3 PBU, 1 INT, 3 QBHs) is speedy and reads opponents exceptionally well. The secondary also features smart, skilled defenders. CB Julian Love (60 TKLs, 20 PBU, 3 INTs), a senior, is a vacuum when it comes to intercepting opposing QB passes and receivers.
Special Teams
The special teams made progress last season, as Kelly rehired Brian Polian as the ST-coordinator. There's more work to do, but we expect to see more improvement in 2018. C.J. Sanders, who brought back kicks, is the only specialist who must be replaced. Punt returns will be handled by Finke, who averaged 6.5 YPR. Punter Tyler Newsome (63 Punts, 43.6 YPP, 19 w/in20), now a senior, had a decent season. Placekicker Justin Yoon (55-55 XP, 14-18 FG) was perfect on PATs and hit a 49-yard field goal last season.
2018 Notre Dame Fighting Irish College Football Preview: Final Word
Our 2018 Notre Dame Fighting Irish college football preview acknowledges that this team has a vigorous schedule that includes an initial first game at home versus Michigan (Sep 1). Irish have won six-straight home openers. Notre Dame hosts Stanford (Sep 29). The Fighting Irish lead the series 11-10. They have lost to the Cardinal team for three years running. ND is away against a good Virginia Tech (Oct 6) squad. This could be a close one. They play Navy (Oct 27) in San Diego. Notre Dame leads this series, which has been ongoing since 1927, 77-13-1. We expect they will win. Although the midshipmen did beat them two years ago 28-27. In November, the Irish host a premium Florida State (Nov 10) team. They finish the season off away at USC (Nov 24). In their last meeting, in 2016, ND lost 45-27.
Top Three Takeaways
O-line could affect offensive output
Improved passing completion percentage needed
Defense looks great in all areas
2018 Notre Dame Fighting Irish College Football Preview Projection: 10-3 Record Overall
For Easy Navigation Follow the Links Below
This team's Conference Preview Page
Top 25 Hub
All College Football Conferences Hub
College Football Preview Main Page