NCAA Previews
#1 Alabama Crimson Tide Preview
Can the Tide do it Again?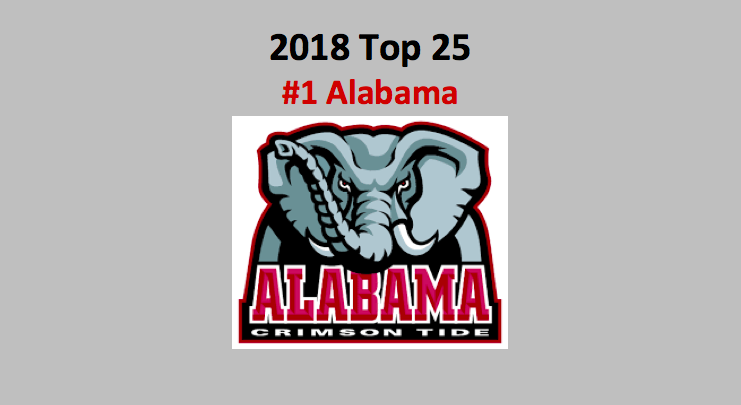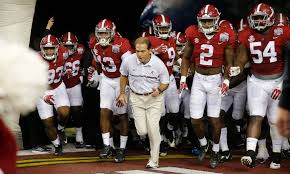 It is Nick Saban (132-20 Alabama, 223-62-1 Overall, 13-9 Bowls) and the Alabama Crimson Tide who are once again favored to win the national crown. Saban starts his 12th year at Alabama, and once again he has a team that is loaded with talent. Our 2018 Alabama Crimson Tide college football preview envisions this club taking down the SEC title and being chosen for the CFPs. There's fine depth at offense, but some possible holes in the all-important D. Still, Saban and his staff usually comes up with solutions for just about any challenge.
Offense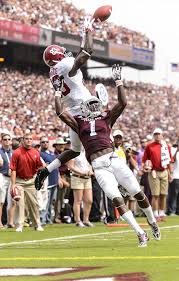 The major question centers on who will be taking the snaps this season. The odds-on favorite is sophomore Tua Tagavailoa (63.6 COMP%, 11 TDs, 2 INTs) who tossed 77 passes last season, completing 49. Of course, junior Jalen Hurts (60.4 COMP%, 17 TDs, 1 INT), a much better rusher, more experienced, and highly disciplined signal-caller, could get the call once again at QB. Hurts ran for 855 yards and eight scores last season.
All of the starters on the receiving end are new. Sophomore Henry Ruggs III (12 REC, 19.1 YPC, 6 TDs) has a good nose for the end zone. Jerry Jeudy (14 REC, 18.9 AVG, 2 TDs), also a sophomore, should see significant action. Senior running back Damien Harris (1000 YDs, 7.4 AVG, 11 TDs) can almost always be counted on the register a gain. In 135 attempts last season, he lost a total of just eight yards, while accumulating 1,008.
Good news for the run and pass attacks, the Alabama O-line should be one of the top three in the nation. Four starters return, including senior center Ross Pierschbacher. In terms of losses on offense, the Tide will not have wideout Calvin Ridley who last season made 63 catches for 967 yards.
Defense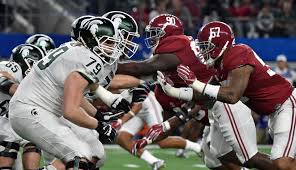 It is true that last season, the Alabama offense generated 37.1 PPG (2nd SCE, 15 Nationally), making this team tough to beat. But what made them especially tough to beat was the 11.9 PPG (1st SEC, 1st Nationally) that they allowed opponents. They were first in the nation in rush D and sixth against the pass. How does the defense look in 2018? They will have to replace eight starters, including the entire linebacking unit and secondary. Junior DE Raekwon Davis (69 TKLs, 8.5 SCKs, 1.5 TFL) is the top returning tackler. Isiah Buggs, a senior, is the other DE. He's a solid performer. He had seven QBHs in 2017. Last season, NT Quinnen Williams (20 TKLs, 2 SCKs, 4.5 TFL), a sophomore, showed potential in limited play. Junior Mack Wilson (40 TKLs, 4 INT, 4 QBH) brings some fine defensive chops and decent experience to the linebacking squad. The D-backs are the biggest question on this side of the ball.
Special Teams
The return game, which included Diggs (18 KRT, 8.6 AVG) on kicks and Ruggs (18 PRT, 18.4) on punts, showed improvement last year. We expect to see more of the same in 2018. Punter J.K. Scoot (40.0 NET, 27 In20, 1 BLK), a Ray Guy finalist, must be replaced, as must the very consistent PAT performer Andy Pappanastos (56-56 XP, 18-25 FG). Improvement in the field goal area would be appreciated.
2018 Alabama Crimson Tide College Football Preview: Final Word
Our 2018 Alabama Crimson Tide college football preview sees this team as having the ingredients it needs to win its sixth national title in 10 years. Then again, they have some tough opponents to face. The Tide open oup against the Louisville Cardinals (Sep 1), a team they cannot take lightly. Then Saban has to face former coaching assistants when Alabama hosts Texas A&M. (Sep 22). This could be a close one. The Crimson Tide should role over Tennessee (Oct 20), when they visit them, and LSU (Nov 3), when they host them. The regular season ends with Alabama at home looking to avenge last year's loss to Auburn (Nov 24). The good news for this team is they have a challenging but certainly friendly schedule with more than half of their games at home.
Top Three Takeaways
Offense looks ready to roll
Some major questions on defense could prove problematic
Saban and his crew are stellar and the schedule kind
2018 Alabama Crimson Tide College Football Preview Projection: 13-2 Record Overall/7-1 SEC; Finish: 1st SEC West
For Easy Navigation Follow the Links Below
This team's Conference Preview Page
Top 25 Hub
All College Football Conferences Hub
College Football Preview Main Page