The Most Common Sportsbook Bonus Types
In the competitive world of sports betting, books will offer bonuses to help persuade players to sign up for their site and also to keep them playing.  These bonuses will vary hugely across sites, both in terms of size and clearance requirements. In this article I have explained the types of Sportsbook bonuses available, how they work – so you can spot the best offers and steer clear of the duds.
Sign Up (Deposit) Bonuses
This is a bonus on offer for when you first create an account for a site and deposit money. The bonus amount is normally a percentage of your initial deposit – usually ranging from 15% to 50%. Although the bonus is credited to your account, it IS NOT quite your money yet – you have to earn it by betting.   Each Sportsbook will specify a rollover amount in the terms and conditions of the bonus. This means that you'll have to wager the total amount of the deposit and bonus a specified number of times before the bonus amount is actually yours.As an example, if you were to deposit $100 into a site that has a 50% deposit bonus and a 5x rollover requirement, you would have to wager $750 before the bonus is free to withdraw. This means that the 5x play-through is for the total of your deposit and the bonus cash. After this you bonus is "earned/released" and you can withdraw it.
Reload Bonuses
A majority of sites will not offer this bonus at all, some will offer this on occasions (usually around a large sporting event) and others will offer this as standard. The size of a reload bonus will be much smaller than a deposit bonus – 25% is typically the top end. This bonus will also be subject to a rollover. The sites that offer a reload bonus do so in the hope of keeping customers on the site.
Leading offshore US Sportsbook BetOnline offer their customers a 25% reload bonus on every deposit for life.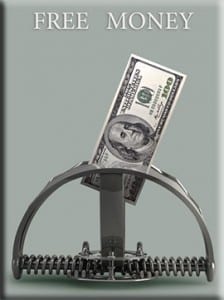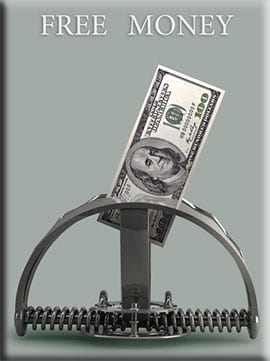 Free Bet Bonuses
Some sites will offer a free bet for when you place your first bet – matching the amount of the first bet. For example, if you deposit $20 and place a $20 bet, you'll also receive a free bet for $20. The free bet will not normally have the stake included, so if you backed an even money winner for the $20, you would receive $20, and not the normal $40 back. Some sites will require a rollover to release the free bet winnings – this will be stated in the terms and conditions of the bonus.
Some sites will also offer additional free bets as part of a promotion.  As an example, the bookmaker advertises that they'll offer money back if a certain player scores in a game of soccer – this money will on many occasions be paid back in the form of a free bet.
Percentage of Loss
A minority of sites will offer this type of bonus. The Sportsbook will give a percentage of the total losses back to the customer, which will both keep the customer happy, and encourage them to stay with the site. An example of this can be found in the racebook at Bovada, which returns between 3% and 5% to bettors every week.
No Deposit Bonus
This is a bonus offered where the customer of the site doesn't need to transfer funds before playing for real money. This is a very rare occurrence, but it does happen – the bonus however will be subject to a very high rollover requirement.  This type of bonus is more common with online casinos rather than sportsbooks.
Bonuses for Other Gambling Verticals And Betting Types
Finally, you will find that many sportsbooks also offer casino and poker games. They will often offer bonuses to encourage you to try these games out. This also occurs for live betting and mobile betting games. The books offer free bets to try these new areas, in the hope that you will like what you find and increase your overall betting activity.