NCAA Previews
#17 Virginia Tech Hokies Preview
How Long will Hokies Stay in Top 25?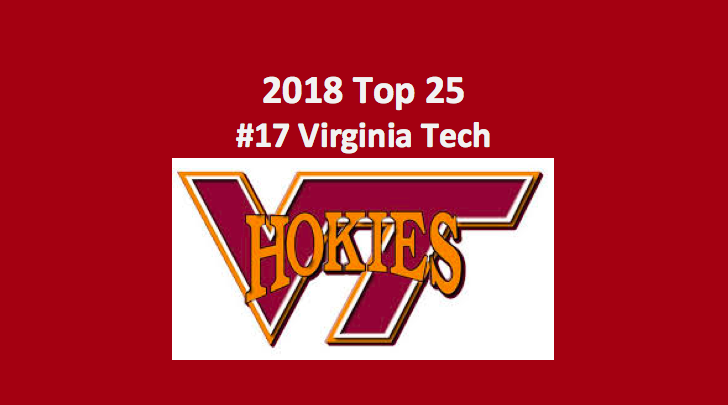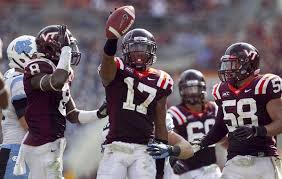 The Virginia Tech Hokies were 9-4 last season, finishing second in the ACC Coastal. Our 2018 Virginia Tech Hokies college football preview sees this team as struggling this season, and dipping down into fourth place in their division. Hokies coach Justin Fuente (19-8 Virginia Tech, 45-31 Overall, 2-1 Bowls) starts his third season with team, and it could be his most challenging one thus far. The basic take is Virginia Tech's offense is probably as good as it was last season. But its defense, which returns five starters, has taken some big hits. Those hits could hurt this team.
Offense
The Hokies, in many ways, were the ACC's average offense. They scored 28.2 PPG (6th ACC, 66th Nationally), ran for 173.4 YPG (7th ACC, 54th Nationally), and passed for 239.5 YPG (7th ACC, 57th Nationally). Their total yardage was 412.8 per game, which placed them sixth in the conference and 53rd in the nation. They should be in that same ballpark this season. The offensive line is one of the weaker ones in the conference, but they are close to where they were in 2017. The running game will be spearheaded by sophomore Jalen Holston (70 ATT, 226 YDs, 3.2 YPA, 3 TDs) with junior Deshawn McClease (108 ATT, 530 YDs, 4.9 YPA, 3 TDs) also contributing.
Sophomore QB Josh Jackson (59.6 COMP%, 20 TDs, 9 INTs) had a fine frosh season. He threw for an impressive 2,991 yards. He running chops were okay on short yardage situations, as he scored a half-dozen touchdowns on the ground. This season, with more experience, we expect him to show improvement. He will have to deal with losing his top pass catcher, Cam Phillips (71 REC, 13.6 YPC, 7 TDs). His single output was greater than that of the two top returning receivers. Ball State transfer Damon Hazelton has been added to this unit. Sophomore Phil Patterson, who missed much of last season, sophomore Sean Savoy (39 REC, 11.6 YPC, 4 TDs), and junior Eric Kumah (28 REC, 11 .6 YPC, 2 TDs) will all contribute. This is a young group of receivers.
Defense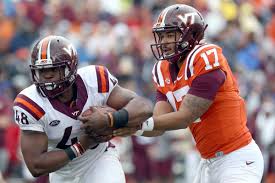 Last season, the Hokies held teams to 14.8 PPG (2nd ACC, 4th Nationally) and 319.3 YPG (2nd ACC, 13th Nationally). We don't expect this group to perform as well in 2018. Our 2018 Virginia Tech Hokies college football preview finds that the defensive line is the best group on this side of the ball. Senior DT Ricky Walker (41 TKLs, 4.5 SCKs, 8 TFL, 6 QBHs) and junior DE Trevon Hill (45 TKLs, 5.5 SCKs, 4 TFL, 7 QBHs) are both formidable defenders. Junior DE Houshun Gaines (24 TKLs, 3 SCKs, 4 TFL) can also bring it.
However, the LB unit loses its top two tacklers, quarterback hasslers, and run-stoppers. That's 201 tackles, nine sacks, 16.5 TFL, nine PBU, and 10 QBHs. The good news is WHIP Mook Reynolds (70 TKLs, 1.5 SCKs, 7.5 TFL), a senior, is back, as is D-back ROV Reggie Floyd (72 TKLs, 3 TFL, 3 INTs), a junior. They were third and fourth respectively in tackles last season. The secondary loses First-Team All-ACC corner Greg Stroman and his four picks and 11 PBU. That makes Floyd especially important when it comes to breaking up passes.
Special Teams
The Hokies lose record-setting specialists Greg Stroman (punt returns) and Joey Slye (placekicker). They also lose both kick return men. Sophomore punter Oscar Bradburn (66 Punts, 42.4 YPP, 24 w/in20) did a fine job his first season. Sophomore Brian Johnson, who in limited action last season was 5-5 on extra points and 3-4 on field goals, will kick. Senior receiver C.J. Carroll will take kicks and senior receiver Henri Murphy punts.
2018 Virginia Tech Hokies College Football Preview: Final Word
The Hokies start their season at Florida State (Sep 3). Our 2018 Virginia Tech Hokies college football preview notes that this game will be a massive test for this team. About a month later, they host Notre Dame (Oct 6), and the following week, VT plays North Carolina (Oct 13), as the Tar Heels are at home. These are two games that the Hokies need to win. Near the end of the season, they host what should be the top team in the division, Miami (Nov 17). The Hurricanes have won the last three-of-five in the series. Finally, they play rival Virginia (Nov 23) for the Commonwealth Cup. VT has won 14 straight.
Top Three Takeaways
Jackson should be even better at QB
Offense looks to be fairly sound
Major question for LB and DB units
2018 Virginia Tech Hokies College Football Preview Projection: 8-5 Record Overall/ 5-3 ACC; Finish: 4th ACC Coastal
For Easy Navigation Follow the Links Below
This team's Conference Preview Page
Top 25 Hub
All College Football Conferences Hub
College Football Preview Main Page