NCAA Previews
#23 Boise State Broncos Preview
Broncos Field Yet Another Highly Competitive Team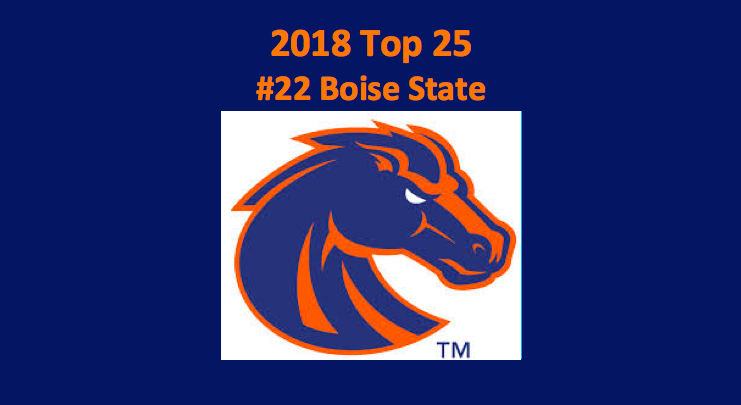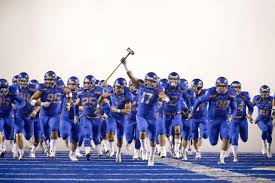 The 2017 Boise State season was typical in many ways, as they won more than they lost (11-3), took the conference championship after winning their division, and went to a bowl game. They won that bowl game last year, as they beat Oregon 38-28 in the Las Vegas Bowl. Our 2018 Boise State Broncos college football preview envisions that this team will once again have a fairly typical season. Head coach Bryan Harsin (42-12 Boise State, 49-17 Overall, 3-1 Bowls) has both a fine offense and defense to work with. We do think that this team will, once again, be first in their division, and most likely, tops in the conference.
Offense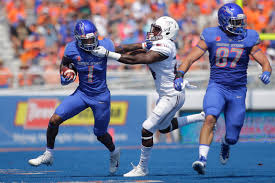 The offense sees its top QB and RB return, as senior Brett Rypien will (62.6 COMP%, 16 TDs, 6 INTs) will be in the pocket and junior Alex Mattison (212 ATT, 1,086 YDs, 5.1 YPA, 12 TDs) will be cutting up the turf. Although the top pass catcher, Cedrick Wilson is gone, the Broncos will have three of their top five receivers back. Senior wideout A.J. Richardson (33 REC, 15.0 YPC, 2 TDs) leads the group. RB Mattison proved his versatility by catching 28 passes for 284 yards.
The rush attack also includes sophomore Robert Malone (35 ATT, 132 YDs, 3.3 YPA, 1 TD). Malone did well last season as a red-shirted freshman. Expect more from him in 2018. The O-line had its issues last season, which means the ground attack faltered much too often. Five starters return, which should help the front perform better, while offering hope to the running backs. The Broncos are down some major contributors on offense, but our 2018 Boise State Broncos college football preview expects them to come close to the 32.5 PPG (2nd MW, 36th Nationally) they scored last season.
Defense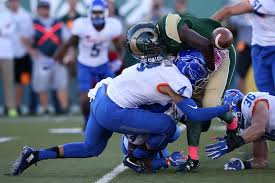 The Boise State D allowed 22.9 PPG (4th MW, 38th Nationally), and they were especially tough on the rush attack. They held opponents to 120.2 YPG (2nd MW, 17th Nationally). Our 2018 Boise State Broncos college football preview finds that the defense, which returns 10 starters. Is sound and tight. The D-line includes sophomore STUD Curtis Weaver (33 TKLs, 11 SCKs, 2 TFL). He was First-Team All-MW in his frosh season. This is a premium unit.
The defensive backs are also some of the best in the Mountain West. Senior CB Tyler Horton (44 TKLs, 11 PBU, 2 INTs) returns. He solid at tracking down receivers. Junior BS Kekoa Nawahine (108 TKLs, 4.5 TFL, 4 PBU, 3 INTs) is the Broncos top returning tackler and pick artist. The LB group is the weakest of the three. Junior MLB Tyson Maeva (84 TKLs, 1 SCK, 1.5 TFL, 3 PBU) anchors this relatively young squad.
Special Teams
The special teams improved greatly in 2017 and all of the key players return. Avery Williams proved to be a premium punt and kick returner. He averaged 11.2 on punts, bring two back for scores, and 24.7 on kicks. Senior punter Quinn Skillin (41 Punts, 40.4 YPP, 18 w/in20) did a fine job. Senior PK Haden Hoggarth (57-57 XP, 18-23 FG) was solid on extra points and good on field goals. He could use a little more power for those at 40-plus yards.
2018 Boise State Broncos College Football Preview: Final Word
Our 2018 Boise State Broncos college football preview offers that this team has a relatively light schedule that includes an opener at Troy (Sep 1). The Sun Belt Spartans have what may be the best D in their conference, but we don't think they can hold back the Broncos for an entire game. Boise State travels to Oklahoma State (Sep 15) for a contest that could offer the Broncos some real challenges. When San Diego State (Oct 4) visits, they won't be a pushover. The Broncos have beaten BYU (Nov 3) three of the last four times and two straight. The Cougars visit this MW team. The home team could post their third win in a row against BYU. The Fresno State (Nov 9), which is at Boise State, should be close. The final contest against Utah State (Nov 24) could decide the MW Mountain Division.
Top Three Takeaways
Offense can score points
Defense is sound at OL and in secondary
LB unit is vulnerable
2018 Boise State Broncos College Football Preview Projection: 11-3 Record Overall/ 7-1 MW; Finish: 1st MW Mountain
For Easy Navigation Follow the Links Below
This team's Conference Preview Page
Top 25 Hub
All College Football Conferences Hub
College Football Preview Main Page