NCAA Previews
#16 TCU Horned Frogs Preview
TCU Offers Top D, but has Challenges on Offense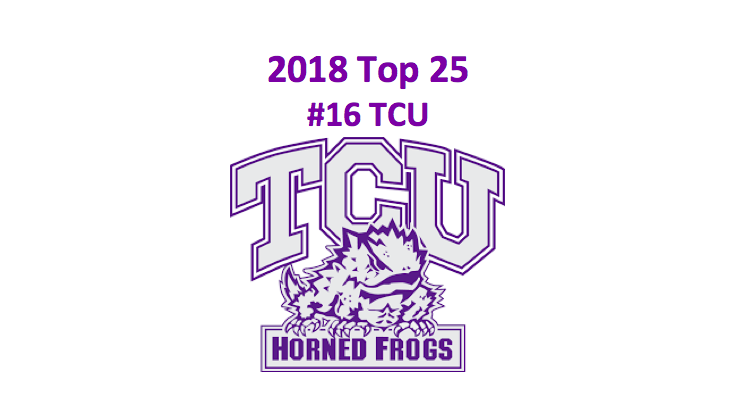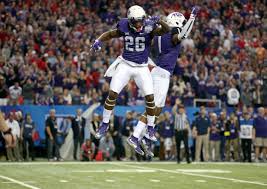 In 2017, the TCU Horned Frogs were 11-3 overall and 7-2 in the Big 12. They finished second in the conference, which put them in the Big 12 championship game. The Horned Frogs played Oklahoma, who they had lost to earlier 38-20, and lost to them again 41-17. The team did earn a berth in the Alamo Bowl where they beat Stanford 39-37. Our 2018 TCU Horned Frogs college football preview envisions this team, once again, being competitive. In three of their last four seasons, they have won 11 or more games with the anomaly being 2016 when they were 6-7. Although they may have some challenges on offense this year, they look to be nicely equipped on D.
Offense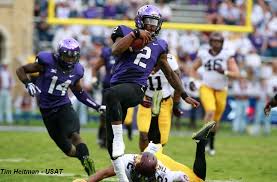 In 2017, the Horned Frogs averaged 33.6 PPG (5th Big 12, 29th Nationally). A lot of that scoring came from the arm and legs of QB Kenny Hill. Hill tossed 23 TD passes and ran for five more scores. He is gone, which means sophomore signal caller Shawn Robinson (48.1 COMP%, 4 TDs, 0 INTs) will start. Although he has little experience, Robinson was a four-star QB signee and last season with little notice started and won the game against Texas Tech 27-3. If Robinson can acclimate quickly to weekly game pressures, he'll most likely be tossing to fellow sophomore Jalen Reagor (33 REC, 17.5 YPC, 8 TDs). In his frosh season, Reagor led the Horned Frogs in receptions and receiving touchdowns. He's a deep threat all the way. Still, this is a thin group of receivers with less experience than one would like.
The ground game will feature senior Darius Anderson (128 ATT, 768 YDs, 6.0 YPA, 8 TDs), as well as junior Sewo Olonilua (64 ATT, 330 YDs, 5.2 YPA, 7 TDs). The O-line is experienced but could come along quickly, especially under the tutelage of head coach Gary Patterson (160-57 TCU and Overall, 9-7 Bowls). If the offensive line can step up, that will make a huge difference for both the rush and pass attacks.
Defense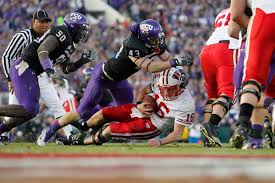 The TCU defense features three of the best units in the Big 12. Upfront, senior RE Ben Banogu (49 TKLs, 8.5 SCKs, 8 TFL, 7 QBHs) can really bring it. He's the lynchpin of the D-line. SLB Ty Summers (64 TKLs, 4 SCKs, 4 TFL, 3 QBHs), a senior, can track down QBs and RBs with aplomb. With three PBU and an INT, he's also a skilled pass defender.
Two seniors man the safety spots, with the versatile Ridwan Issahaku (66 TKLs, 2 SCKs, 4 TFL 5 PBU, 1 INT) in the strong position. He's the returning leader in tackles. Over two seasons, free safety Niko Small (46 TKLs, 1 TFL, 5 PBU) has broken up a total of 14 passes in 23 starts. Junior Jeff Gladney (28 TKLs, 5 PBU, 2 INTs) is the leader of what is a talented but relatively inexperienced group of corners.
Special Teams
Our 2018 TCU Horned Frogs college football preview finds that a major strength for this team are its run back units. KaVontae Turpin, a senior, averaged 16.2 yards per punt return and 30.8 per kick return. He scored a TD in each category. Junior punter Adam Nunez (62 Punts, 39.3 YPP, 30 w/in20) has fine placement, but could use more distance. Junior Cole Bruce (16-18 XP, 6-7 FG) replaces Jonathan Song. At least for now.
2018 TCU Horned Frogs College Football Preview: Final Word
The Horned Frogs have a daunting schedule. They do face Southern (Sep 1) for their home opener, which should translate into a win. But then 2018 TCU Horned Frogs college football preview observes that this team will face some very tough oppnents. They play Ohio State (Sep 15) in Arlington. OSU has the upper hand here. The next week, they are at Texas (Sep 22). This will be a huge test that favors the Longhorns. Oklahoma (Oct 20) visits for a pivotal contest, which has TCU as the underdog. Then back-to-back, Kansas State (Nov 3), at home, and West Virginia (Nov 10), away, could define this team's season.
Top Three Takeaways
Questions at QB
O-line is inexperienced
One of best defenses in the Big 12
2018 TCU Horned Frogs College Football Preview Projection: 9-4 Record Overall/ 6-3 Big 12; Finish: 3rd Big 12
For Easy Navigation Follow the Links Below
This team's Conference Preview Page
Top 25 Hub
All College Football Conferences Hub
College Football Preview Main Page