NCAA Previews
#12 Michigan Wolverines Preview
Is This the Year for the Wolverines?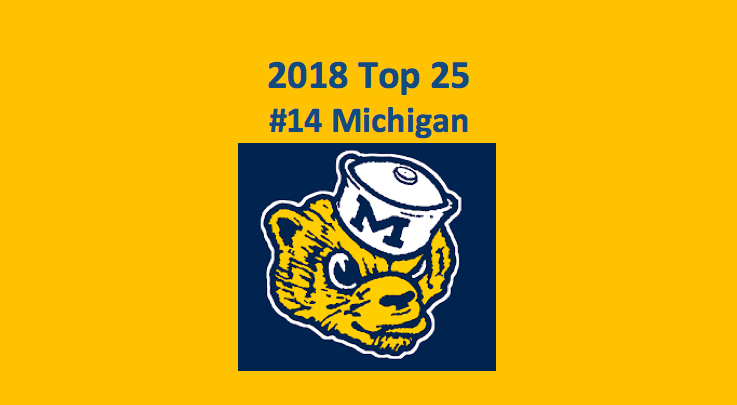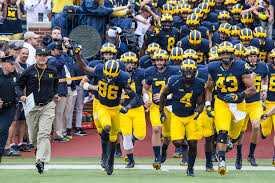 The Michigan Wolverines have put up three-straight winning season. Although 2017 saw a drop-off, as they went 8-5 instead of 10-3 as they had done the previous two years, they were still a highly competitive team. Our 2018 Michigan Wolverines college football preview finds that this team is back. The Wolverines and head coach Jim Harbaugh (28-11 Michigan, 57-32 Overall, 2-3 Bowls) are looking forward to competing mightily with Ohio State for the top spot in the Big Ten East. However, to do so, the Wolverines will have to deal with one of the most challenging schedules in college football.
Offense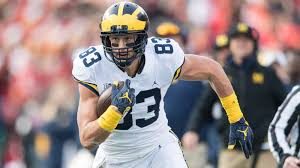 The Wolverine offense would certainly like to put more points on the scoreboard this season. They averaged just 25.2 PPG (8th Big Ten, 91st Nationally). The had the 111th-ranked pass attack and were ranked 105th in total offensive yards. Their ground game offered 177.7 YPG (4th Big Ten, 49th Nationally). Once again, this team's rush attack will be relentless. Senior Karan Higdon (164 ATT, 994 YDs, 6.1 YPA, 11 TDs) will be the primary ball carrier, while junior Chris Evans (135 ATT, 685 YDs, 5.1 YPA, 6 TDs) will be in the mix. New o-line coach Ed Warriner, who did such fine work at OSU, comes in to upgrade and refine what has been a problematic group.
The passing game will be feature Ole Miss grad transfer Shea Patterson at quarterback. In 2017, in just seven starts with his former team, he passed for 2,259 yards and 17 scores. He has the potential to wake up what has been a sleepy passing game. He has a stable of experienced wideouts to throw to, as all eight pass catchers from last season return. Last season, the tight ends were first, second, and third in catches. Sophomore WR Tarik Black (11 REC, 13.5 YPC, 1 TD) had a sound frosh season. Sophomore Donovan Peoples-Jones (22 REC, 12.6 YPC, 0 TDs) is a young, talented wideout.
Defense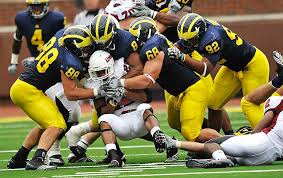 The defense was tough on passing last season. They gave up just 150.1 YPG (1st Big Ten, 1st Nationally) in the air. Our 2018 Michigan Wolverines college football preview sees the secondary as being top-notch once again. All four starters return, including junior corner Lavert Hill (25 TKLs, 7 PBU, 2 INTs). Senior free safety Tyree Kinnel (68 TKLs, 7 PBU, 2 INTs) is a cagey defender.
The linebackers are a smart and resilient group. Junior MLB Devin Bush (100 TKLs, 5 SCKs, 4.5 TFL, 8 PBU) led the team in tackles, while junior SLB Khaleke Hudson (82 TKLs, 8 SCKs, 9.5 TFL,) had great numbers against the run and pass. Hudson broke up nine passes, grabbed two picks, and also had four QBHs. On the line, senior DE Chase Winovich (77 TKLs, 8 SCKs, 10 TFL, 6 QBHs) and junior DE Rashan Gary (67 TKLs, 6 SCKs, 6 TFL, 7 QBHs) were massive enforcers. The is an awe-inspiring defense.
Special Teams
The Wolverines have fine special teams units. People-Jones is one of the best on punt returns, bringing back one for a score and averaging 8.0 per return. His longest bring-back was 79 yards. The kick return game could be better, and hopefully will be upgraded. Sophomore PK Quinn Nordin (35038 XP, 19-24 FG) was 6-of-8 from 40-plus yards, including two from 50-plus. His longest was 55 yards. He's got a strong leg but needs to be more consistent. Sophomore punter Brad Robbins (64 Punts, 40.4 YPP, 10 w/in20) had an overall good frosh season.
2018 Michigan Wolverines College Football Preview: Final Word
As noted earlier, our 2018 Michigan Wolverines college football preview sees this team as having a very challenging schedule. The team starts on the road against Notre Dame (Sep 1). The visitor in this series has lost four straight. They also have Wisconsin (Oct 13) on their schedule. The Wolverines are at home for that one. Michigan has a bye-week before they host Penn State (Nov 3). In the past five seasons, the Wolverines are 3-2 versus the Nittany Lions. They finish their season at Ohio State (Nov 24). They have lost to the Buckeyes five straight years.
Top Three Takeaways
Excellent, experienced defense
Rush attack looks sound
O-line needs major improvement, which may happen
2018 Michigan Wolverines College Football Preview Projection: Record Overall 10-3/ 7-2 Big Ten; Finish: 2nd Big Ten East
For Easy Navigation Follow the Links Below
This team's Conference Preview Page
Top 25 Hub
All College Football Conferences Hub
College Football Preview Main Page