NCAA Previews
#12 Michigan State Spartans Preview
Does Michigan State Have What it Takes to Rule the Big Ten East?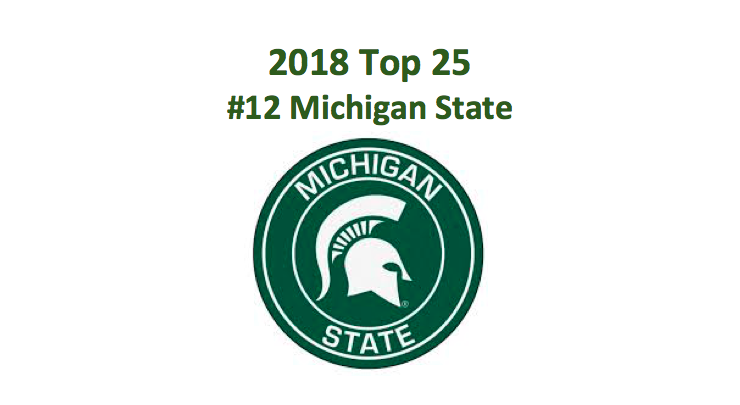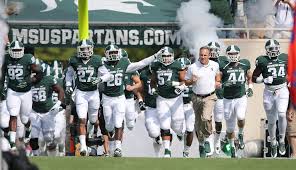 The Michigan State Spartans certainly recovered from their disastrous 2016 season when they posted a 3-9 record. In 2017, they were 10-3, finishing third in the Big Ten East and beating Washington State in the Holiday Bowl 42-17. Our 2018 Michigan State Spartans college football preview envisions this team as, once again, posting a winning record and earning another bowl berth. Coach Mark Dantonio (100-45 Michigan State, 118-62 Overall, 6-5 Bowls) sees 10 starters return on offense and nine more on defense. At the same time, his Spartans face a fairly tough list of teams in 2018.
Offense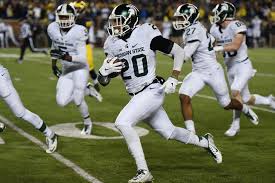 Despite averaging just 25.5 PPG (10th Big Ten. 96th Nationally), the Spartans managed to put up winnings numbers most of the time. The team's 383.1 total yards of offense ranked them eighth in the conference and 91st in the nation. We may see those numbers increase a bit for a few reasons. First is the offensive line, which is more experienced and deeper than last seasons. They are not the best in the Big Ten, but they do move up a few clicks from last season. The second is QB Brian Lewerke (59.0 COMP%, 20 TDs, 7 INTs), who played well his first time in the starting spot. Lewerke proved that he was a solid passer, and, also, a good runner. He carried the ball 124 times for 559 yards and five scores. Lewerke averaged 4.5 YPA.
Lewerke has a fine group of pass catchers to toss to, including senior WR Felton Davis (55 REC, 14.1 YPC, 9 TDs). Davis led all receivers in catches, average yards-per-catch, and receiving-touchdowns. He joined by four of the other top five receivers. Second in catches, junior Darrell Stewart (50 REC, 10.0 YPC, 2 TDS) offers excellent catch and run skills. In terms of rushing, senior L.J. Scott (201 ATT, 898 YDs, 4.5 YPA, 8 TDs) decided to forgo the NFL for a year and is back. He had a fine 2017 season, as he rid himself of the fumble bug and fully utilized his power and speed.
Defense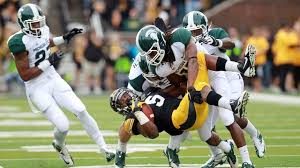 The Spartan defense was sound last year, as they held opponents to 20.0 PPG (6th Big Ten. 19th Nationally). This team stuffed the run, holding teams to 95.3 YPG (1st Big Ten, 2nd Nationally). Plus, their pass D allowed 202.3 YPG (7th Big Ten, 37th Nationally). Coming into this season, our 2018 Michigan State Spartans college football preview finds that the defensive backs make up one of the best units in the conference. The starters include two juniors, BC Justin Layne (40 TKLs, 8 PBU, 1 INT) and FS David Dowell (52 TKLs, 4 PBU, 5 INTs), and sophomore FC Josiah Scott (30 TKLs, 10 PBU, 2 INTs) and senior BS Khari Willis (71 TKLs, 3 PBU, 2 INTs). This is an experienced group that is backed-up by some talented younger players.
The linebacking unit is led by senior MLB Joe Bachie (100 TKLs, 3.5 SCKs, 5 TFL, 2 PBU, 3 INTs). Bachie has a nose for the ball and is a smart, quick, resourceful defender. The D-line is also experienced and accomplished. Junior DE Kenny Willekes (73 TKLs, 7 SCKs, 7.5 TFL, 8 QBHs) is aggressive and focused on stopping every play.
Special Teams
Special teams were upgraded last season, and they appear to be sound for 2018. Senior punter Jake Hartbarger (69 Punts, 42.0 YPP, 28 w/in20) offers distance and accuracy. Sophomore PK Matt Coghlin (38-38 XP, 15-19 FG) has a good frosh season. He needs to improve on distance. The return game includes Stewart on kicks, averaging 25.3 YPR, as well as sophomore Connor Heyward (21.8 YPR). Sophomore Laress Nelson returns punts. He was good for 4.9 YPR.
2018 Michigan State Spartans College Football Preview: Final Word
It's not an easy road for these Spartans. They start their season by hosting a good Utah State team (Aug 31). They have two huge contests in October. First, Michigan State is at Penn State (Oct 13). They have beaten the Nittany Lions in the last three-of-four meetings. The Spartans then host the Wolverines of Michigan (Oct 20). State has taken down four of those games over the past five years. Our 2018 Michigan State Spartans college football preview sees their biggest challenge being their game versus Ohio State (Nov 10). The Spartans host the Buckeyes, a team they have lost to three of the past five seasons, including 2016 and 2017.
Top Three Takeaways
Very sound and deep secondary
Rush attack looks like it can take this team places
Expect more from the passing game in 2018
2018 Michigan State Spartans College Football Preview Projection: 10-3 Record Overall/ 6-3 Big Ten; Finish: 4th Big Ten East
For Easy Navigation Follow the Links Below
This team's Conference Preview Page
Top 25 Hub
All College Football Conferences Hub
College Football Preview Main Page