NCAA Previews
#21 Texas Longhorns College Preview
Longhorns Could Take the Conference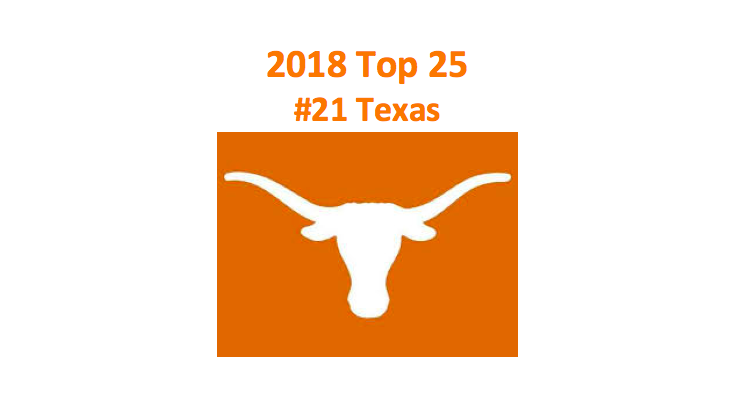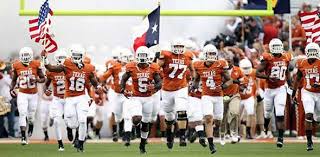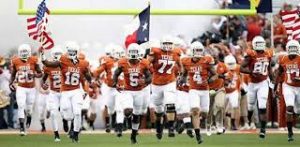 The Texas Longhorns don't have the best offense, nor do they possess the best defense. Still, they could have enough on both sides of the ball to be quite competitive. That's despite the fact that they have to play one of the most daunting schedules in college football. Head coach Tom Hermon (7-6 Texas, 29-10 Overall, 2-0 Bowls) might be able to guide this team through that minefield. He had a good first season with the Longhorns, as they posted a 7-6 record and beat Missouri in the Texas Bowl 33-16. The three years prior to Hermon's arrival, the Longhorns posted losing records. Our 2018 Texas Longhorns football preview likes them a lot this year.
Offense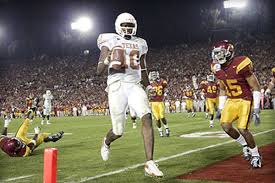 The Longhorns averaged 29.5 PPG (7th Big 12, 52nd Nationally) in 2017. Their primary method of moving the ball was the air game, as they averaged 258.8 YPG (7th Big 12, 41st Nationally). One question for this team is who will start at QB? Last season, then freshman Sam Ehlinger (57.5 COMP%, 11 TDs, 7 INTs) took over for an injured Shane Buechele (64.3 COMP%, 7 TDs, 4 INTs) and performed well. It looks as if Ehlinger will keep the job despite Buechele, a junior, being healthy. He'll have a solid receiving unit to throw to, including two experienced juniors. WRs Collin Johnson (54 REC, 14.2 YPC, 2 TDs) and Lil'Jordan Humphrey (37 REC, 11.6 YPC, 1 TD) are both skilled and talented.
The RB spot may be manned by freshman Keaontay Ingram. Ingram is exceptionally fast. A Mr. Football finalist in Texas, he rushed for 2,327 yards and 37 TDs last year. The line was a problem last year, but if they can stay healthy, they won't be in 2018. A lot depends on this group that went down with numerous injuries. There's a lot of experience here.
Defense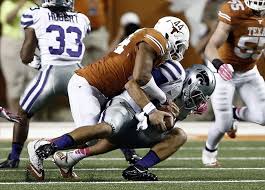 Seven starters return to a defense that last year gave up 21.2 PPG (3rd Big 12, 29th Nationally). They were exceptional against the ground attack, holding teams to 106.8 YPG (2nd Big 12, 8th Nationally). However, the Longhorn pass defense was lacking, as they allowed 258.8 YPG (5th Big 12, 109th Nationally) in the air. The strength of this team is the frontline. Senior defensive ends Charles Omenihu (28 TKLs, 4 SCKs, 3 TFL, 6 QBHs) and Breckyn Hager (23 TKLs, 4 SCKs,5 TFL, 4 PBU, 3 QBHs) are immense talents. Both can hassle quarterbacks in an array of ways.
LBs Gary Johnson (60 TKLs, 2 SCKs, 4 TFL 4 QBHs) and Anthony Wheeler (47 TKLs, 2.5 SCKs, 3 TFL) are the enforcers on this unit. Senior corner back Kris Boys (57 TKLs, 15 PBU, 2 INT) is the primary defender in what our 2018 Texas Longhorns football preview finds is a very talented group of defensive backs. Look for this unit to show marked improvement in 2018. One of the reasons for the depth of talent in the secondary has to do with a major recruitment effort by the Longhorns.
Special Teams
Michael Dickson, the Ray Guy Award-Winner, is gone. Of his 84 punts last season, 42 were within the 20. He averaged 47.4 YPP. How do you replace that? Australian Ryan Bujcevski, a freshman, will be given a shot. Also, possibly being replaced will be senior PK Joshua Rowland (38-38 XP, 11-18 FG). He missed about 65% of his field goal attempts from 40-plus yards. Freshman Cameron Dicker will get a chance to do the kicking chores. Also, punt returns specialist Reggie Hemphill-Mapps, who averaged 10.6 yards per return and ran one back for a score, is gone. Senior receiver Jerrod Heard will step in. Both Kris Boyd (26.4 YPR) and Kyle Porter (25.3 YPR) are back to handle kicks.
2018 Texas Longhorns Football Preview: Final Word
The Longhorns will be tested in 2018. However, the first few weeks look to be rather kind. They play Maryland (Sep 1) on the road and then open at home against Tulsa (Sep 8). We expect both of these contests to be wins for the Lone Star team. They host USC (Sep 15), a very tough team, a week later. Then, a few weeks after that, they meet Oklahoma (Oct 6) Our 2018 Texas Longhorns football preview sees this as being the game that decides exactly what type of the Texas is. West Virginia (Nov 3) visits for a contest that can go either way. Their final three games are against the lower third of the Big 12.
Top Three Takeaways
Who will be the best QB for this team?
Texas has some talented pass catchers
Defense is solid
2018 Texas Longhorns Football Preview Projection: 10-3 Record Overall/ 7-2 Big 12; Finish: 2nd Big 12
For Easy Navigation Follow the Links Below
This team's Conference Preview Page
Top 25 Hub
All College Football Conferences Hub
College Football Preview Main Page