NCAA Previews
#13 Stanford Cardinal Preview
Stanford Battles Washington and Oregon for Pac-12 North Title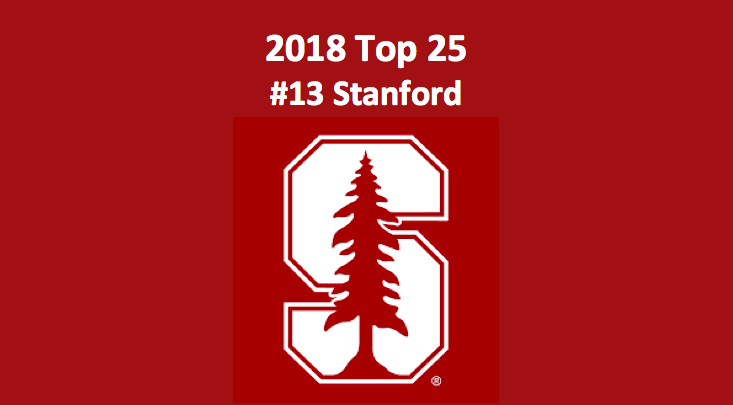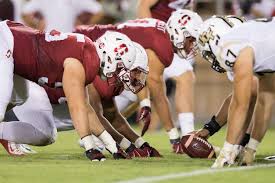 Head coach David Shaw (73-22 Stanford and Overall, 4-3 Bowls) has done a good job since coming to Stanford seven years ago. Since taking over for Jim Harbaugh, Shaw's teams have averaged just over 10 wins per season. Our 2018 Stanford Cardinal college football preview sees 10 wins as once again being a real possibility for this team. Last season, they won the Pac-12 North and ended with a 7-2 conference mark and a 9-5 record overall. Unfortunately, they lost their final two games. That first loss was 31-28 to USC for the Pac-12 Championship. The second was 39-37 to TCU in the Alamo Bowl. They certainly hope for a better ending in 2018.
Offense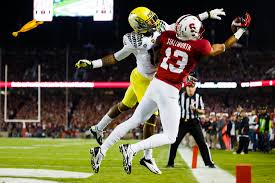 In researching our 2018 Stanford Cardinal college football preview, we project that this team will once again focus on the ground attack. At the same time, they'll try to improve on their passing game. What will be a big factor in both is the Cardinal O-line, which appears to be the best in the Pac-12. The team averaged 32.4 PPG (6th Pac-12, 38th Nationally). Their rush attack was good for 202.4 YPG (3rd Pac-12, 30th Nationally), while they threw for merely 186.3 YPG (11th Pac-12, 99th Nationally). The Cardinal team sees its top five rushers return, including senior Bryce Love (263 ATT, 2,118 YDs, 8.1 YPA, 19 TDs) a First-Team All-American and Heisman Runner-Up. Joining Love is junior RB Cameron Scarlett, who got 91 carries last season, averaging 4.3 YPA and scoring eight times.
Sophomore QB K.J. Costello (58.8 COMP%, 14 TDs, 4 INTs) showed marked improvement down the stretch last season. He comes back with a lot more experience and could have a breakthrough season. His four most productive receivers come back, and each has a minimum of 31 catches. Junior wideout J.J. Arcega-Whiteside (48 REC, 16.3 YPC, 9 TDs) led the team in catches and receiving TDs. As a freshman last season, TE Kaden Smith (23 REC, 18.0 YPC, 5 TDs) was tops in yards per catch while grabbing five scoring passes. This could be a very productive and highly explosive offense.
Defense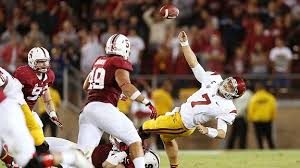 The best part of this Cardinal D is the linebacking squad. Five return who earned starts last season, including junior ILB Sean Barton who was lost early in the year. Two seniors, ILB Bobby Okereke (94 TKLs, 4 SCKs, 3.5 TFL, 4 QBHs) and ILB Joey Alfieri (37 TKLs, 2 SCKs, 2 TFL) will start, as will red-shirted OLB Gabe Reid. Our 2018 Stanford Cardinal college football preview sees the secondary as a bit less promising. Although, we do think they'll improve over last season. Junior free safety Frank Buncom (44 TKLs, 1 PBU, 3 INTs) and senior CB Alijah Holder (26 TKLs, 3 PBU, 1 INT) are the leaders in that group.
The top two performers on the frontline are gone, including Harrison Phillips who led the team with 100 tackles, seven sacks, and nine TFL. The D-line is young and includes red-shirted freshman Dayln Wade-Perry at DT, sophomore Jovan Swann (26 TKLs, 1.5 SCKs, 2 TFL, 6 QBHs) at DE, and junior Dylan Jackson (36 TKLs, 0.5 SCKs, 1 TFL, 1 QBHs) at DE. Last season, Stanford allowed 169.0 YPG (7th Pac-12, 68th Nationally) in rushing. That stat could increase in 2018. As could, if the line can't penetrate, the 236.1 YPG (5th Pac-12, 80th Nationally) in passing that they allowed.
Special Teams
The Stanford special teams are some of the best in the nation. They offer fine coverage, as well as solid run backs and dependable kicking and punting. All of the primary players return, including Scarlett, who averaged 25.9 YPR on kicks and Trenton Irwin who notched 8.5 YPR on punts. Senior punter Jake Bailey (57 Punts, 45.4 YPP, 24 w/in20) was a Second-Team All-Pac-12 selection last year. Sophomore placekicker Jet Toner (54-54 XP, 21-26 FG) hit a 46-yard field goal, but missed his one try from 50-plus.
2018 Stanford Cardinal College Football Preview: Final Word
Our 2018 Stanford Cardinal college football preview sees this team's offense as being quite dynamic, while their defense may be down a few notches. The Cardinal club opens their season at home against San Diego State (Aug 31). The State D is good and should offer Stanford a solid test. Next, they host USC (Sep 8). USc beat them twice last season. The Cardinal players need to win this one. Stanford plays its first away game of the season at Oregon (Sep 22) and then their second one at Notre Dame (Sep 29). They've taken down both teams for two years straight. Their last major contest is at Washington (Nov 3). Could this be for the Pac-12 North title? They beat the Huskies last year 38-20.
Top Three Takeaways
Perhaps one of the best Cardinal offenses in years
Special teams look to be in fine shape
Defense could give up some extra yardage and points
2018 Stanford Cardinal College Football Preview Projection: 10-3 Record Overall/ 7-2 Pac-12; Finish: 2nd Pac-12 North
For Easy Navigation Follow the Links Below
This team's Conference Preview Page
Top 25 Hub
All College Football Conferences Hub
College Football Preview Main Page