NCAA Previews
#2 Clemson Tigers Preview
Clemson Has Its Eyes on Another CFP Appearance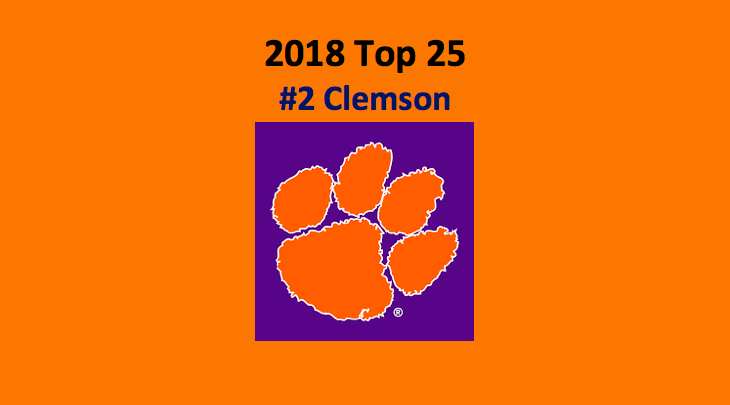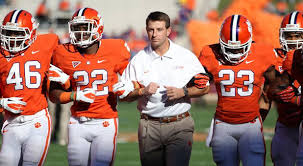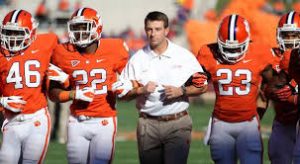 The Clemson Tigers are, as usual, shooting for the top. They are clearly focused on putting up great numbers, running the table on the season, and taking down the ACC crown. And our 2018 Clemson Tigers college football preview does project that they have a very good chance of doing all that they will set out to do this season. The Tigers won the CFP in 2016, as they took apart Ohio State 31-0 in the Fiesta Bowl and then beat Alabama 35-31 to win the national championship. But last year was different. Ranked first in the nation, the Tigers played the #4 Crimson Tide in the Sugar Bowl and lost 24-6. They never made it to the championship game. Clemson head coach Dabo Swinney (101-30 Clemson and Overall, 7-5 Bowls) has taken this team to three straight CFP appearances. There's no reason to think that he won't do it again in 2018.
Offense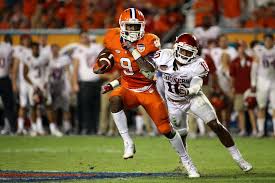 The Clemson Tigers bring a sound offense to the field, but it is probably not the best offense in the ACC. Florida State's looks to be a bit better. Nonetheless, the Tigers will feature a top-notch rush attack. Leading the way will be sophomore Travis Etienne (107 ATT, 766 YDs, 7.2 YPA, 13 TDs). As a freshman last season, he made Second-Team All-ACC. Plus, junior Tavien Feaster (107 ATT, 669 YDs, 6.3 YPA, 7 TDs) returns, as does sophomore QB Kelly Bryant (192 ATT, 665 YDs, 3.5 YPA, 11 TDs). Helping the cause will be the O-line, which is seasoned and deep.
The question for the Tigers is who will be this season's starting quarterback. Bryant (65.8 COMP%, 13 TDs, 8 INTs) has a shot at the spot after throwing for just over 2,800 yards. But there will be competition from true freshman Trevor Lawrence. Lawrence is said to possess a premium arm. There's also red-shirted freshman Chase Brice. Whoever gets the job, we expect they will certainly be up to it. Senior Hunter Renfrow (60 REC, 10.0 YPC, 3 TDs) leads a diminished receiving group. They'll be relying on sophomores Tee Higgins (17 REC, 20.3 YPC, 2 TDs) and Amari Rodgers (19 REC, 6.5 YPC, 0 TDs) to get the job done.
Defense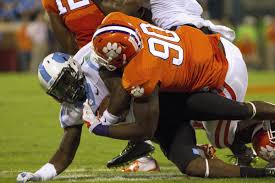 The Tiger offense averaged 33.3 PPG last season, while their defense held opponents to 13.6 PPG (1st ACC, 2nd Nationally). They were first in the conference in rushing, passing, and total yards allowed. The Tiger D was fourth in the nation in total yards allowed. This side of the ball gets the job done. Clemson doesn't just have the best D-line in the ACC, they may have the best in the country. Four starters return, including two seniors and two juniors. Last season, junior DE Clelin Ferrell (65 TKLs, 9.5 SCKs, 8.5 TFL, 12 QBHs) led the team in sacks and TFL. Senior DE Austin Bryant (58 TKLs, 8.5 SCKs, 7 TFL, 12 QBHs) was second in those categories and tied Ferrell for most quarterback hurries.
The deep backs are also formidable. Junior corner Trayvon Mullen (42 TKLs, 7 PBU, 3 INTs) is adroit at breaking up passes. Junior strong safety Tanner Muse (64 TKLs, 2 TFL, 4 PBU) is a solid defender. The linebacking group is strong too, but, as they did the year prior, they lose their top-performer, OLB Dorian O'Daniel (104 TKLs, 5 SCKs, 6.5 TFL, 3 PBU, 2 INT, 6 QBHs). But this is still a tough and determined unit. They're led by senior OLB Kendall Joseph (87 TKLS, 0.5 SCKs, 4.5 TFL, 2 PBU, 1 INT, 10 QBHs). He's as good as anyone at tracking down ball carriers. As our 2018 Clemson Tigers college football preview notes, he had a solid season last year and should do even getter in 2018.
Special Teams
Senior PK Greg Huegel (14-15 XP, 2-4 FG) returns after missing most of last season with a torn ACL. He's normally very effective. Punter Will Spiers (67 Punts, 40.6 YPP, 25 w/in20) had a fine freshman season and is back. The Tigers must replace Ray-Ray McCloud, an explosive punt returner.
2018 Clemson Tigers College Football Preview: Final Word
Clemson will have their first test early in the season when they travel to play Texas A&M (Sep 8). They are 1-3 versus the Aggies. They are away at Georgia Tech (Sep 22) too. This should be a win, except 11 of the last 13 meetings in this series have been taken by the home team. However, the Yellow Jackets last beat the Tigers in 2014. Clemson's other big challenge will be their away game at Florida State. The Seminoles have a very dangerous team. Still, our 2018 Clemson Tigers college football preview sees the Tigers as having yet another shot at the national championship.
Top Three Takeaways
Tough, tough, did we say "tough" D
Rush attack is in fine shape
QB competition will work its way out
2018 Clemson Tigers College Football Preview Projection: 12-2 Record Overall/ 7-1 ACC; Finish: 1st ACC Atlantic
For Easy Navigation Follow the Links Below
This team's Conference Preview Page
Top 25 Hub
All College Football Conferences Hub
College Football Preview Main Page