Lucky99 Sportsbook Review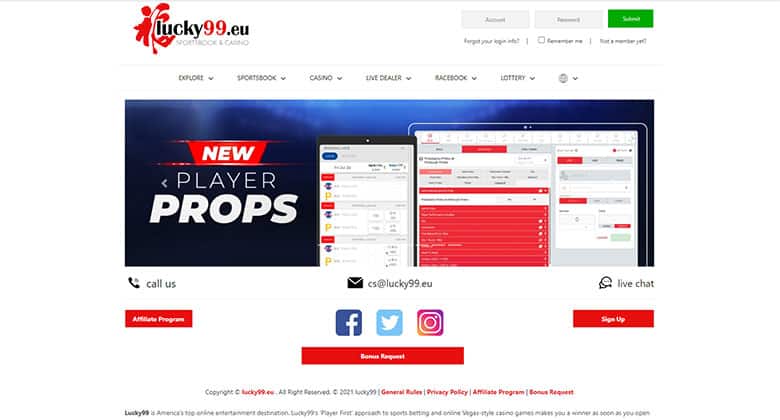 In a Nutshell...
Lucky99 is the new brand of VietBet and Chinese Bookie. Lucky99 the largest Asian American sportsbook and has been around since 2002.
Deposit/Payout Options
7.8
Positives
Never hear a bad thing about them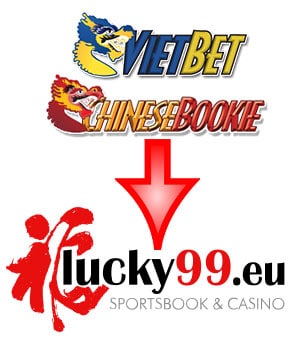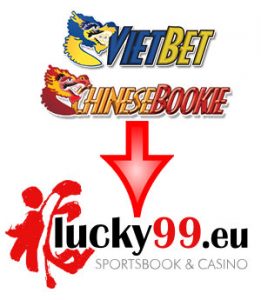 At first glance, it would look like Lucky99.eu is a pop-up site that may or may not be around by the time you're ready to cash out winnings. Upon some deeper investigation though it turns out the site has actually been around since 2002 and is a very highly regarded sportsbook. The site was acquired by one of the bigger players in the industry (5Dimes) in 2009 and that betting platform gave Luckybet stability, reliability, and better customer service capabilities.
The first thing you'll notice about Lucky99 is that it's not 'sexy' and looks outdated. The home page isn't very appealing and the blandness extends into the wagering pages, deposit areas, and throughout the site. That being said, they focus on having the best betting lines and getting them up early.   It's much more important to have a site with plenty of wagering options and fast deposit/withdrawals rather than a flashy sportsbook with bad lines and slow payouts.
Lucky99 Company History
As stated, Lucky99 has been around in some capacity since 2002.  LuckyBet, Vietbet, BetAnySports & ChineseBookie have been affiliated with 5Dimes since 2008.  These sportsbooks were independent but shared the same 5Dimes backend software for bets and lines.
Vietbet had a poor history prior to their joining forces with 5Dimes.  For example, there were sites VietLuckyBet and VietBetCali that were offering unbelievable signup promotions such as 70% free-play. Both of these were F-rated sportsbooks that were obvious scams but the ties to Vietbet were somewhat murky and leery. It appears those issues were sorted out in late 2009 as Vietbet completed the transition to 5Dimes ownership and maintained a B- rating. The three sites obtained by 5Dimes in that deal (Vietbet, BetAnySports, and ChineseBookie) have since boosted their rating to "A-" and have maintained that since 2010, and in early 2016 they were updated to an "A" rating.
On September 21, 2020, 5Dimes made a sudden decision to stop accepting US players.  Subsequently, VietBet and ChineseBookie merged with Lucky99.eu and still offer betting services to the USA.
The Betting Platform
The website/software is a strong point.  It's clean, detailed, and easy to read.  Most people like that it is simple and looks like a spreadsheet.  Others think it looks old and boring.
Once a player logs in to the site they are taken directly to the Sportsbook which alleviates the confusion of trying to find available lines when not registered and signed in. Any experienced (or novice for that matter) online sports bettor will have no problem browsing the availability of wagers offered.
When in the sportsbook the left-hand side of the page displays all the available wager types that Vietbet offers which includes straight, parlay, teasers & progressives, If bets, action reverses, and futures. Click on each one of the bet types refreshes the page to see the current sports that are available and active for those types of wagers. The sports list that Lucky99.eu has available is impressive including NFL, NCAA, Canadian, and even high-school football, men's/women's/international basketball, MLB, and virtually every soccer, tennis, golf, auto-racing, and MMA matchup. Occasionally I see some truly exotic bets including politics, pro wrestling, and competitive eating to name a few.
Luckybet also contains two features that make it very appealing to seasoned sports bettors. The first is adjustable lines which are commonplace in the industry but still not available on every betting site. Adjustable lines allow you to select different lines from a drop-down menu, usually within a point or two of the released totals but with different (better and worse) odds. The other feature is something that's found across most of the 5Dimes platform which is dynamic lines. The lines go up and down in real-time so bettors can lock in their most favorable spread in something that emulates a Vegas sportsbook or the Wall Street trading floor.
Lucky99 Bonus for 2022
No crazy $5,000 bonuses here.  Just 1 simple 20% Free Play Bonus up to $200.
Lucky99 doesn't usually go overboard with crazy signup bonuses with a bunch of strings attached. It appears that the approach of the site is to offer better value continually instead of just seasonal promotions and sign-up or referral enticements. For example, they offer a separate section of 'reduced' lines that have lower juice attached to it which they refer to as a promotion.
It is obvious that Luckbet is not looking for "bonus hunters" and is looking for serious sports bettors that want a straightforward sportsbook without any games.
Ease of Deposits / Payout Options
As with most overseas casinos, options are incredibly limited for U.S customers. When it comes to depositing to Lucky99 the most approved route is through a Visa processor but the method (at first anyway) is far from instantaneous. In order to qualify for a Visa deposit customers need to submit a scanned copy of a picture ID, including both sides of the credit card, plus a filled out and signed authorization form. Bitcoin seems to be the next easiest way to deposit funds, although they are not yet that easy to acquire.
Overall the Lucky99 sportsbook is a simple to use and very diverse sportsbook that brings with it the extra security of being placed under the 5 Dimes (an A+ rated book) umbrella. If U.S customers have the patience to submit their Visa card and the associated paperwork required to use it as a deposit method they will enjoy reliable betting for what should be years to come thanks to this site's association with one of the biggest books in the game.