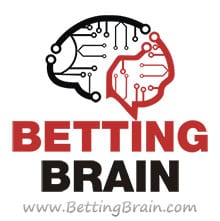 Betting Brain is not just another website listing sports betting sites with fake reviews. BettingBrain.com was developed by Kevin Green and Steve West for a few reasons:
To get accurate rating and real reviews of the more popular online sportsbooks.
Find and share smart betting strategies that win more.
Give us an excuse reason to meet up in Vegas to go over the BettingBrain.com website and our plans to make it even more awesome.
Unfortunately we don't have the time to be supplying constant sports news updates (plus there are too many sites that do a fantastic job at it and we could never compete).  Instead we will be sharing betting tips and secrets plus other sportsbook info we have learned along the way.
---
Meet the Betting Brain Team
Kevin Green – Founder, Developer, Writer
Kevin is the designer and developer of Betting Brain and keeps the site "up".  He also writes a portion of the betting articles on the site.  He enjoys baseball, football, college basketball and golf. Follow him on Google+ or twitter
Steve West – Major contributor to the site
Steve is a sports nut who probably bets a little too much on the games, but he has a ton of knowledge and knows everything about betting.  has stepped up and started providing some great betting tips and strategies.
Dean Stocks – Sports Picks Expert
Dean has been supplying us with the majority of our picks.  He does all his research and is good (winning $) with baseball picks, but he is really good with NHL and pretty good with NFL.
The Other Authors – These are a great group of guys that love sports and sharing their opinions and sports picks.
---
If you love sports betting and are interested in helping our project achieve awesomeness, please contact us with your info and what you can bring to the table.  We are always look for more authors that can write passionately about anything sports betting.