BetOnline Promotional Code Explained in Simple Terms
The BetOnline.com sportsbook (which is the same company/site as BetOnline.ag) is currently the 2nd most popular sportsbook (in the US) and of course has good deposit and signup bonuses.  In the last few years I noticed that they frequently change their bonus/promo codes.  The bonuses seem to change with the start of every new sports season, major events (like the Super Bowl) and usually with playoffs.  I have noticed that the bonus is always bigger (usually 50% to $2500 – instead of the standard 25% to $1000 bonus) at the start of football season..  Of course this isn't too important since everybody gets a 50% bonus on all their re-deposits, so the changing bonus only affects your initial deposit.
The Current Promo Codes for April 2018
It's finally here – March Madness and earning your bonus will be easier this time of year.  If you're making your first deposit today, then lucky you because the new BetOnline Promo is for 50% to $2,500.
---
NEW2500 – 50% up to $2,500 on FIRST deposit in April and then use the "NEW2500" promo code on all additionally deposits forever.
LIFEBONUS – 25% up to $1,000. This code is only used for all re-deposits, use the "LIFEBONUS" bonus code for your first deposit.
CRYPTOBET – 100% up to $1,000 on your FIRST bitcoin, Bitcoin Cash, Ethereum, DASH or Litecoin deposit and then use the "CRYPTOBET" code on all additionally deposits forever.
---
This "NEW2500" promotional code will only work on FIRST deposits.  Both of the promo codes listed above have a $50 minimum deposit required.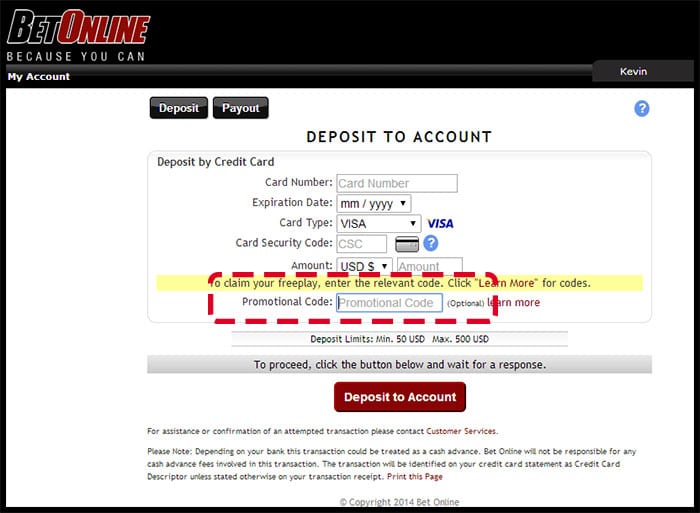 Bonus Terms – The Dirty Details
Read these very carefully since most sportsbook bonuses can be VERY strict.
There is a 10x rollover requirement.
Rollover amount is [deposit + fees + bonus] multiplied by [required rollover]
Bonus is issued as Free Play
Free play only works in the sportsbook

NO withdraws can be made for 30 days of receiving your bonus!
So the amount required to bet (rollover) will be 10x your bonus to keep your bonus money.  Let's run through some examples
Bonus Example #1
You Deposit $500, so you will get a $250 Free Play bonus – (50%)
$7,500 in total betting is required ($750* the 10x rollover)
Bonus Example #2 – Maxing it Out
You Deposit $5,000, so you will get a $2,500 Free Play bonus – (50%)
$75,000 in total betting is required ($7,500 * the 10x rollover)
 Additional BetOnline Promos
$25 Free Live Bet – Not quite as good as it sounds… Place a live in-game bet of $25 or more and if you lose, they will reimburse you $25 (send an e-mail to freeplay@betonline.ag with your account # and the ticket # of the bet you want refunded).  If your first live bet is a winner you're not eligible for this promotion.  And of course the rollover (it's everywhere!) – 6x rollover which is only $150 in bets.   It would be pretty dumb to not take this Free $25 Bet..
$50 Free Mobile Bet – Very very similar to the above "live bet" free money promo.  

Visit 

mobile.BetOnline.ag

 and place a bet, i

f you lose your first bet (up to $50)

send an email to 

freeplay@BetOnline.ag

 with your account # and the ticket # of the  bet to be refunded within 24 hours of the completion of the game you bet on. Put "

$50 Mobile Free Play

" in the subject line of the email.  If your bet is more than $50, you will still get $50 returned.  The standard BOL 6x rollover is included on your "free" money.
Our Verdict of the BetOnline.ag Bonus
I really dislike the 10x rollover requirement on the first deposit when they have those occasional "special" 50% bonuses.  I guess it is relative – The bigger the bonus, the harder it is to get it.  Smaller bonuses are easier and have less of a rollover… but they are smaller!
The regular BetOnline first deposit bonus is usually a 25% bonus with a 6x rollover, then they "increase" their bonus to 50% and quietly increase the rollover to 10x and add a 30 day rule to earn the bonus. .  Seems a little sneaky, but overall the bonus is a really good option if you are going to be placing a good amount of bets at BetOnline.ag.  Either way the BetOnline rollovers are a tad higher than most books, but so are their bonuses.  It will work if you are placing good size bets or want to use BOL as your main sportsbook.
The Best News – All redeposit bonuses will earn a 25% bonus, with ONLY A 6x ROLLOVER requirement.  Only a few sportsbooks offer re-deposit bonuses (Youwager has the best reload bonus – 15% bonus with only a 4.5x rollover).