NCAA Previews
#15 USC Trojans Preview
Are They the Best in Pac-12 South?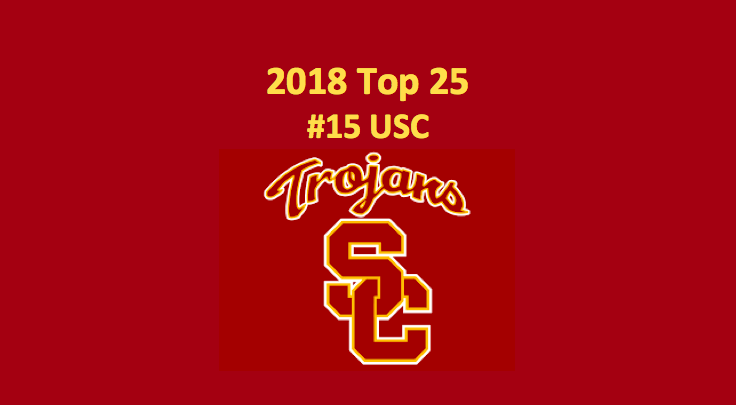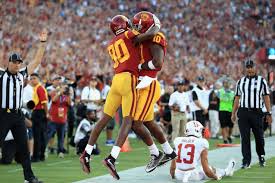 The USC Trojans have posted double-digit win seasons the past three-out-of-five seasons. The last two seasons, they've won 10 and 11 games. In 2017, when they were 11-3, the Trojans won the Pac-12 title, beating Stanford 31-28. However, their bowl game against Ohio State did not go well. They lost the Cotton Bowl Classic 24-7. Still, our 2018 USC Trojans college football preview finds that in the three seasons that Clay Helton (27-10 USC and Overall, 2-2 Bowls) has guided this team, the Trojans have excelled. This season, USC, which has a major question at QB and a fairly tough schedule, faces some big challenges.
Offense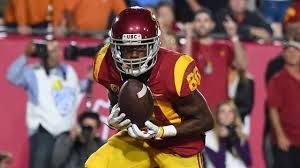 The USC offense averaged 32.6 PPG (4th Pac-12, 35th Nationally). It was their pass attack that got the job done, as they were good for 299.0 YPG (3rd Pac-12, 16th Nationally) and QB Sam Darnold threw for 4,143 yards and 26 TDs. At the same time, the running game added 185.1 YPG (4th Pac-12, 39th Nationally) with Ronald Jones (261 ATT, 1,550 YDs, 5.9 YPA, 19 TDS). Both Darnold and Jones are gone. There is good news, the USC O-line is the best in the conference and should protect any QB and open holes for the new starting running back. The other strong unit on this team is the receiving group, which may be young, but it is talented. Included is sophomore Tyler Vaughns (57 REC, 14.2 YPC, 5 TDs) and true freshman Amon-Ra St Brown. Brown is good enough to start at wideout. Junior WR Michael Pittman (23 REC, 17.6 YPC, 2 TDs) is a deep threat.
It is expected that sophomore Matt Fink (66.7 COMP%, 0 TDs, 0 INTs), who tossed nine passes last season, will start. Although true freshman J.T. Daniels may be given a shot. He's the Gatorade National Player of the Year and an able passer. There's also red-shirted freshman Jack Sears. The starting running back spot could go to sophomore Stephen Carr (65 ATT, 363 YDs, 5.6 YPA, 3 TDs). Carr is speedy, elusive, and a solid pass catcher. Look for sophomore and senior to also get carries, as they did last season.
Defense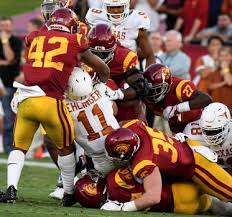 The Trojan defense should be strong in 2018. Last season, they allowed 26.1 PPG (5th Pac-12, 60th Nationally) and 395.6 YPG (5th Pac-12, 68th Nationally). This year our 2018 USC Trojans college football preview finds that both the secondary and linebacking unit are tops in the Pac-12. The D-line is also very good, and is one of the best in the conference. Free safety Marvell Tell III (85 TKLs, 2 PBU, 3 INTs) and CB Iman Marshall (52 TKLs, 10 PBU, 0 INTs) are accomplished enforcers. Senior NB Ajene Harris (59 TKLs, 6 PBU, 3 INTs) has a nose for the ball.
Senior ILB Cameron Smith (112 TKLs, 10.5 TFL, 3 PBU) anchors that unit. He led the team in tackles last season as well as TFL. Junior ILB John Houston (84 TKLs, 2 TFL, 4 PBU) is also a force to be reckoned with. The D-line features junior standout Christian Rector (35 TKLs, 7.5 SCKs, 3.5 TFL, 6 QBHs) at NT. He is the returning sack and QBHs leader. We expect this USC defense to excel in 2018.
Special Teams
This is a good group that includes Velus Jones on kick returns. He averaged 24.5 YPR. Michael Pittman only brought back two punts last season, but one was for a TD, as he averaged 44.5 YPR. Senior Ajene Harris, 5.1 YPR, is the anchor in the punt return spot. Senior punter Reid Budrovich (55 Punts, 41.6 YPP, 23 w/in20) has a good leg and is dependable. Sophomore PK Chase McGrath (58-59 XP, 12-17 FG) hit a 51-yard attempt in his frosh year.
2018 USC Trojans College Football Preview: Final Word
The Trojans open at home against UNLV (Sep 1), in a game we expect them to win. Then two tough road trips, with the first to Stanford (Sep 8) and the second Texas (Sep 15). We think they win one of these two. Probably beating Stanford. In October, they play a very good Utah (Oct 20) on the road. They finish their season hosting Notre Dame (Nov 24). The Irish lead this long-time series 47-37-5. In closing our 2018 USC Trojans college football preview, we have to note that this team is vulnerable due to its offensive questions.
Top Three Takeaways
Top defense, better than last year's
Fine O-line and receiving group
QB and RB unknowns
2018 USC Trojans College Football Preview Projection: 10-4 Record Overall/ 7-2 PAC-12; Finish: 1st PAC-12 South
For Easy Navigation Follow the Links Below
This team's Conference Preview Page
Top 25 Hub
All College Football Conferences Hub
College Football Preview Main Page