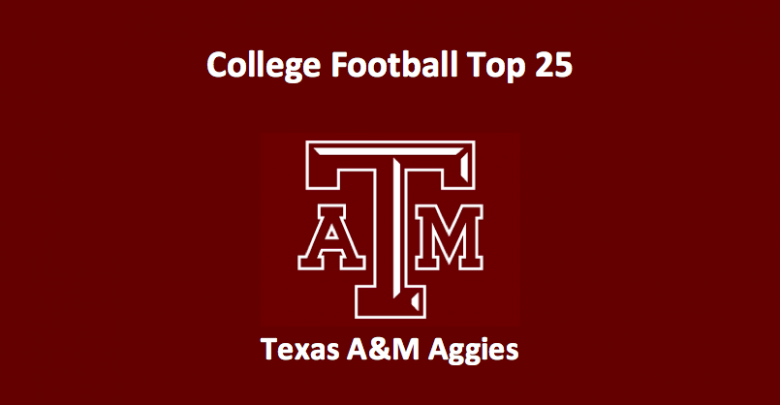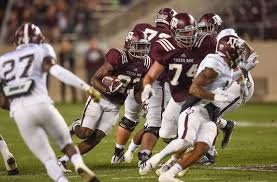 Our 2019 Texas A&M Aggies Preview 2019 sees this team as being in the mix once again. This Texas A&M Aggies preview notes that this team went 8-4 overall and 5-3 in the SEC, finishing second to Alabama. They lost 23-45 to Alabama, 13-28 to Mississippi State, and 24-28 to Auburn. In the final game of the season, Texas A&M took down LSU 74-72 in seven OTs. The Aggies won an invite to the Gator Bowl, beating N.C State 52-13. Last season, Texas A&M proved to be solid on the run and tough on D against the rush.
In 2018, the Aggies scored on average 36.0 PPG (19th) and allowed opponents 25.3 PPG (47th). Their offense was ranked 21st in rushing with 2019.0 YPG and 43rd in passing with 252.6 YPG. Their total averaged of 471.6 YPG ranked them 15th nationally. Last season, the Texas A&M defense ranked third in rushing yards allowed, giving up just 95.2 per game. Their passing D earned a ranking of 98th, as they allowed 253.2 YPG. Total yards allowed per game were 348.4 (32nd).
Texas A&M Aggies Preview 2019 – Offense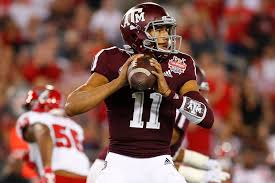 In 2018, QB Kellen Mond (57.3 COMP%, 24 TDs, 9 INTs), then a sophomore, improved throughout the season. He led the team in their upset of LSU and was a huge force in their 39-point Gator Bowl victory. This season, seven of nine pass catchers return. However, the Aggies will have to replace their top guy, tight end Jace Sternberger (48 REC, 17.3 YPC, 10 TDs). Five-star TE Baylor Cupp could be the heir apparent. Juniors Quartney Davis (45 REC, 13.0 YPC, 7 TDs) and Kendrick Rogers (27 REC, 12.4 YPC, 5 TDs) are back as the top two leaders in TD receptions.
The offensive line includes seven players who had seven or more starts last season. They should do a fine job paving the way for the rush attack. The major question is who will lead that rush attack? Running back Trayveon Williams, who recorded 1,760 rushing yards and scored 18 TDs last season, is a big loss. Sophomore Jashaun Corbin (346 YDs, 5.7 AVG, 1 TD) will try to fill his shoes. Last year, quarterback Mond ran the ball 149 times for 474 yards. He scored seven TDs while averaging 3.2 TPA.
Defense and Special Teams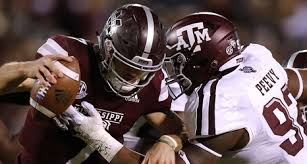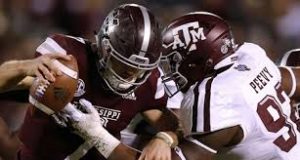 On defense, our Texas A&M Preview 2019 notes that this team has lost their top six tacklers. That includes Otaro Alaka (79 TKLs, 4 SCKs, 10.5 TFL), Tyrel Dodson (70 TKLs, 6.5 TFL, 3 PBU), and Kingsley Keke ((51 TKLs, 7 SCKS, 4 TFL). Together, the trio notched 10 QBHs. Also gone is Landis Durham (50, 6.5 SCKs, 4 TFL), who recorded five QBHs. However, Texas A&M does still have fine talent on this side of the ball, they just have less experience. Junior DT Justin Madubuike (40 TKLs, 5.5 SCKs, 5 TFL) anchors the frontline, which is the strongest unit on defense.
The big questions are at linebackers and D-back. At LB Buddy Johnson (27 TKLs, 0.5 SCKs, 4.5 TFL) and Charles Oliver (31 TKLs, 4 TFL, 8 PBU) offer the most experience. In 2018, Johnson posted five starts and Oliver 11. The secondary sees three starters return, but they will have to step it up as this team could not stop the air game last season. Corners Myles Jones and Debione Renfro will have to do more this season.
The Texas A&M special teams are the best in the SEC. The return game, with Corbin (14 RTs, 30.1 AVG, 1 TD) returning kickoffs and Roshauud Paul (24 RTs, 8.5 AVG, 0 TDs) punts, is solid. Punter Braden Mann (50 Punts, 51.0 AVG, 19 In20) netted 44.7 YPP. Placekicker Seth Small hit all 40 PATs and was 20-of-28 on field goals. He hit two-of-three from 50-plus. His weakness was from between the 40 and 49-yard line where he connected on 50% of his attempts.
Coaching and Recruitment
Head coach Jimbo Fisher (9-4 Texas A&M, 92-27 Overall) is back for his second year with the Aggies. Fisher was hired to get this team a national title, a goal he managed to achieve when at Florida. His primary coordinators, Darrell Dickey on offense and Mike Elko on defense, come with solid experience. In their first season with the Aggies, both did fine work. Texas A&M brings in a fine group of recruits, which includes two five-star, 14 four-star, and 11 three-star.
Our Texas A&M Aggies Preview 2019 – Final Word
In writing this Texas A&M Aggies Preview 2019, we find that this team will be competitive as long as their defense can step up. With only four starters returning to the D, there are certainly concerns. Last season, in coach Fisher's first season, they finished second in the West. That's the first time they've reached that mark since joining the SEC in 2012. Repeating that finish won't be easy, and the next step, taking the West and a SEC title, will be even tougher. They play Alabama on October 12 and LSU November 30. Both are massive proving grounds for this team.
Click here to go back to SEC West
Click here to go back to NCAAF Hub