NCAA Previews
#10 Auburn Tigers Preview
Auburn Tigers Play a Tough Schedule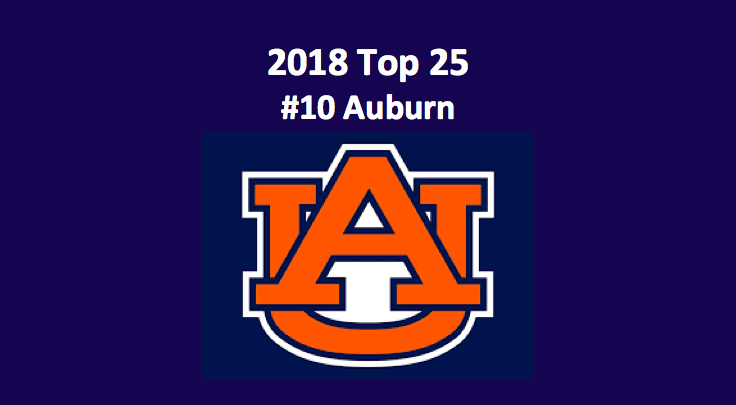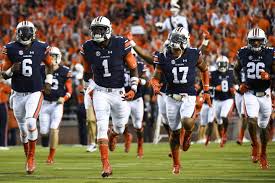 We open our 2018 Auburn Tigers college football preview with a stat worth considering, especially if you're a sports bettor. Over five seasons, Auburn coach Gus Malzahn is 29-10 prior to November and 16-12 from November onward. That's a .744 winning percentage in the first two months and a .571 winning percentage in the stretch and through bowl season. One thing is sure with Malzahn (45-22 Auburn, 54-25 Overall, 1-4 Bowls), he loves it when he has a quarterback who can either throw or run. He does have a choice this season of going with one or the other. We expect to see the passer on the field come September.
Offense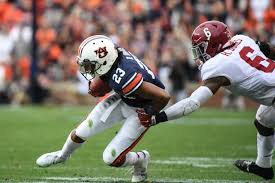 The Auburn offense, which generated 33.9 PPG (4th SEC, 25th Nationally) in 2017, will be led by junior QB Jarrett Stidham (66.5 COMP%, 18 TDs, 6 INTs). Stidham, a reliable pocket passer, sees his six top receivers come back from last season. Senior wideouts Ryan Davis (84 REC, 9.7 AVG, 5 TDs) and junior Darius Slayton (29 REC, 22.5 AVG, 5 TDs) will be his go-to outlets. Davis' 84 receptions set a new school single-season record. Two receivers from last season, Will Hastings and Eli Stove, suffered significant knee injuries this spring, which may hobble the team a bit.
Running back Kerryon Johnson, who last season had 285 carries for 1391 yards and 18 touchdowns, will have to be replaced. The good news is Kam Martin (74 ATT, 453 YDs, 6.1 AVG, 2 TDs), a junior, looks ready to turn on the jets and put up some solid 1000-plus-yard numbers. He's a solid talent who rarely loses a yard.
A major question for this team is how well can the offensive line, which lost four seniors, protect the quarterback and open up holes for the running game? There's talent on hand, but experience is lacking. The center position is especially vulnerable.
Defense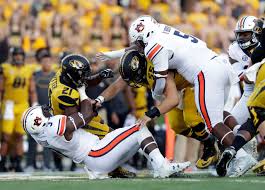 The Tigers have an experienced and tough defense that's capable of shutting down opponents. Three-of-four front starters return, including senior NT Dontavius Russell (46 TKLs, 3 SCKs, 4.5 TFL). Russell posted five QBHs last season. Also back is junior DT Derrick Brown (56 TKLs, 3.5 SCKs, 5.5 TFL) and DE Marion Davidson (43 TKLs, 3.5 SCKs, 3 TFL), another junior. Senior ILB Deshaun Davis (82 TKLs, 3.5 SCKs, 3 TFL), a senior and the anchor of this group, comes back as the team's leading tackler. FS Jeremiah Dinison (47 TKLs, 1.5 TFL, 4 PBU) and corner Jamel Dean (43 TKLs, 2.5 TFL, 8 PBU) are both juniors and the two returning starters in the secondary. Auburn's D was ranked third in the conference and 11th in the nation in points allowed at 18.5.
Special Teams
Placekicker Daniel Carlson, who left Auburn after five years as the all-time scoring leader, will be replaced by brother Anders Carlson. He was one of the country's top kicking prospect just a few years ago. The punting area looks to be occupied by newly arrived Arryn Siposs. He is 25 years old and a former Australian Rules Football player. The return game needs a shot in the arm, as this club has not brought back a punt or kick for a TD in three years. Senior Ryan Davis will be given a shot at punt returns, while sophomore Noah Igbinoghene (24 KRT, 23.8 AVG) should improve with some experience under his belt.
2018 Auburn Tigers College Football Preview: Final Word
As we conclude our 2018 Auburn Tigers college football preview, we envision a team that won't be quite as competitive as they would like to be in the SEC West. The Tiger O-line is a concern, especially in a conference like the SEC, where quarterbacks and running backs have to deal with such taxing defenses. The Tiger season starts with a major challenge as Auburn hosts #16 Washington (Sep 1). Their first big SEC test comes when they host the other Tiger team, LSU (Sep 15). That LSU game is part of a string of five straight conference contests. Huge tests late in the season include away games at Georgia (Nov 10) and Alabama (Nov 24). The Tide will want to avenge last season's loss.
Top Three Takeaways
Offensive line is light on experience
Defense is solid especially upfront
Expect solid quarterbacking and plenty of scoring
2018 Auburn Tigers College Football Preview Projection: Record 10-3 Overall/6-2 SEC; Finish: 2nd SEC West
For Easy Navigation Follow the Links Below
This team's Conference Preview Page
Top 25 Hub
All College Football Conferences Hub
College Football Preview Main Page