NCAA Previews
#13 Oregon Ducks Preview 2019
Will Ducks Take Pac-12?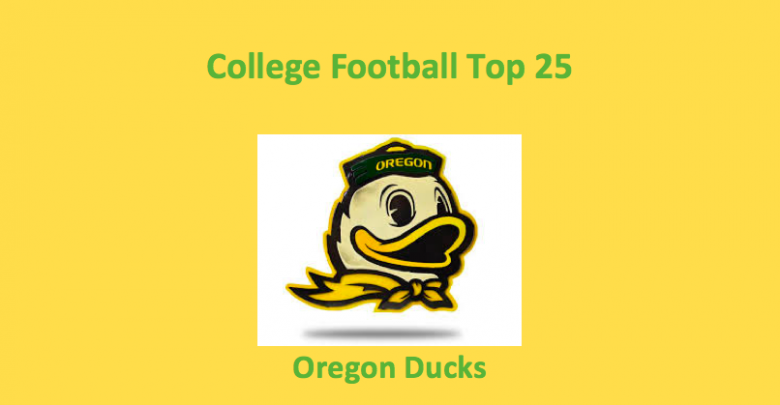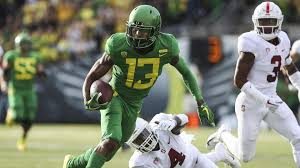 Our 2019 Oregon Ducks Preview 2019 sees this team as being the one to beat in the North. This Oregon Ducks football preview notes that last season this team was fourth in the Pac-12 North garnering a conference record of 5-4 and an overall regular season mark of 9-4. In the postseason, Oregon met Michigan State, beating them 7-6. The four losses the Ducks suffered were all huge. Early in the season, they went down in OT to Stanford 31-38 and then in midseason Oregon suffered two straight losses in a row, 20-34 to Washington State and 15-44 to Arizona. Their final loss was to Utah 25-32.
In 2018, the Ducks averaged 34.8 PPG (25th). They ranked 54th in rushing yards (179.4 YPG) and 49th in passing yards (247.8 YPG). Total offensive yards came to 427.2 YPG (41st). The Oregon defense allowed 25.4 PPG (48th). They held opponents to 144.3 YPG in rushing (43rd) and 241.6 YPG in passing (82nd). They ranked 55th in total defensive yards allowed (385.9 PG).
Oregon Ducks Preview 2019 – Offense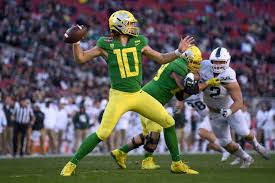 The Oregon offense sees all but one starter returns. Included in that group are senior QB Justin Herbert (59.4 COMP%, 29 TDs, 8 INTs), the top two running backs, and three of four top receivers. WR Dillon Mitchell (75 REC, 15.8 AVG, 10 TDs), who was a major contributor, is the one starter who does not come back. That means wideouts like Jaylon Redd (38 REC, 11.4 AVG, 5 TDs) must step up. Penn State graduate transfer Juwan Johnson will help, as should red-shirted freshman Bryan Addison. The frontline returns intact, which is a huge benefit. Two sophomores will rush, as they did last season as freshman. RB C.J. Verdell (1,018 YDs, 5.0 AVG, 10 TDs) posted 202 carries as a frosh, and RB Travis Dye (739 YDs, 5.3 AVG, 4 TDs) carried the ball 140 times.
Defense and Special Teams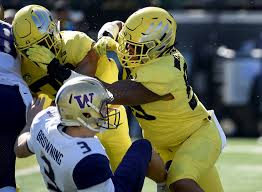 Our Oregon Ducks Preview 2019 notes that the defense has lost some starters, but they return plenty of experienced players. Junior DT Austin Faoliu (42 TKLs, 2 SCKs, 2 QBHs) returns as the top D-line performer. Plus, at DE they add the number two high school recruit in the nation, true freshman Kayvon Thibodeaux. The LB group looks solid. WLB Troy Dye (115 TKLs, 2 SCKs, 6 TFL) as the team's top tackler. Dye recorded one interception, four QBHs, and seven PBU. This unit is one of the best in the Pac-12. Junior corner Thomas Graham (56 TKLs, 18 PBU, 3 INTs) anchors the defensive backs. As a freshman last season, free safety Javon Holland (44 TKLs, 6 PBU, 5 INTs) was stellar. This top-notch unit includes junior corner Deommodore Lenoir (52 TKLs, 9 PBU, 3 INTs). Another top performer.
The Ducks' punting and kicking special teams struggled last year. However, the return game was healthy. Punter Adam Stack moved to the kicking spot. He hit 36-36 XP, but only 6-10 field goals with his longest being 39 yards. We expect highly touted true freshman Camden Lewis to remedy the situation. Sophomore punter Tom Snee (22 Punts, 35.2 YPP, 5 In20) needs more distance. The Ducks must replace two solid return men, Ugo Amadi (14 RTs, 15.9 AVG, 1 TD), who returned punts, and Tony Brooks-James (21 RTs, 26.1 AVG, 0 TDs), who focused on bringing back kicks.
Coaching and Recruitment
Mario Cristobal (9-4 Oregon, 36-52), who originally served Oregon as Co-OC, returns for his second full season as head coach. He was head coach at FIU for a half-dozen seasons and O-line coach for Nick Saban at Alabama from 2013-2016. Veteran OC Marcus Arroyo returns while new DC Andy Avalos comes from Boise State where he served in the same capacity for three seasons. This is a solid group. The Ducks have the top recruiting class in the Pac-12. Included is one five-star, 11 four-star, and 14 three-star recruits.
Our Oregon Ducks Preview 2019 – Final Word
Our Oregon Ducks Preview 2019 notes that this team starts its season against Auburn. That will be a real test. The next week, the Ducks play Nevada. If they can get two wins, this team will be on their way to a fine season. Important conference contests include Stanford on September 21, Washington on October 19, USC on November 2, and Arizona State on November 23. All four games are huge road tests. They need to take down at least two of those games to have a shot at the division title. The Washington game is a must-win.
Click here to go back to Pac-12 North
Click here to go back to NCAAF Hub