NHL Previews
2018 NHL Pacific Division Preview
Sharks Are the Team to Beat in 2018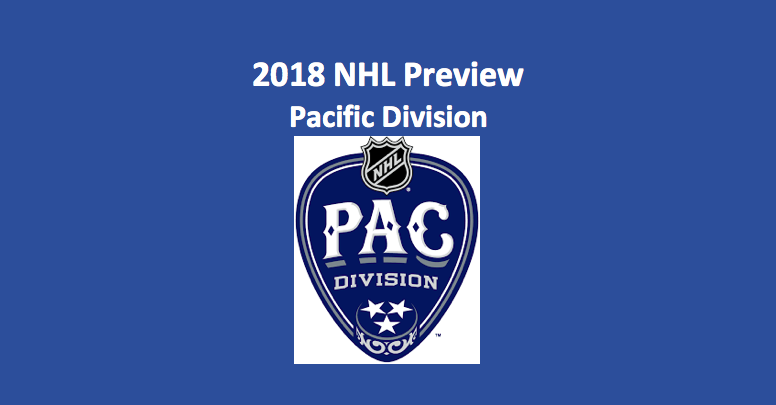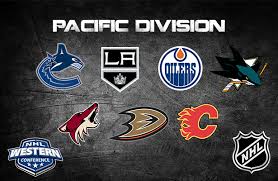 Our 2018 NHL Pacific Division Preview hub page offers quick information about each team as well as the projected standings. Links to each club's full 2018-2019, preview providing complete analysis of each Pacific Division team, are included as well. Use both this division page and individual team pages to get a good sense of each club. Here's a look of each of the teams in this NHL division.
2017-2018 Pacific Division Season
The Vegas Golden Knights (51-24-7, 109 points) were one of the biggest surprises last year, finishing first in the Pacific Division in their inaugural season. The three Californian teams punched playoff tickets as well. The Anaheim Ducks (44-25-13, 101 points) and San Jose Sharks (45-27-10, 100 points) both had 100+ point seasons ,while the Los Angeles Kings (45-29-8, 98 points) found themselves in the first Western wild card spot. The Calgary Flames (37-35-10, 84 points) and Edmonton Oilers (36-40-6, 78 points) both had disappointing seasons after making the 2017 Stanley Cup Playoffs. The Vancouver Canucks (31-40-11, 73 points) and Arizona Coyotes (29-41-12, 70 points) also had down years as they were predicted to at the beginning of the year.
2018 NHL Pacific Division Preview: Teams
This section will provide general positives and negatives of each Pacific Division team as they head into the upcoming season. Make sure to look at the most up to date matchup information before placing any NHL bets. Here's our projections for our 2018 NHL Pacific Division preview.
Rickard Rakell has quietly developed into a proven goalscorer, and should have not problem reaching the 30-goal mark
While Corey Perry has certainly seen a decrease in production, Ryan Getzlaf continues to be a very productive player
Overall depth on the backend is terrific
Cam Fowler, Hampus Lindholm, Brandon Montour, and Josh Manson will all play big roles on defense
The young John Gibson looks elite, while Ryan Miller was terrific in the backup role last season.
The Ducks should have no problem on the defensive side of the puck and should be a strong hockey team
Adding Alex Galchenyuk looks to be a terrific move and greatly strengthens the club's offense
Clayton Keller had a great rookie season last year and could have a 70+ point year
Oliver Ekman-Larsson is a stud of a defenseman but overall defensive depth is lacking
Antti Raanta flew under the radar in 2017-2018 but had an amazing year. If he stays healthy he could put together another great year
Our 2018 Pacific Division preview notes that Arizona is in a tough division but has the potential to surprise.
While it would be risky to call them a playoff caliber team, they could do much better than people expect
Adding James Neal and Elias Lindholm look to address the scoring woes that plagued Calgary last season
Johnny Gaudreau and Sean Monahan should drive the offense, and Matthew Tkachuk could see improvements of his 24 goals this season
Trading away Dougie Hamilton for Noah Hanifin may be a slight downgrade on defense for the time being, but Hanifin has the potential to become a franchise defenseman for the Flames
Overall depth on the blueline is terrific for the Flames
Mike Smith had a solid season last year and should be a workhorse in net for the club
Overall the Flames' offseason moves have definitely strengthened team and looks to have given the club a good chance for a postseason berth.
Connor McDavid is the best player in the world, but can only carry the Oilers so far
Moving Ryan Nugent-Hopkins to McDavid's wing was an ideal move for Edmonton, allowing Leon Draisaitl to center the second line. RNH could have breakout year, while McDavid and Draisaitl give the club a terrific one-two punch at center
Cam Talbot is a very underrated goaltender and can start almost every game of the year. He should provide a solid presence in net
Adam Larsson, Darnell Nurse, and Oscar Klefbom are solid D-men, but overall defensive depth is lacking
The Oilers, according to this 2018 Pacific Division preview, could surprise and have a bounce back year, but will likely have a tough time making a postseason appearance with the strength of the Western Conference
Anze Kopitar is an elite two-way forward and has the ability to carry the Kings
The addition of Ilya Kovalchuk could potentially pay big dividends if he can show he is still elite after spending the last 5 years in the KHL
LA has a very solid D-corps led by franchise defenseman Drew Doughty
The Kings also have an elite goaltender in Jonathan Quick who won the Jennings Trophy last year after allowing the least goals in the NHL
The Addition of Kovalchuk bolsters the offense
The King's defense and goaltending should have no problem keeping the puck out of their net. Look for LA to be a playoff team
Adding Erik Karlsson to a blueline that already features Brent Burns will create an large amount of mismatches that opponents will have to deal with
Martin Jones had an average season last year but has the potential to be a top goaltender in the NHL, especially behind the Sharks' defense
San Jose has a balanced offense that should see contributions from many different players
Joe Thornton's return from injury gives the club a good one-two punch at center with Logan Couture
The addition of Karlsson gives San Jose the two best offensive defensemen in the world, and greatly improves a team that had no trouble making the playoffs last season
Brock Boeser had a great rookie season and could possibly reach the 30 goal plateau this year
Losing the Sedin twins will hurt the club in the short term
Rookie Elias Pettersson should play a very large role in the Canucks offense during his rookie season. Look for him to be a Calder Trophy finalist
Lacks an elite defenseman but has some very solid blueliners in Alex Edler, Chris Tanev, and Michael Del Zotto
Our 2018 Pacific Division preview finds that goaltending might be an issue for Vancouver
The Canucks are not a playoff caliber team but Petterson and Boeser provide some optimism for the future
Marc-Andre Fleury revived his career last season, and projects to be a top goaltender this year
William Karlsson, Jonathan Marchessault are both extremely talented forwards and should drive the club's offense
The addition of Paul Stastny give Vegas great depth down the middle of the ice
The loss of Nate Schmidt to suspension might hamper the start of the Golden Knights season
The Golden Knights lack a star-power player on the blueline, but maintain decent depth on the backend
Overall our 2018 Pacific Division preview finds that Vegas looks like a strong hockey club and should contend for a playoff spot
Projected Standings
Final Thoughts: 2018 NHL Pacific Division Preview
The Pacific Division has the potential to be the strongest division in the NHL. The San Jose Sharks and Los Angeles Kings both made big offseason moves, while he Anaheim Ducks and Vegas Golden Knights remain very solid hockey teams. Our 2018 NHL Pacific Division preview finds the Calgary Flames look to have addressed their biggest issues from last season and will have good chance to make the playoffs. Look for the Canucks to finish near the bottom of the league, while the Arizona Coyotes and Edmonton Oilers could potentially surprise. Make sure to check with Betting Brain for NHL news, free picks, and to receive any information useful to NHL bettors.
Other Links
Eastern Conference Main Page
Western Conference Main Page
NHL Main Page