NHL Previews
2018 San Jose Sharks Season Preview
The Sharks Will Compete in the West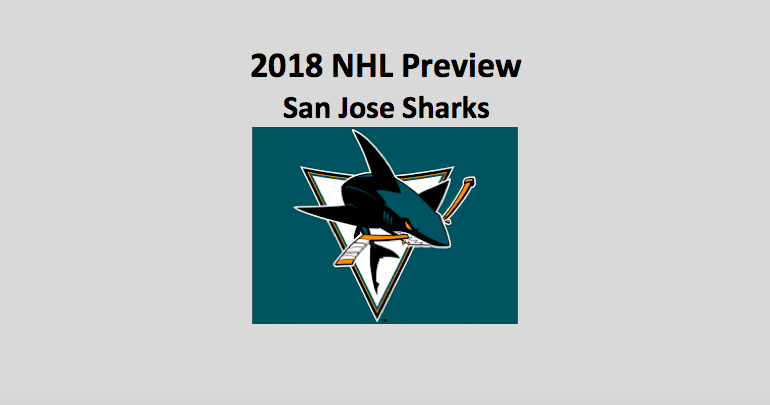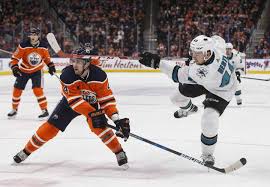 San Jose had another solid season in 2017-2018. They finished third in the Pacific Division with 100 points enroute to their third straight playoff appearance. Following an opening round sweep of the Anaheim Ducks, they fell to the eventual Western Conference Champion Vegas Golden Knights. Our 2018 San Jose Sharks Season Preview looks at the probability of this team winning a fourth straight postseason berth. We think they have a solid chance of doing so. Here's why.
Offense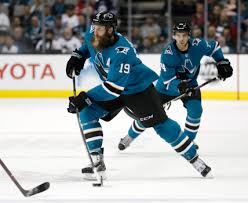 The Sharks offense looks solid heading in to the 2018-2019 season. Joe Thornton (13-23-36) will make his return following an MCL tear that ended his season after playing in only 47 contests. With a healthy Jumbo Joe, the Sharks now have a very good one-two punch down the middle. Logan Couture is the other top center on the San Jose roster. He led the Sharks in goals last year with 34, adding an additional 27 assists as well. Couture also looked elite in the playoffs, putting up 12 points in 10 games.
Thornton is slated to center a line with Joe Pavelski and Evander Kane on the wings. Kane was picked up at the trade deadline last year, and decided to re-sign with the Sharks in the offseason. He fit very well in San Jose after the deal, with 14 points in 17 games as a Shark, bringing his season point total to 54 in 78 total games played. Pavelski finished second in scoring on the Sharks roster with 66 points in 82 games played and was also second in time on ice among the team's forwards.
San Jose's core of forwards is rounded out by Tomas Hertl and Timo Meier. Hertl matched his career high in points with 46 on the season last year. Meier was the Sharks' first selection in the 2015 draft, being selected ninth overall. In his first full NHL season, the swiss winger had 21 goals and 36 points. Our 2018 San Jose Sharks season preview projects that both could see increased productivity during the year.
Defense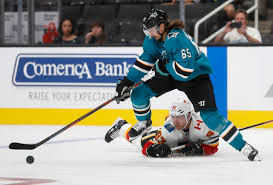 The obvious improvement to the Sharks' blue line is the acquisition of Erik Karlsson. Karlsson has been one of the most elite defensemen in the NHL since his rookie season in 2009-2010. He led the Ottawa Senators in scoring for the last five seasons with 62 points in 71 games during 2017-2018. The Sharks gave up relatively little to get arguably the best defenseman in the world, making San Jose a large threat to finish atop the Pacific Division.
San Jose's defense is also headed by Brent Burns. Burns not only led the Sharks in time on ice (25:15 minutes per game), but also in total points. He had 67 points in the entire 82 games slate from the backend, which was second among all NHL defensemen. Burns plays a key role not only in defensive aspects of the game, but is a vital part of the Sharks' offense. Between Karlsson and Burns, our 2018 San Jose Sharks season preview finds that San Jose has two defensemen that are expected to finish near the top of the league in scoring.
Marc-Edouard Vlasic is also a key player for the team on the backend. Vlasic plays one of the best shutdown games in the league. He was second on the roster in time on ice (22:33 minutes per game), and led the NHL in blocked passes all while playing against opponents top lines.
The Sharks' defense is rounded out by Justin Braun and Brendan Dillon. Braun averaged the third most minutes on the team with 21:20 per game. He also had 33 points and a +7 plus-minus rating on the season. Dillon had 22 points and was fourth among the team's defensemen in scoring.
Goaltending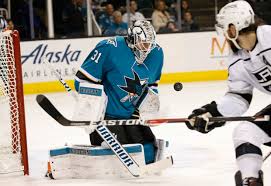 San Jose has a very capable goaltending tandem in net between Martin Jones and Aaron Dell. Jones started the majority of the Sharks' games last season. In 60 games played he had a 2.55 GAA and a .915 save percentage. He was solid in the playoffs as well, with a 2.26 GAA and a .928 save percentage in 10 games played. Jones is a legitimate number one netminder in the NHL and gives the Sharks' a chance to win every night he is in net.
Aaron Dell saw action in 29 contests during the 2017-2018 season. He had a 2.64 GAA and a .913 save percentage. While his stats did take a hit compared to his rookie year, Dell was solid in his second NHL season. If Dell is able to take on a similar workload this season, our 2018 San Jose Sharks season preview notes that the Sharks will play few games where goaltending is an issue.
2018 San Jose Sharks Season Preview: Outlook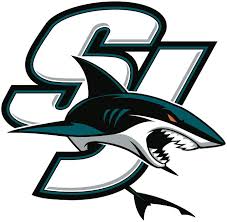 San Jose made themselves infinitely better by acquiring Erik Karlsson. They are solid in all aspects of their game starting with their forwards and moving all the way back to their goaltenders. The Karlsson deal allowed the Sharks to keep up with the moves made by other Western Conference teams such as Calgary, Los Angeles, and St. Louis. It also gives them two of the biggest offensive threats on the backend. Overall our 2018 San Jose Sharks season preview believes the return of all their key players, as well as adding Karlsson, makes San Jose a legitimate contender in the West.
2018 San Jose Sharks Season Preview: Prediction
Record:50-22-10=110 Points
Finish: 1st in the Pacific Division
Links