NHL Previews
2018 Vancouver Canucks Season Preview
Canuck Defense Best Part of This Team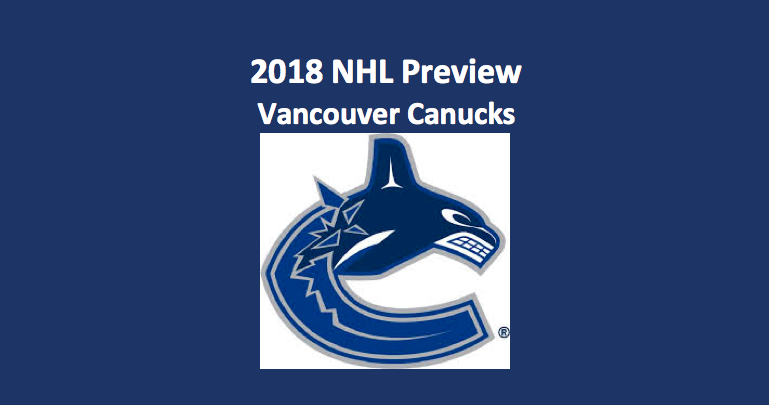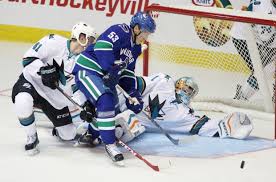 The Vancouver Canucks had a rough 2017-2018 season finishing seventh in the Pacific division with a 31-40-11 record. They had trouble both scoring and keeping the puck out of their net, scoring the sixth-least goals in the league while allowing the sixth-most. Our 2018 Vancouver Canucks Season Preview looks to see if they will have any greater success during the upcoming year. For them to do so, this team will have to fill some major holes, and, also, get some depth in their ranks.
Offense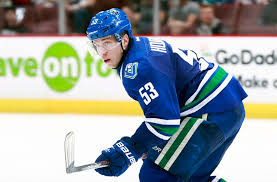 Vancouver's offense will look very different than years prior with the Sedin twins retiring. While they hadn't produced anywhere near the level that they did in their prime, Daniel and Henrik finished second and third on the team in scoring last season. Daniel finished with 23 goals and 32 assists while Henrik had 3 goals and 47 assists in their final NHL season. Our 2018 Vancouver Canucks season preview finds that the Canucks offense will certainly take a hit after losing these two, but luckily they are returning their leading scorer Brock Boeser from injury. Boeser finished second in Calder Trophy voting despite missing 20 games. He led the Canucks in both goals and points with 29 and 55 respectively. Should he stay healthy for the entire 2018-2019 season Boeser will have good chance to score at around a point per game pace.
The Canucks will also be pleased to get Elias Pettersson in their lineup. Pettersson was the fifth overall pick in the 2017 NHL Entry Draft, and is regarded as one of the favorites to win the Calder Trophy this season. The Swede spent last season as a member of the Vaxjo Lakers in his home country. He Led the Swedish Elite League in scoring, finishing the year with 56 points in 44 games played. He will provide an immediate impact for the Canucks this season.
Bo Horvat is another player on Vancouver who will play an important role. Horvat led the team's forwards in average time on ice. He missed the last part of the season after fracturing his ankle but was on pace or his highest scoring season thus far. He finished the year with 22 goals and 22 assists in 64 games played.
The Canucks will also look to get offensive contributions from Sam Gagner (10-21-31), Sven Baertschi (14-15-29), Brandon Sutter (11-15-26), and Loui Eriksson (10-13-23).
Defense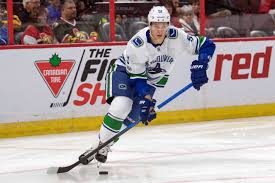 Our 2018 Vancouver Canucks season preview projects that Vancouver's strongest point in their roster is their defensemen. While they lack a superstar on the backend, they currently carry six very solid D-men on their roster. Alex Edler is their top defenseman. Edler led the team in time on ice (24:17 minutes per game) as well as the club's defenesen in points (34). Michael Del Zotto finished second among the team's D-men in both of these stats. He averaged 20:48 in time on ice while adding 22 points. Both Edler and Del Zotto will be counted on to carry much of the load on defense this season.
The Canucks also have very solid defensemen in Chris Tanev, Troy Stecher, Ben Hutton, and Erik Gudbranson. Chris Tanev is coming off of an injury ravaged season where he was only able to play in 42 contests. In those games he had 11 points and a +7 plus-minus rating. Stecher, Hutton, and Gudbranson all missed a good portion of the season to injuries as well. Stecher (1-10-11) suited up in 68 games, Hutton (0-6-6) in 61, and Gudbranson (2-3-5) in 52. Vancouver's backend will look pretty solid if these players remain healthy.
Goaltending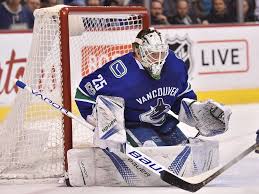 The Canucks have one of the weakest goaltending tandems in the NHL. Jacob Markstrom will be the team's starter in net to start the 2018-2019 season. Last year the massive Swede played in 60 contests, ending the year with a 23-26-7 record. He had a 2.71 GAA and a .912 save percentage both of which were right around the league averages.
Anders Nilsson will be Markstrom's backup. After reviewing his performance, our 2018 Vancouver Canucks season preview concludes that Markstrom was very inconsistent last year. He had a 3.44 GAA and a .901 save percentage in 27 games played. These numbers were drastically down compared to those he put up a year prior. In the 2016-2017 season as a member of the Buffalo Sabres Nilsson had a 2.67 GAA and a .923 save percentage. Simply put if he doesn't find a level of consistency this season, Vancouver will be taken out of a lot of games.
2018 Vancouver Canucks Season Preview: Outlook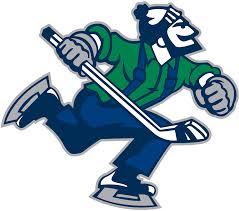 The Vancouver Canucks have some players that will likely be studs for years to come in Boeser and Elias Pettersson. Despite this, the retirement of the Sedin twins will make it hard for the club to improve upon their scoring which was sixth to worst in the league last season.
While they have some solid defensemen, their goaltending will be average at best and likely not strong enough to make up for lackluster offense.
2018 Vancouver Canucks Season Preview: Prediction
Record: 32-40-10=74 Points
Finish: 8th in the Pacific Division
Links