NHL Previews
New Jersey Devils Preview 2019 – 2010
Devil Goaltending Questionable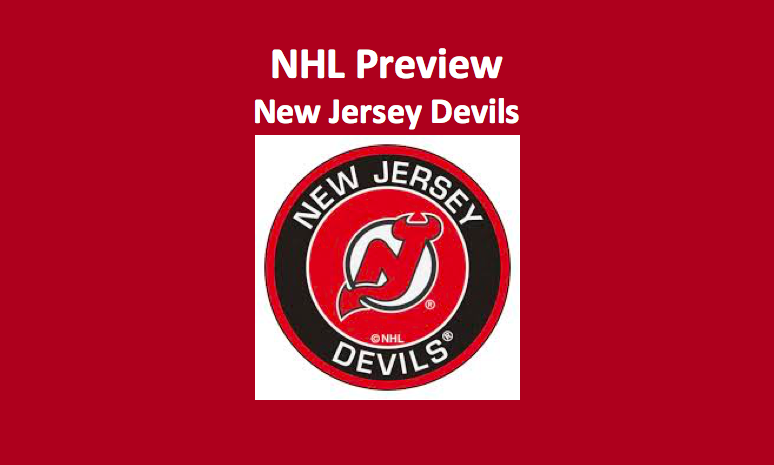 Our New Jersey Devils Preview 2019 – 2010 notes that this team had a tough season last year. As this New Jersey Devils Preview 2019 observes, they lost their best player early to injury and struggled to get good goaltending. The Devils were one of the busiest teams in the offseason though and drastically improved their roster. Our 2019-2020 New Jersey Devils season preview expects improvements from last year. But exactly how much those improvements will payoff is a major question mark.
New Jersey Devils Preview 2019 – 2010: Goaltending
New Jersey's biggest question mark is in net. Cory Schenider has had a rough last couple of seasons. This past year, Shcneider played 26 NHL games and had a 3.06 GAA and a .903 save percentage. He has played nowhere near the level he did a few years back. It is likely that the Devils will go with Mackenzie Blackwood as their starter in net. Our New Jersey Devils Preview 2019 – 2010 notes that Blackwood was the second goalie taken in the 2015 entry draft and saw his first NHL action last year. He looked very good in his 23 appearances. Blackwood finished with a 10-10-0 record along with a 2.61 GAA and a .918 save percentage. If the Devils believe that Blackwood is the starter for the upcoming season, the question of what workload he can handle will still be up in the air. Depending on how Blackwood plays, New Jersey is likely to be average to below average in net.
New Jersey Forwards
The Devils added a couple of young forwards who will immediately improve that group. New Jersey was awarded the first overall pick in the draft last summer, and they were able to select center Jack Hughes. Hughes will slot in as either the club's first- or second-line center depending on how coach John Hynes decides to split up his lines. Hughes could possibly play alongside star winger Taylor Hall. Hall was only able to suit up for 33 games last season due to injury. In those games, he had 11 goals and 26 assists for a total of 37 points. Hall is only one season removed from his MVP winning season, and if he can stay healthy, he will almost certainly lead the team in scoring. The forward could also be centered by former first overall pick Nico Hischier. Hischier had 47 points in 69 games last season and led the team with an even plus-minus rating. He should improve upon these numbers especially if he plays with a healthy Hall.
New Jersey also added wingers Nikita Gusev and Wayne Simmonds this offseason. Gusev is widely regarded as the top player outside of the NHL. Last season, he led the Kontinental Hockey League in scoring with 82 points in 62 games. There is a good chance Gusev slots into the Devils' top-six forward group and should make an immediate impact. Simmonds had 30 points last season. He has the potential to increase this total and will bring grit to New Jersey's lineup. The Devils also return winger Kyle Palmieri. Palmieri led New Jersey in scoring last season with 27 goals and 50 points in 74 games.
Devils Preview – Defense
Our New Jersey Devils Preview 2019 – 2010 finds that this team's biggest offseason addition came on the blueline when they traded for PK Subban. Subban had somewhat of a disappointing season last year. He suited up in 63 games and finished 2019 with 31 points. His addition adds a top two defensemen to a backend which was already fairly solid. Damon Severson, Will Butcher, and Sami Varanen complete a top four group which may surprise in 2019 – 2020. Severson led the team in time on-ice last season at 22:03 minutes per game. He also led Devils defensemen with 11 goals and 39 points. Severson has some room to improve in terms of the defensive aspects of his game. Butcher was second among New Jersey defenseman in scoring with 30 points in 78 games. He has the potential to develop into a very solid offensive defenseman and can be expected to factor into the Devils' powerplay. Vatanen was limited to just 50 games in 2018 – 2019. He has a history of injury but will play over 20 minutes a night when healthy.
New Jersey Devils Preview 2019 – 2020: Overview
While the Devils improved tremendously over the summer, they are stuck in a very tough division. The Additions of PK Subban, Jack Hughes, and Nikita Gusev should help them score more immediately. They also enter the season with a very solid group of defensemen. However, our New Jersey Devils Preview 2019 – 2020 finds that the big question mark will be in net. If Mackenzie Blackwood or Cory Schneider can play consistently over the course of the year, the Devils could sneak into a wildcard spot. This is a big "if" though and it is more likely they find themselves on the outside looking in.
New Jersey Devils Preview 2019 – 2020: Projection
Record:34-36-12, 80 points
Finish:7th in the Metropolitan Division
NHL LINKS
Division Link
NHL 2019 Preview Link