NHL Previews
Dallas Stars Preview 2019-2020
Less than Adequate Offense Means Stars Will Grind Out Wins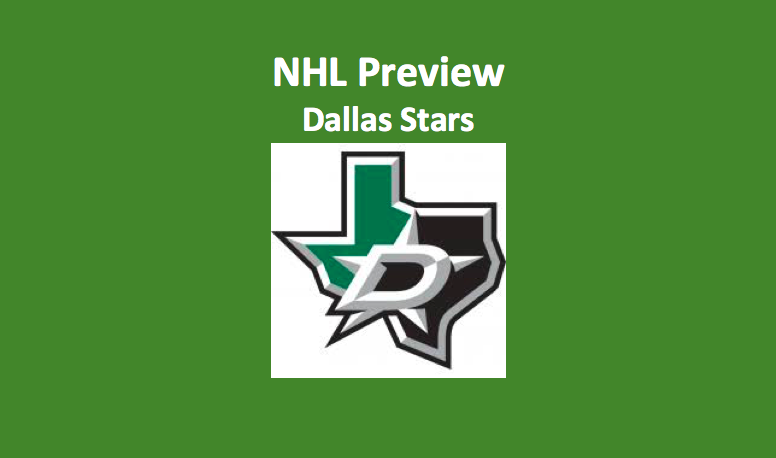 Our Dallas Stars Preview 2019 – 2020 observes that the Dallas Stars finished last season with a 43-32-7 record. This Dallas Stars Preview notes that mark was good enough to land them the first Western Conference wildcard berth. They had a solid playoff run as well, making it to game seven of the Western Conference Semifinal. Their run was ended by the eventual Cup-winning St Louis Blues. Over the course of the season, Dallas had their fair share of scoring issues but allowed the second lowest goal totals. Our 2019 – 2020 Dallas Stars season preview looks at how the club's offseason moves addressed these deficiencies. Might the moves that the Stars made make them even more viable as a Stanley Cup contender?
Dallas Stars Preview 2019 – 2020: Goaltending
Our Dallas Stars Preview 2019 – 2020 notes that the team comes into the season with one of the NHL's best goaltending tandems. They will roll with Ben Bishop as their starter as long as he stays healthy. Throughout last season Bishop missed a slew of games to various injuries. When he was able to play though, he was lights out. The NHL's tallest goaltender finished the year with a .934 save percentage and a 2.98 goals against average. His save percentage was the best among all netminders who played over 20 games. Bishop's goals against average was second in this same group. While there will be concerns about what size workload he can handle and still stay healthy, Bishop can be counted on to deliver a consistent high-level of play.
The Stars are also fairly well off with Anton Khudobin coming off the busiest season of his career. When Bishop was hurt, he saw action in 41 games and was able to keep the Stars in a good position. Khudobin compiled a .923 save percentage and a 2.57 GAA last season and showed that he could handle an increased workload. The Stars will look to balance Bishop and Kudobin's participation next year. Our Dallas Stars Preview 2019-2020 notes that even when the latter is getting the start, Dallas should be very well off in net.
Dallas Forwards
The Stars were one of the more top-heavy teams in terms of scoring last season. Only three forwards finished the year with more than 40 points. Tyler Seguin led them in both goals (33) and points (80). Alexander Radulov (29-43-72) and Jamie Benn (27-26-53) were the only other forwards to hit the 50 point mark. In general, Benn had a down year. The former Art-Ross Trophy winner has the talent to finish with 70-plus points this year. In part, this should help the league's third lowest scoring team to improve upon their offensive output.
The Stars also made some significant offseason moves to address their depth up front. They signed both Joe Pavelski and Corey Perry to deals over the summer. Pavelski can be counted on to score around a minimum of 25 goals. Over his last six seasons, he scored less than this only once. Last season, he led San Jose with 38 goals. He added 26 assists as well. While Pavelski will factor into the club's top-six forward group, Perry will be a bottom-six winger. The once 50-goal scorer's production has tappered off rapidly in the past three seasons. He was limited to just 31 games last year, finishing with six goals and four assists. While Perry will not be counted on to put up big numbers, our Dallas Stars Preview 2019 – 2020 finds that his experience as a goal scorer will help the third or fourth line.
Their forward lines will also look towards Radek Faksa and Roope Hintz to provide supplemental offense. The two forwards finished with 30 and 22 points respectively. Faksa was also fourth on the team with 15 goals. Hintz had a very solid rookie season despite only playing 58 games. He looked to get better as the season went on and looks to be developing into a significant part piece up front.
Stars Preview – Defense
The Stars have some great young blueliners, which make up a very good backend. Miro Heiskanen is coming off of a rookie year where he made an all-star game appearance. The Finnish defenseman played over 23:07 minutes a night while registering 12 goals and 21 assists. He has elite speed and vision and looks to be a centerpiece of Dallas' blueline for years to come.
Heiskanen is joined by John Klingberg and Esa Lindell who ranked first and second on the team for time on ice despite playing very different styles of game. Klingberg had 45 points last year and is an elite offensive-defenseman. Lindel plays a more defensively focused game than Klingberg. He had 21 points on the year to go along with a +14 plus-minus rating. Our Dallas Stars Preview 2019 – 2020 finds that the Stars have some elite talent on the backend, which should translate into another season where they finish near the bottom of the league in goals against.
Dallas Stars Preview 2019 – 2020: Outlook
The Dallas Stars look poised to improve upon their Western Conference semifinal exit. They return a terrific goaltending tandem along with a very talented blueline. The Stars also looked to address their forward depth over the summer. However, our Dallas Stars Preview 2019 – 2020 finds that despite these moves the Stars look like they will grind out wins in low-scoring affairs. They should be ranked among the stingiest defensive teams again this year. This, coupled with the improvements at forward, make Dallas look like a lock to make the playoffs.
Dallas Stars Preview 2019 – 2020: Prediction
Record:46-27-9, 101 Points
Finish:3rd in the Central Division
NHL LINKS
Division Link
NHL 2019 Preview Link