NHL Previews
2018 Anaheim Ducks Season Preview
Ducks Have a Great Team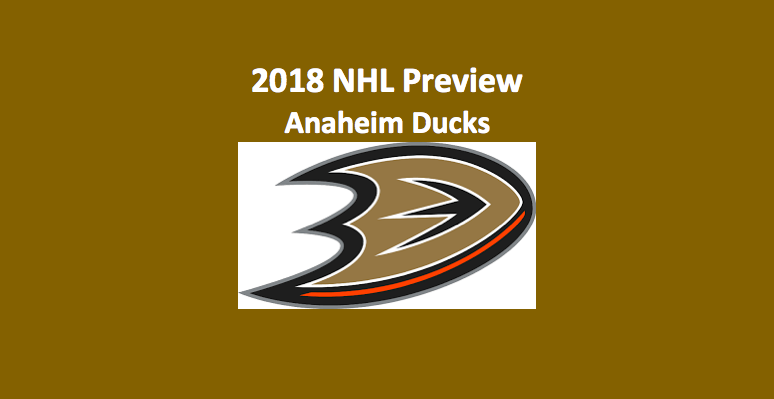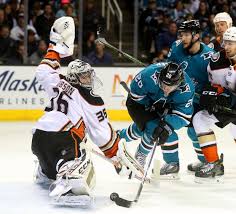 While the Anaheim Ducks finished second in the Pacific Division last season, they got dominated by the San Jose Sharks in the first round of the playoffs. Coming off of being swept in that series the Ducks are looking to make a seventh straight trip to the playoffs. The 2018 Anaheim Ducks Season Preview looks at how the club looks to make this happen. We think they have a shot at lasting longer than they did last season. That is if everything falls into place for this NHL team.
Forwards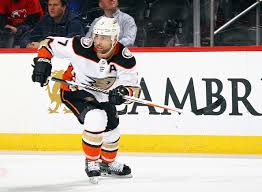 In terms of offensive contributions, the Ducks see them fairly spread out, coming from a variety of players. Anaheim had five different forwards score at least 40 points last season being led by Rickard Rakell. The 25-year-old Swede broke the 30-goal mark for the second straight season, scoring 34 in 77 games while adding 35 assists. Rakell has seen consistent growth through his first four NHL seasons, and will have a good chance to score at a point per game pace this upcoming season.
More Output
The Ducks will also look to get quality contributions from Ryan Getzlaf in the 2018-2019 season. Getzlaf missed 19 games to a facial injury in mid-December last season but was very effective when healthy. The veteran center was the only player on the team to score more than a point per game, with 61 in only 56 games played. At age 33 Getzlaf has shown little signs of slowing down and should be expected to be a quality first-line center for the Ducks. In contrast to Getzlaf, Corey Perry looks to have age catching up to him. The once 50-goal scorer, while still productive in his past few seasons, doesn't look capable of another 30-goal season in the future. Last season Perry had 17 goals and 32 assists for 49 points.
Question Mark
Our 2018 Anaheim Ducks season preview finds that a big question mark for Anaheim's offense this season will be whether or not Ryan Kesler is able to play. There have been mixed reports on the center. These concern if he will have to sit out the entire season due to a hip injury. While he did play in the playoffs, he looked to be nursing the injury. It seemed to plague Kesler for much of the latter half of the season. In the 44 games Kesler played, he put up only 14 points. Should he be forced to sit out, Anaheim still has a quality second line center in Adam Henrique (24-26-50), who was acquired midseason from New Jersey. Who ever ends up as the team's second line center behind Getzlaf will skate along side Jakob Silfverberg (17-23-40), and the speedy Andrew Cogliano (12-23-35).
Defensemen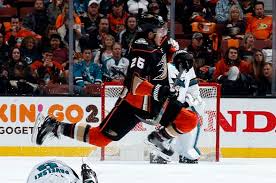 Anaheim has a very solid group of defensemen on their blueline. Their top four defensemen had a combined plus-minus rating of +69 last season. They are led by Cam Fowler, who missed a chunk of games to injury last season, but led the team in average time on ice when healthy playing 24:51 minutes per game. In 67 games, he had 32 points and was +3.
Josh Manson (7-30-37) was the team's leader in plus-minus as well as points by defensemen. His +34 rating was tied for third best in the entire NHL. Along with Fowler he will play a large role defensively for the Ducks.
Hampus Lindholm and Brandon Montour round out the team's top-four defensemen. Our 2018 Anaheim Ducks season preview research found that both put together statistically similar seasons last year. Montour finished the year with 32 points and +16 rating in 80 games played. Comparatively Lindholm only played in 69 games but was second on the blueline in TOI averaging 22:44 minutes per game. He put up a matching +16 plus-minus rating and 31 points on the season. If all four of the Duck's top defensemen can stay healthy they will have on of the deepest groups of D-men in the league.
Goaltending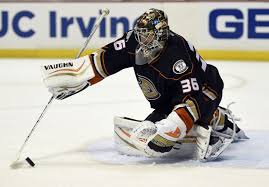 The Duck's net is expected to look identical to last season, featuring American goaltenders John Gibson and Ryan Miller. Gibson was a stud in the crease last season. He played in 60 games and put together a 31-win season. The netminder finished with a 2.43 GAA and a .926 save percentage. This save percentage was within the top ten in the league. It was just .001 points behind that of Vezina winner Pekka Rinne. He will likely have another large workload of games this season, but his career 2.29 GAA and .923 save percentage suggest he should have little problem putting together another solid season at the young age of 25.
Ryan Miller had a solid 2017-2018 season as Gibson's backup. In his first full season in the backup role, Miller played in 28 games. He had a 2.35 GAA and a .928 save percentage. Miller did miss a total of 18 games to various injuries last season. Our 2018 Anaheim Ducks season preview notes that he seems to be able to handle a few more games than he did last season. That is, if Randy Carlyle wants to give Gibson some more rest this year.
2018 Anaheim Ducks Season Preview: Outlook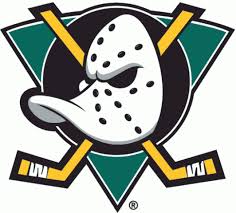 Top to bottom our 2018 Anaheim Ducks season preview concludes that the Ducks look like a great team. They have a decent group of forwards with solid depth down the middle of the ice. Their top four defensemen are among the best in the league and should be tough to beat. In net, Anaheim might have the best goaltending tandem in the NHL. John Gibson is an elite netminder, and Ryan Miller seems to be in the perfect position for personal success at this point in his career. Overall, the Ducks have all the makings of a top team in the NHL.
2018 Anaheim Ducks Season Preview: Prediction
Record: 46-24-12=104 Points
Finish: 2nd in the Pacific Division
Links