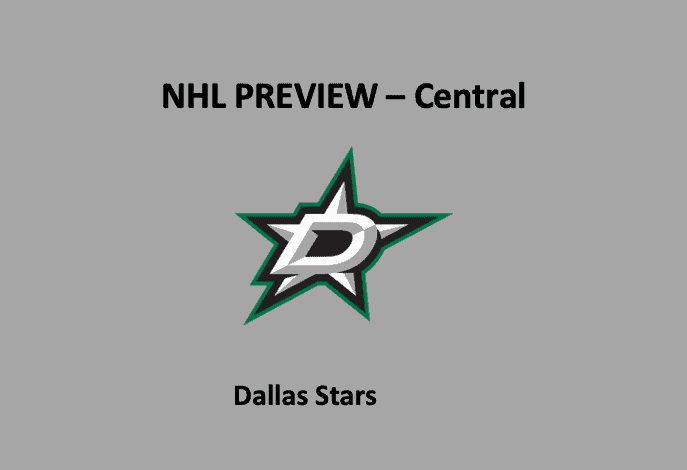 Our Dallas Stars Preview 2021 notes that the team finished with 37-24-8 record, which earned them 82 points. That record was the 11th-best in the NHL. Last season, Dallas finished third in the Central Division of the Western Conference. Additionally, they were fourth overall in the West.
In the playoffs last season, Dallas earned a bye for the Qualifying Round. In the First Round, the Stars took down Calgary four games to two. Then, in the Second Round, Dallas played Colorado. The Stars beat the Avalanche in seven games. Thus, in the Western Conference Finals, Dallas met the Vegas Golden Knights. They dispatched their opponent four games to one. In the Stanley Cup Finals, the Dallas Stars met the Tampa Bay Lightning. The Stars lost that series in six games. Now, they occupy the same division of the team that they met in the finals. As a result, that fact makes the Central a very interesting division.
Dallas Stars Preview 2021 – Forwards
Here's the bad news. Tyler Seguin is out. Seguin underwent right hip arthroscopy and labral repair in early November. Chances are he will be out until late March or early April. Last season, Seguin topped the team with 50 points. Of those points, 33 were assists. Consequently, the Stars will be missing their best setup man and anchor of the first line. Center Roope Hintz takes Seguin's place. Last season, which was his second with Dallas and in the NHL, he played 60 games, scoring 19 goals and putting up 14 assists. He had three PP and two SH goals. Hintz has the potential to have a breakout season this year.
On the first line, Jamie Benn is the left winger and Denis Gurianov the right. Benn scored 19 goals and dished off 20 assists. Of those, eight were powerplay goals and six powerplay assists. Gurianov comes into this season having totaled 29 points with 12 being accumulated when on the powerplay.
Second and Third Lines
The second line is comprised of right wing Alexander Radulov, center Joe Pavelski, and left wing Joel Kiviranta. Radulov, who was +8, garnered 15 goals and 19 assists. Similarly, Pavelski accumulated 14 goals and 17 assists, while going +6. Kiviranta spent most of last season in the AHL. He joined the team in June 2019 as an undrafted free agent. The season prior, Kiviranta, who's from Finland, had 16 goals and 15 assists (31 points) in 48 games with Sport Vaasa of the Finnish Elite League.
Radek Faksa centers the third line. Last year, in 66 games, he posted 20 points and had a plus/minus of -6. On the wings, it's Blake Comeau on the right and Andrew Cogliano on the left. Comeau, who was also -6, had 16 points, while Cogliano was +2 with 14 points. Obviously, some improvement on this line would be helpful.
Dallas Stars Preview 2021 – Defense
On defense, Esa Lindell and John Klingberg make up the initial line. Of Lindell's 23 points last season, 20 were earned by making assists. Klingberg posted 26 assists and a total of 32 points. Klingberg had 15 of those assists when on the powerplay. On the second line, Miro Heiskanen returns. Heiskanen was +14 with eight goals and 27 assists. Jamie Oleksiak shares the second line with Heiskanen. He had 10 points in 69 games while posting a plus/minus of -6.
Our Dallas Stars Preview 2021 notes that the third line is manned by Andrej Sekera on the left and Mark Pysyk on the right. Over 57 games, Sekera was +9 with eight points. Pysyk, who was signed in October to a one-year contract, played 58 games with Carolina last season. In that time, he posted career-high numbers of nine goals and 18 assists. He's versatile enough to anchor the blueline or to move up and play forward.
Dallas Goaltending
The Stars recently received some bad news, starting goalie Ben Bishop is out. In late-October 2020, Bishop underwent surgery on his right knee. He won't return until March. That puts Anton Khudobin in the role of starter. Last season, Khudobin had a record of 16-8-4 over 30 games. In the NHL, he was fifth in save percentage (.930) and fifth in GAA (2.22). As a result, we expect Khudobin to rise to the occasion. Plus, in last season's playoffs, Khudobin performed well. Jake Oettinger comes up from the AHL to be the number-two netminder. Last season, Oettinger appeared in two games with Dallas where he saw a total of eight shots and made eight saves.
Dallas Stars Preview 2021: Outlook
Our Dallas Stars Preview 2021 likes this team a lot. Despite losing Bishop for a large part of the season, they do have a solid backup moving into the starting netminding role. Additionally, for much of the season they will likely be without assist-master Tyler Seguin. However, the offense is still fairly solid. Plus, the first two groups on the blueline look very strong. However, that third line is problematic. Those guys really need to step up. When all is said and done, we anticipate Dallas as being highly competitive in the division.
Dallas Stars Preview 2021: Prediction
Record: 30-18-8, 68 points
Finish: 2nd in the Central Division