NHL Previews
2018 NHL Central Division Preview
Will Anyone Supplant Nashville?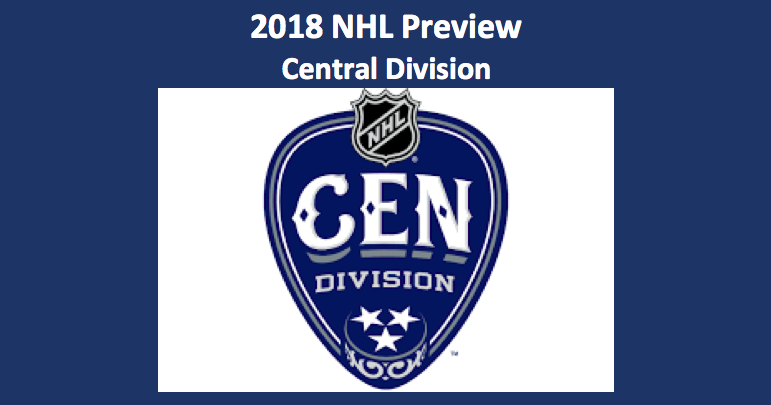 Our 2018 NHL Central Division Preview hub page offers quick information about each team as well as the projected standings. Links to each club's full 2018-2019 preview providing complete analysis of each Central Division team are included as well.
2017-2018 NHL Central Division Season
The NHL's lone seven team division produced the league's top two clubs last season. The Nashville Predators (53-18-11, 117 points) won the Presidents Trophy with the best record in the NHL while the Winnipeg Jets (52-20-10, 114 points) had the second best 2017-2018 season. The Minnesota Wild (45-26-11, 101 points) and Colorado Avalanche (43-30-9, 95 points) also claimed spots in the postseason. The St. Louis Blues (44-32-6, 94 points) missed the playoffs by a single point while the Blackhawks (33-39-10, 76 points) had their worst season since 2006-2007. The Dallas Stars (42-32-8, 92 points) finished two points back of the Blues, missing the playoffs by three points.
2018 NHL Central Division Preview: Teams
This 2018 NHL Central Division preview offers a quick look below of each team.  Our top hockey analysts provide general positives and negatives of each Central Division team as they head into the upcoming season. Make sure to look at the most up to date matchup information before placing any NHL bets.
Chicago will need more production from Patrick Kane and Jonathan Toews than they received last season
The Club generally lacks depth at the forward position
Nick Schmaltz and Alex Debrincat had good 2017-2018 seasons and should see expanded roles this year
The D-corps is aging and is extremely thin after Duncan Keith
Corey Crawford is an elite goaltender when healthy but had injury troubles last year
The Blackhawks roster looks too thin at every position to be a competitive hockey club
Nathan MacKinnon had a terrific 2017-2018 season and looks to have finally developed into a premier NHL talent
Along with MacKinnon, Mikko Rantanen and Gabriel Landeskog will drive an offense which could fly under the radar this season
Tyson Barrie is a very underrated offensive defenseman and will quarterback a powerplay which was the eighth best in the NHL last season
The addition of Philipp Grubauer gives the Avs a very good tandem in net, featuring Semyon Varlamov along with Grubauer
Colorado looks to have a strong enough roster to be a playoff team, but will have to contend in a Western Conference which is stacked.
They will have a chance to make the postseason but will likely be a bubble team
The top line of Tyler Seguin, Jamie Benn, and Alexander Radulov has to potential to be among the best in the NHL
Dallas lacks forward depth after their top line, and will need more balanced scoring to make the playoffs
John Klingberg finished third in scoring among defensemen last season and will be a weapon on the backend
Miro Heiskanen is likely to see ice time this season, and could play a significant role on a team with a deep blueline
Our 2018 NHL Central Division preview finds that the offseason addition of Anton Khudobin gives the Stars a solid backup to starter ben Bishop
The Stars should be a competitive team but will need to find secondary scoring to be a playoff contender
Minnesota's top-six forward group looks great on paper
Eric Staal has seen a career resurgence and will look to build off of his 42 goal 2017-2018 season
Ryan Suter's return from injury will greatly help the team on the backend
The Wild have a very good top-four group of defensemen
Devan Dubnyk is an elite goaltender
Minnesota should be in the playoff hunt but could miss the postseason due to the strength of the Western Conference
Led by PK Subban and Roman Josi the Preds have arguably the most talented D-corps in the NHL
Pekka Rinne is coming off of a Vezina trophy winning season and continues to be a top goaltender at the age of 35
Nashville has championship caliber depth at the center position with Ryan Johansen, Kyle Turris, and Nick Bonino
Filip Forsberg and Viktor Arvidsson both have the potential to have 30+ goal seasons
Rookie Eeli Tolvanen projects to have a very strong rookie season and will be a great addition to Nashville's balanced offense
The Predators will likely have no problem scoring, and should finish among the top of the league in goals against. They are a postseason lock.
The additions of Ryan O'Reilly and Tyler Bozak give St. Louis elite depth at the center position
The Offensive additions of David Perron and Patrick Maroon are great additions to a club that already had elite wingers in Vladimir Tarasenko and Jaden Schwartz
Alex Pietrangelo and Colton Parayko project to be major players on the blueline
Jake Allen will need to be better than he was last season, especially with the departure of Carter Hutton to Buffalo
Overall the Blues look like one of the most improved teams after the offseason.
They have given themselves a great chance to leap back into the playoffs after missing the postseason by a single point last year
The Jets have an offense which could lead the NHL in goal scoring
Mark Scheifele, Blake Wheeler, and Kyle Connor will be key players up front
Patrik Laine has a good chance to win the Rocket Richard Trophy this season
Winnipeg has, according to our 2018 NHL Central Division preview, a very solid blueline led by Dustin Byfuglien
Connor Hellebuyck had a breakout 2017-2018 season and has shown that he is an elite goaltender
The Winnipeg Jets are extremely strong in every facet of their game. They should have no trouble on offense or defense. Look for the Jets be one of the best teams in the NHL
Projected Standings
Final Thoughts: 2018 NHL Central Division Preview
Much like last season, the 2018 NHL Central Division has the potential to house the league's top two teams. The Winnipeg Jets and Nashville Predators are both locks to be playing in April and either could win the Presidents trophy this year. The St. Louis Blues might be the NHL's most improved team and look likely to make it back to the Stanley Cup Playoffs after missing them in 2017-2018. According to our 2018 NHL Central Division preview, Colorado and Minnesota will likely be battling until the final games of the year for a wild card spot. Also look for the Blackhawks to have another down year as the core group continues to age. Make sure to check with Betting Brain for NHL news, free picks, and to receive any information useful to NHL bettors.
Other Links
Eastern Conference Main Page
Western Conference Main Page
NHL Main Page