NHL Previews
Ottawa Senators Preview 2019 – 2020
Expect a Tough Season for Sens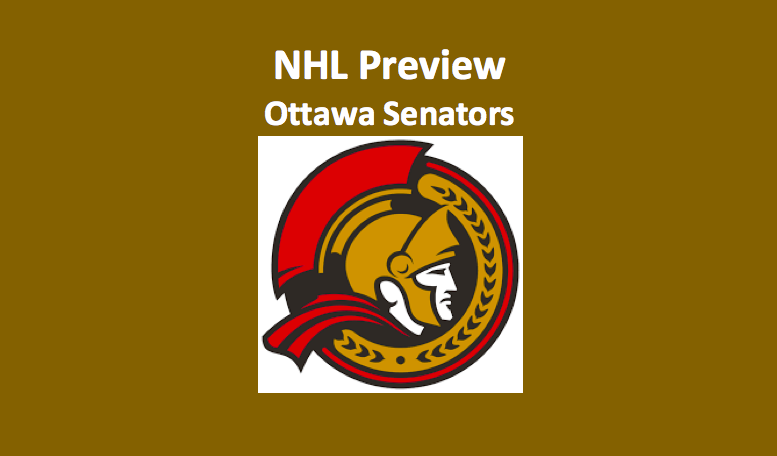 Our Ottawa Senators Preview 2019 – 2020 notes that the Senators finished last in the NHL's basement. This Ottawa Senators Preview 2019 – 2020 also notes that is where everyone thought they would be. They were 31st out of 31 teams after 82 games. What made the last season even more unbearable for Sens fans was that their team didn't even own their own first-round pick. They made a few deals last year to acquire young talent, although they still enter the new season looking like the worst team in the NHL. Our 2019 – 2020 Ottawa Senators season preview looks at what the franchise has to be optimistic about despite fielding one of the worst teams in the league.
Ottawa Senators Preview 2019 – 2020: Goaltending
The quality of goaltenders on Ottawa's roster isn't bad, although they aren't good enough to negate the other weaknesses in their lineup. Craig Anderson and Anders Nilsson project to be the club's two goaltenders. Anderson started 47 games for the Senators last season. Although his stats were poor, the reason for that fact is due more to the Senators as a team than Anderson's incompetence. The American-born netminder finished the year with a .903 save percentage and a 3.51 GAA.
Anders Nilsson split time last season between the Vancouver Canucks and Ottawa. Surprisingly, he played better with the Senators than the Canucks. With Vancouver, he started 12 games and stopped .895 percent of the shots he faced. He allowed 3.09 goals per game in Vancouver. As a Senator, he played in 24 contests. He had a .914 save percentage and a 2.90 GAA in Canada's capital. He should see a larger workload this season as he projects to split time with Anderson.
Ottawa Forwards
While Ottawa will not be a competitive team for some time, there are a few forwards who may make Sens fans optimistic. The most highly regarded is Brady Tkachuk, who had a very solid rookie year. He had 45 points as a rookie and has the highest ceiling of any forward in the organization. Tkachuk should see first line time the entire season and will be the most important forward on Ottawa's roster.
Senator fans can also look forward to watching Colin White and Drake Batherson. White played his first full NHL season last year and signed a six-year-extension over the offseason. He looks to be Ottawa's building block at center. Last year, White scored 14 goals and added 27 assists for 41 total points. Batherson skated in 20 games for the Senators last season. He had nine points in those games. He spent the rest of the year in the AHL and tore it up. He led his team in points and finished 17th overall in the league.
Ottawa's forwards will also feature Artem Anisimov and Chris Tierney. Both will likely slot into either the second or third line center roll. Anismov spent the last four seasons with Chicago. He had 37 points last year as a Blackhawk. Tierney was acquired in the Erik Karlsson trade last summer. Out of any forward who finished the year with Ottawa, Tierney had the most points. In 81 games, he scored nine goals and added 39 assists. While both players are solid, neither will provide more than secondary scoring.
Senators Preview – Defense
Ottawa has every reason to be confident of their blueline in the near future. While they likely won't be among the league' best this season, the amount of potential on the backend is elite. Thomas Chabot is coming off of a terrific second NHL season. He had 55 points in 70 games and played like a legitimate top defenseman the entire year. At the age of 22, he was already playing upwards of 24 minutes per game. He is arguably the Senators best player coming into this year and looks likely to have another great season.
The Senators will also look for Erik Brannstrom to have a solid rookie year. The 15th overall pick from the 2017 draft projects as an elite defenseman in the upcoming years. Brannstrom spent the majority of last year in the AHL. He played in 50 games there and racked up 32 points. Look for Brannstrom to have a good first season for Ottawa.
Ottawa Senators Preview 2019 – 2020: Outlook
The Senators will likely finish at the bottom of the league again this season. While they have some young talent, which should keep Ottawa fans looking forward to the future, they are nowhere near a competitive club. Thomas Chabot is the only truly elite player currently. While Brady Tkachuk could hit that level this season, there is still an overall lack of depth and star power to view the Senators as a legitimate NHL team. Look for the Ottawa Senators finish at the bottom of the NHL again this season.
Ottawa Senators Preview 2019 – 2020: Outlook
Record:30-44-8, 68 points
Finish:8th in the Atlantic Division
NHL LINKS
Division Link
NHL 2019 Preview Link