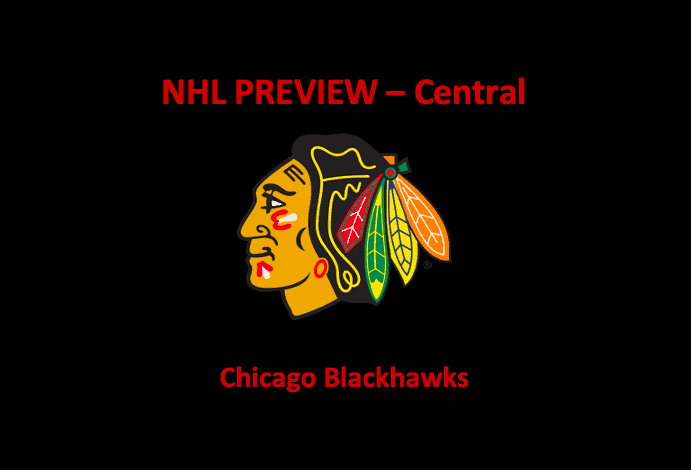 While the Blackhawks weren't the most impressive team last season, they managed to sneak into the playoff qualifying round. During the regular season they had 72 points to finish 8th in the in the Central Division. As the final team Western Conference team to qualify, they defeated Edmonton in the play-in round before falling to Vegas in the first round of the playoffs. Our Chicago Blackhawks Preview 2021 looks at whether or not they can contend with the top teams in their Division this season.
Chicago Blackhawks Preview 2021 – Forwards
The forward positions are the strongest part of a weak Blackhawks roster. They have an established veteran in Patick Kane along with a slew of young players looking to progress in their development. Patrick Kane continued to be one of the most productive players in the NHL last season finishing with 84 points in 70 games, including 33 goals.
The Blackhawks younger talent includes Dominik Kubalik, Alex DeBrincat, Dylan Strome, and Kirby Dach. Kubalik finished his rookie season third in Calder Trophy voting. The Czech scored 30 goals including 26 even strength tallies. This was good for the seventh most in the NHL. DeBrincat had a bit of a down season last year although he had the fourth most points on Chicago's roster.
After finishing the 2018-2019 season with 76 points in 82 games, DeBrincat mustered just 45 in 70 games last season. He also struggled more than usual to find the back of the net. He was on pace to finish with about half as many goals as he did a year prior. Like DeBrincat, Strome also saw his point totals dip last season. After putting up 51 points in 58 games as a Blackhawk in 2018-2019, Strome had just 38 points last season. While he hasn't panned out to be the elite player that he was expected to be when he was drafted third overall in 2015, Strome is still serviceable in a middle-six role.
Important Losses
Unfortunately for the Blackhawks, they will be without two crucial pieces of their forward group. Star center Jonathan Toews will be out indefinitely due to an undisclosed health condition. He had 60 points in 70 games last year. Along with losing Toews, the Blackhawks will be without Kirby Dach to start the season. Chicago was expecting big things from Kirby Dach this season. As a rookie last year Dach had 23 points in 64 games played. The Blackhawks expect him to eventually slot into a top-six role although now that he is out for 4-5 months, it may not happen this year. While Chicago has a lot of promising young players up front, the club relies too much on Patrick Kane to carry their scoring load. Missing Toews and Dach is a huge blow to the club's forward group.
Chicago Blackhawks Preview 2021 – Defense
Arguably the most important player on Chicago this season will be Duncan Keith. Keith led the Blackhawks' defensemen with 27 points last season while averaging over 24 minutes of ice time per game. Much like with Kane, the Blackhawks rely very heavily on just a few players, Keith being one of them. While he is certainly capable of carrying a very heavy workload, Chicago will need more consistency from the rest of their blueline to have any success this season
The Blackhawks swapped skill for grit on the backend this offseason. They traded away Olli Maata while acquiring Nikita Zadorov in separate trades. Zadrov finished seventh in hits last season throwing 175 body checks. While his addition changes the Blackhawks' D-corps, it isn't really an upgrade.
Calvin De Haan and Adam Boqvist will also play big roles this season. De Haan, while limited to just 29 games last season, led the team's defensemen with a +10 rating while eating almost 20 minutes per game. He will play an important shutdown role on a club with unproven goaltenders. Boqvist will enter his second NHL season after seeing action in 41 games last season. The 20-year-old was drafted eighth overall in 2018 projects to be a dynamic offensive defenceman. While he managed 13 points last season, Boqvist could see a much larger share of ice time this season, and if so could see his numbers skyrocket.
Goaltending
By far the weakest area of Chicago's lineup is in net. While they had a great tandem for the majority of last season, both of their top netminders are now gone. After trading Robin Lehner at the deadline last year, the Blackhawks allowed Corey Crawford to walk in free agency. They are now left with Malcolm Subban and Collin Delia to guard their crease. Between the two of them, they have played a total of just 84 NHL games in their careers. Played just one minute and ten seconds for Chicago last season. Before being traded for, he saw action in 20 games for the Vegas Golden Knights registering a 3.18 GAA and a .890 save percentage. Subban has yet to play more than 22 games in an NHL season and has not looked particularly impressive in his three professional seasons.
Delia split last season between Chicago and the club's AHL affiliate in Rockford. He finished with a 2.66 GAA and a .912 save percentage in 32 AHL contests, as well as a 3.61 GAA and a .908 save percentage in 16 NHL games. With two netminders who currently look to be suited for backup roles, the Blackhawks might have the most uncertainty in net among all NHL clubs.
Chicago Blackhawks Preview 2021: Outlook
Our Chicago Blackhawks Preview 2021 doesn't see them as a contender this year. They have very weak goaltending and have lost two of their top players in Toews and Dach. Even with Dach and Toews in the lineup, they were likely to miss the playoffs. Look for Chicago to finish at the bottom of the Central Division this season.
Chicago Blackhawks Preview 2021: Projection
Record: 19-29-8, 46 points
Finish: 8th in the Central Division