NHL Previews
2018 Nashville Predators Season Preview
Preds Look Highly Competitive in 2018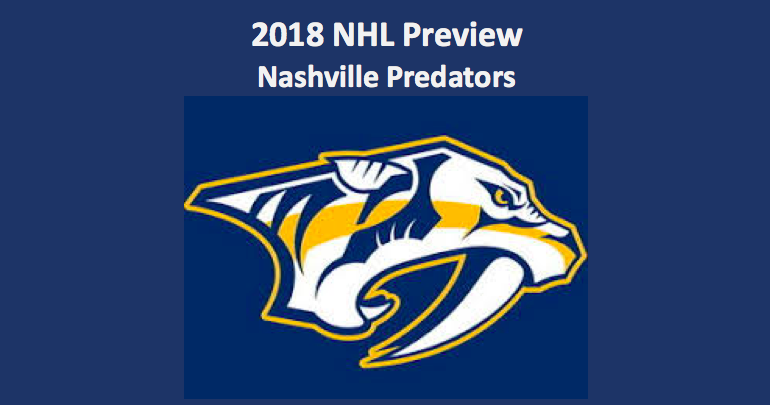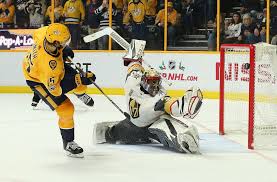 One year after making the Stanley Cup Final, the Nashville Predators made their playoff exit two rounds earlier. This added a little bit of a sour tone to a season where they finished first in the NHL during the regular season. Our 2018 Nashville Predators season preview expects to see the club have another strong season as they try to make another playoff run in the competitive NHL Central. Here's how we see this Predators team shaping up for the 2018- 2019 season.
Offense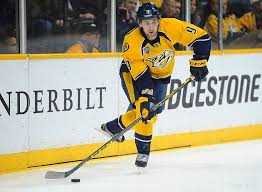 The Nashville Predators' group of forwards is both deep and balanced. Last season they saw four of their forwards surpass the 20-goal mark, and five forwards finish the year with at least 50 points. Their leading scorer in the 2017-2018 season was Filip Forsberg, who had 26 goals and 38 assists in 67 games played. He also led the team in postseason scoring. Forsberg had 7 goals and 16 points in 13 playoff games. Along with these offensive stats he had the highest plus-minus rating on the team at +27.
Our 2018 Nashville Predators Season preview observes that one of the Predator's biggest fortes is their depth at the center-ice position. Ryan Johansen led Nashville's centers in points last season with 54. Behind Johansen, Kyle Turris is also capable of putting up good numbers. Turris had 51 points as a member of both the Predators and Ottawa Senators last season. He also finished with a +19 plus-minus rating, the best among all of Nashville's centers.
Wings
Nashville could see increases in production from wingers Viktor Arvidsson and Kevin Fiala. Arvidsson led the Preds in goals last season finishing one shy of the 30 goal marker. He has finished with 61 points in each of his last two seasons and will likely be near the team lead in both points and goals again this season. Fiala played his first full season in the NHL last year. The Swiss-winger was the 11th overall pick in the 2014 entry draft and has the raw potential to be one of the Predators biggest scoring threats. In the 2017-2018 season Fiala had 23 goals and 25 assists.
Eeli Tolvanen is likely to play his rookie season this year. Tolvanen was Nashville's first round draft pick from the 2017 draft, and is coming off of a strong season in the Kontinental Hockey League where he had 19 goals and 17 assists as a member of Jokerit. Tolvanen is generally regarded as one of the league's current top prospects and has shown his ability to put the puck in the back of the net at every level he has competed at thus far.
Defense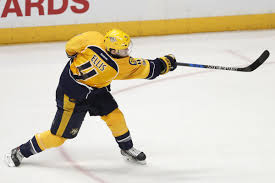 Nashville has one of the best D-corps in the entire league. They are led by superstars PK Subban and Roman Josi, with Mattias Ekholm and Ryan Ellis rounding out an exceptional top four. Subban finished fourth in the league in terms of goals (16) by defenseman as well as eighth in points (59) by defenseman last season. He also averaged 24:07 minutes of time on ice.
Josi was second on the team in scoring by defensemen. He had 14 goals and 53 points in 75 games played while compiling a +24 plus-minus. He led the Predators in both time on ice (24:28 minutes per game) as well as shots (253).
Ryan Ellis (9-23-32) is coming off of signing an eight-year, 50-million-dollar contract. He was only able to suit up for 44 games due to a knee injury but was stellar when healthy. Ellis finished the year +26, while playing 23:21 minutes per game. Our 2018 Nashville Predators Season preview notes, if he stays healthy this year he has the potential to put up over 50 points from the backend.
Goaltending
According to the research and evaluation for our 2018 Nashville Predators Season preview, the Predators might have the strongest goaltending tandem in the entire NHL. Pekka Rinne won the Vezina Trophy last season and looks strong as he enters his 11th NHL season. He finished last season with 42 wins, a 2.31 GAA, and a .927 save percentage. He also had eight shutouts which was tied for the league lead. At the age of 35 Rinne show no signs of slowing down and will give the Predators a chance to win every night he is in the cage.
Juuse Saros is entering his third season as Rinne's backup. He has been stellar over the last two years. After putting up a .923 save percentage and a 2.35 GAA in the 2016-2017 season, he returned to post great number last year. His .925 save percentage and 2.45 GAA help Nashville finish second in terms of goals against. Should Rinne have any injury trouble this season, Saros looks to be capable of getting an increased workload.
2018 Nashville Predators Season Preview: Outlook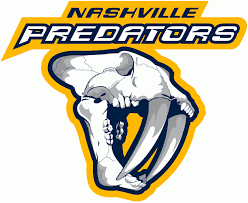 The 2018-2019 Preds look very similar to last season's squad. They return a good group of centers as well as one of the best teams of top four defenseman in the NHL. Coupled with elite goaltending, our 2018 Nashville Predators Season preview finds that Nashville looks to have another playoff caliber team that can compete with anyone in the NHL. How far they will go will depend upon their health, drive, and depth.
2018-2019 Nashville Predators Season Preview: Prediction
Record: 50-20-12=112 Points
Finish: 2nd in the Central Division
Links