NHL Previews
2018 Colorado Avalanche Season Preview
Solid Avs Team Must Compete in Tough Division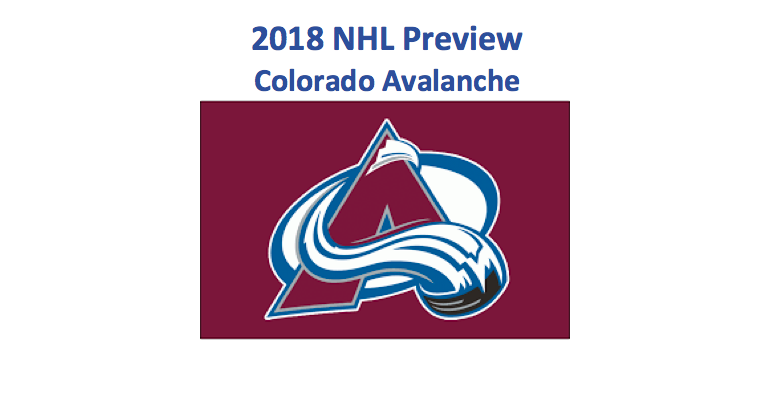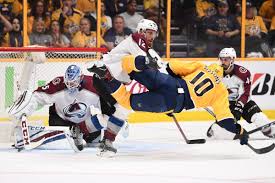 The Colorado Avalanche were one of the NHL's biggest surprises last season. They nearly doubled their point total compared to the year prior. After finishing the 2016-2017 NHL season with a measly 22-56-4 record, the Avs put together a 95-point campaign. That allowed them to lock up the second wild card spot in the Western Conference. Our 2018 Colorado Avalanche season preview looks to see if last year was just a fluke. How will they do in the NHL's Central Division and the Western Conference?
Forwards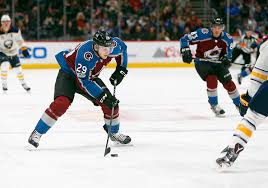 Colorado's first forward line was dominant last season, being led by Hart Trophy Nominee Nathan MacKinnon. MacKinnon finished second in MVP voting after a season where he scored 39 goals and 97 points in 74 games played. His points per game of 1.31 was second in the NHL behind only Connor McDavid. MacKinnon is one of the biggest reasons the Avalanche had such a successful 2017-2018 season. He not only carried the team but made his linemates, Mikko Rantanen and Gabriel Landeskog much more dangerous.
Rantanen put together a very solid second NHL season while playing on MacKinnon's right wing. After a 38 point rookie season in 2016-2017, the Finn put 29 pucks in the back of the net while adding 55 helpers for a 84 point total. Gabriel Landeskog also flourished while playing with MacKinnon this past season. He finished third on the team in both goals (25) and points (62) while averaging 20:09 in time on ice per game, which was first among Avalanche forwards.
According to our 2018 Colorado Avalanche season preview, rookie Alexander Kerfoot had a solid rookie season last year finishing fifth on the team in scoring. The Harvard product put up 43 points and could definitely improve his numbers in his second NHL season. Along with Kerfoot, the Avalanche have another player in Tyson Jost who will be in a good place to expand upon his rookie season. Jost, the tenth overall pick in the 2016 entry draft, only had 22 points as a rookie. Still, he has the speed and upside that could see him improve drastically upon these numbers in the 2018-2019 season.
Defensemen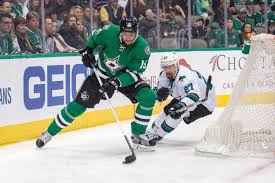 The Colorado blueline is anchored by Tyson Barrie, who put together terrific offensive numbers from the backend last season. Barrie scored 14 goals for the Avalanche, which was tied for tenth among NHL defensemen. He finished with 57 points in 68 games, a 0.84 points per game average. That was second among NHL defensemen behind only Erik Karlsson. He was a large reason why the Avalanche had the eighth most effective powerplay at 21.9%.Barrie had 30 points on the man-advantage, the third most powerplay points among NHL defensemen.
Erik Johnson was the Avalanche's biggest minute eater on the backend and is likely to be so again in the 2018-2019 season. Johnson finished seventh in the NHL in time on ice at 25:26 minutes per game. Our 2018 Colorado Avalanche season preview finds that Patrick Nemeth will be another defensive work horse on the Avs' blueline. Although, it's noted, he might start the season on injured reserve. Nemeth led Colorado in plus-minus with a +27 rating which was 11th overall in the league. He also blocked 185 shots, which was fifth in the NHL.
Colorado's biggest defensive pick up this offseason was Ian Cole. Cole split his time between Pittsburgh and Columbus last season, finishing the year with a +14 rating and 20 points. He will add depth to the Avs' blueline.
23-year-old Nikita Zadorov adds some grit to the Colorado backend. Zadorov led the NHL in hits last season with 278 in 77 games played. The next closest player in terms of hits was the Oilers' Milan Lucic who trailed Zadorov by over 20 hits. The tough-nosed Russian also finished with 103 PIMs on the year. Overall, Colorado has solid defenseman that together can cover almost any role that is needed.
Goaltending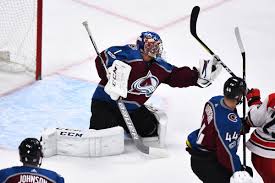 Barring injuries, Colorado's crease will look solid this upcoming season. Semyon Varlamov had a good 2017-2018 season despite some trouble staying healthy, which has seemed to become a trend in his career. Varlamov missed 14 regular season games and 6 playoff contest just a season after being sidelined for 49 games. While healthy last season he put together a 2.68 GAA and a .920 save percentage.
We found in developing our 2018 Colorado Avalanche season preview, Colorado's biggest offseason move was in net and looks to stabilize the crease should Varlamov have another set of injury woes. Philipp Grubauer was acquired from the Washington Capitals for a second-round draft pick and will slot in as Varlamov's backup. Grubauer played 35 games last season for the Caps, finishing with a .923 save percentage and a 2.35 GAA. While Grubauer has yet to play more in an NHL season than he did last year, he has been regarded as one of the most likely backup goaltenders in to transition into a starting role. If Varlamov can stay healthy, the Avs will have one of the best goaltending tandems in the NHL. Should he be hit by injuries again or struggle, Colorado now has a very capable goaltender to handle the reins of the team for extended periods of time.
2018 Colorado Avalanche Season Preview: Outlook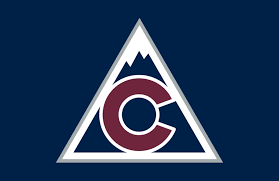 The Avalanche look to have a solid team on paper. Assuming Nathan MacKinnon doesn't take any steps backward they should have little trouble scoring. They also have a fairly good D-corps with players that can cover any match. The addition of Philipp Grubauer also did a tremendous job of solidifying the Avs' crease. Overall this 2018 Colorado Avalanche season preview finds that this team looks stronger than last season and should compete for a playoff spot barring injuries to significant players. They only thing that might keep them out is the strength of the rest of the Western Conference
2018 Colorado Avalanche Season Preview: Prediction
Record: 44-28-10=98 Points
Finish: 4th in the Central Division
Links