NHL Previews
2018 NHL Metropolitan Division Preview
Is Metro the Battle of Pennsylvania?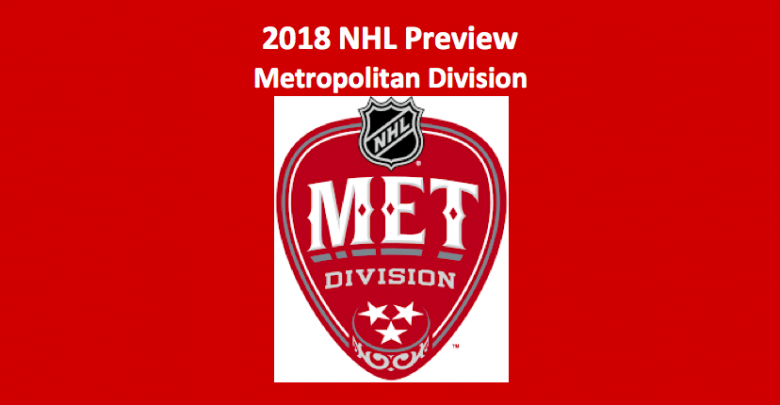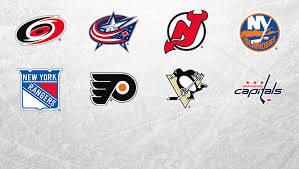 Our 2018 NHL Metropolitan Division Preview hub page offers quick information about each team as well as the projected standings. Links to each club's full 2018-2019 preview providing complete analysis of each Metropolitan Division team are included as well. Use this page as a quick reference to get a solid sense of each team. Our team pages offer full, in-depth reviews of every aspect of each team. Use these previews through the season as handy reference guides.
2017-2018 Metropolitan Division Season
The 2017-2018 season saw a tight playoff race in the Metropolitan Division. The top team in the Metro, and the eventual Stanley Cup Champion, was the Washington Capitals (49-26-7, 105 points). The Pittsburgh Penguins (47-29-6, 100 points) were the only other team in the division to finish with at least 100 points. The Philadelphia Flyers (42-26-14, 98 points), Columbus Blue Jackets (45-30-7, 97 points), and New Jersey Devils (44-29-9, 97 points) all grabbed playoff spots as well. The Carolina Hurricanes (36-35-11, 83 points), New York Islanders(35-37-10, 80 points), and New York Rangers (34-39-9, 77 points) all missed the postseason..
2018 NHL Metropolitan Division Preview: Teams
This section of our 2018 NHL Metropolitan Division preview will provide general positives and negatives of each Metropolitan Division team as they head into the upcoming season. Make sure to look at the most up to date matchup information before placing any NHL bets.
Trading away Jeff Skinner to Buffalo hurts the club's scoring depth
Sebastian Aho had a team leading 29 goals and 65 points last season and has a good chance to be a 30+ goal scorer
The 'Canes' biggest strength is the depth of their blueline
Trading away Noah Hanifin for Dougie Hamilton helps the club in the short term
Scott Darling and Petr Mrazek both had shakey 2017-2018 seasons leaving Carolina's goaltending to be a big question
Carolina is likely to be a middle of the road team this season
The top defensive pairing of Seth Jones and Zach Werenski is among the best in the NHL
The team's overall depth on the blueline is strong
Two time Vezina Trophy winner Sergei Bobrovsky is arguably the best goaltending in the world and will five the Jackets a chance to win every night
Pierre-Luc Dubois had a very solid rookie season finishing with 48 points and is developing into a legitimate first line center
Leading scorer Artemi Panarin looks to want out of Columbus but will be counted on to drive the clubs' offense this year
Columbus should have no problem keeping the puck out of their net and will contend for a playoff spot
Hart Trophy winner Taylor Hall is a dynamic forward with the ability to single handedly carry the Devils offense
Behind Hall, New Jersey has very little secondary scoring
Nico Hischier had a solid rookie season and could step up on the offensive side of the puck this year
Will Butcher and Sami Vatanen five New Jersey a pretty good D-corps to build around
Cory Schneider had a down year last season, but has the talent to bounce back in 2018-2019
While the Devils are not a bad hockey team, they lack scoring depth which may hurt their playoff chances
The loss of John Tavares really hurts the Islanders, his departure greatly hurts the club
Matt Barzal won the Calder Trophy last season and is a suitable top line center
Anders Lee and Jordan Eberle provide reliable scoring on the wings
The blueline looks very similar last year's which allowed to most goals in the NHL
Robin Lehner has the potential to be an improvement in net
The loss of Tavares, and lack of improvement on the blueline does not make the 2018-2019 Islanders season look very promising
The Rangers lack star power at the forward position
Mats Zuccarello, Mika Zibanejad, and Kevin Hayes will be counted on to carry the offense
Kevin Shattenkirk returns from injury which should help on the backend
Brady Skjei continue to develop and looks ready to have a solid season
Henrik Lundqvist is still a serviceable netminder but is well past his prime
Overall the lack of scoring in the Rangers lineup will make it tough for them to grab a playoff spot in April
The Flyers' addition of James van Riemsdyk improves a top-six forward group that already included Claude Giroux, Sean Couturier, and Jakub Voracek
Shayne Gostisbehere has blossomed into a top offensive defenseman in the NHL and should be able to drive scoring from the blueline
Ivan Provorov looks primed for a breakout season
Philly's biggest question mark is in net where Brian Elliott and Michal Neuvirth will need to be stronger
Philadelphia has the potential to have a very potent offense and a solid backend in 2018-2019. The Flyers should be in postseason contention.
Sidney Crosby and Evgeni Malkin makeup potentially the best top two centers in the NHL
Jake Guentzel and Phil Kessel round out an offense that finished 3rd in scoring last year
Kris Letang is a star on the blueline and has a strong supporting cast around him
Matt Murray had a down 2017-2018 season but has a good chance to bounce back this year
It is very hard to count out a Penguins team led by two of the top three players in the world, they should have another very good year
Washington will look to avoid the dreaded Cup hangover and may start the season a little slow like other clubs in the recent past
The Cup winners will have no problem scoring with Alex Ovechkin, Evgeny Kuznetsov, and Niklas Backstrom in their lineup.
John Carlson looks to have developed into an elite defender and can eat big minutes for the club
Braden Holtby had a weak regular season but picked up his play in the playoffs and should be solid in the Caps' cage
Washington should have a solid season and get into the playoffs with a chance to repeat as Cup champions.
Projected Standings
Final Thoughts: 2018 NHL Metropolitan Division Preview
Our 2018 NHL Metropolitan Division preview finds that the division looks very similar to last season. The Pittsburgh Penguins, Philadelphia Flyers, Washington Capitals, and Columbus Blue Jackets all look to be playoff caliber teams. The New York Rangers are hitting the rebuild button, while the New York Islanders will likely have trouble filling the void left by franchise centerman, John Tavares' departure.
For the Carolina Hurricanes and New Jersey Devils to vie for playoff spots they will need to figure out their scoring depth and will likely be out of the postseason if this area of their games are not solidified this year. Make sure to check with Betting Brain for NHL news, free picks, and to receive any information useful to NHL bettors.
Other Links
Eastern Conference Main Page
Western Conference Main Page
NHL Main Page