NHL Previews
Arizona Coyotes Preview 2019 – 2020
Coyotes Have Shot at Postseason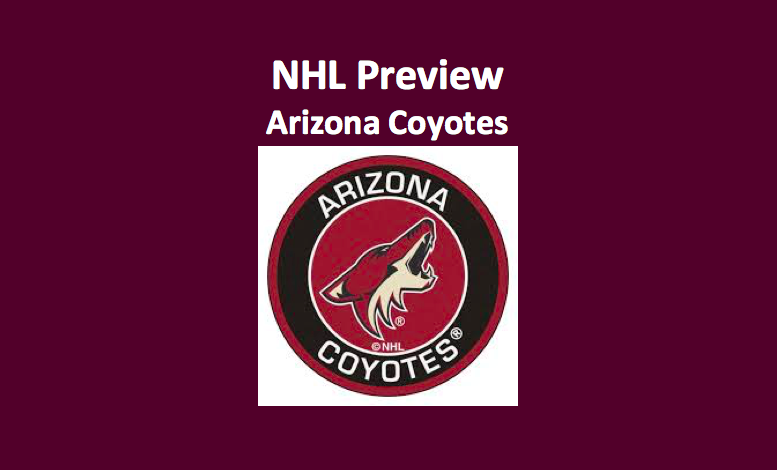 Our Arizona Coyotes Preview 2019 – 2020 recalls that last year the team finished just four points shy of a playoff spot. This Arizona Coyotes Preview 2019 – 2020 notes that their 39-30-14 record was fourth-best in the Pacific Division. The Coyotes would have had a good chance to grab a wildcard stop if they dealt with less injuries during 2019. The Coyotes made some big moves this summer and come into the new season healthy. Our 2019 – 2020 Arizona Coyotes season preview looks at whether their improvements are enough to give them the boost needed to make the playoffs.
Arizona Coyotes Preview 2019 – 2020: Goaltending
The Coyotes biggest strength may be in net. They enter the season with a tandem of Antti Raanta and Darcy Kuemper. Raanta was limited to just 12 games last season due to injury, but is one year removed from a stellar season. His stats last year were subpar, but this was due in large part to dealing with nagging injuries. Last season, he had a .906 save percentage and a 2.88 GAA. In the 2017-2018 though, Raanta played in 47 games and finished with a .930 save percentage and a 2.24 GAA. If he can stay healthy, he will be a very good option on most nights.
The other half of Arizona's goaltending tandem is set with Darcy Kuemper. Our Arizona Coyotes Preview 2019 – 2020 observes that Kuemper had a career year after stepping in part due to the club's injury woes. He played 55 games for his team and finished the season with a 2.33 GAA and a .925 save percentage. This performance led to him placing fifth in Vezina voting. Prior to last season, Keumper had never played more than 31 games in an NHL season. He proved that he can handle a larger workload and can also deal with splitting games with Raanta.
Arizona Forwards
This Arizona Coyotes Preview 2019 – 2020 finds that the team's largest offseason addition came upfront. They acquired Phil Kessel from Pittsburgh in exchange for Alex Galchenyuk. Kessel has been one of the more slept-on players in recent years. While he certainly garners attention from the media, he usually fails to get recognition for his production. Over the last two seasons, Kessel has scored at least a point per game. In 2018-2019, he posted 82 points in 82 games. While trading Glachenyuk meant losing their third-leading scorer, this transaction improves the Coyotes immediately and addresses the club's biggest issue, scoring. They scored the third-least goals in the NHL. Kessel can drive offense, helping reduce Arizona's scoring woes.
Arizona's second biggest acquisition was Carl Soderberg, who they traded for. Soderberg played the second line center role in Colorado this past season. He scored 23 goals and added 26 assists in 82 games. The center adds depth at this position for the Coyotes. He will be expected to contribute with secondary scoring as well as play on the penalty kill. Soderberg was fourth among all NHL forwards in short-handed time on ice last season. In 2018 – 2019, Arizona finished tied for the best penalty kill and will definitely see a boost with Soderberg in the lineup.
The Coyotes want more production out of Clayton Keller this season. He experienced a sophomore slump last year. In his rookie season, Keller had 65 points. This dipped to 47 last year. He finished with a -21 plus-minus rating. They want more from Nick Schmaltz too. Schmaltz was traded for Dylan Strome last season. Strome saw success in his new role with the Blackhawks while, with Arizona, Schmaltz was fairly average. If Schmaltz can produce top-six numbers, the Coyotes will have a decent group of centers.
Coyotes Preview – Defense
Arizona has a pretty solid group of defensemen. They are led by their captain Oliver Ekman-Larsson who played 23:38 minutes per game last season. In 2018-2019, he was also second on the team in points with 14 goals and 30 assists. Besides Ekman-Larsson, the Coyotes doen't have any superstar defenseman, but they have a pretty deep blueline. Along with their captain, Arizona had three other defensemen play at least 20 minutes a night.
Alex Goligoski finished with 24 points in 76 games. Jason Demers was limited to only 35 games but played 20 minutes a night in those contests. Jakob Chychrun will enter his fourth NHL season. At the age of 21, the big left-shot defenseman has great upside and could develop into a stud for the club. Aside from these three, Niklas Hjalmarssn will be a role player for the team. Last season, he was the only defenseman to suit up for all 82 games and finished with a +8 plus-minus rating. Our Arizona Coyotes Preview 2019 – 2020 notes that he is among the league's top shot blockers and can kill penalties.
Arizona Coyotes Preview 2019 – 2020: Outlook
The most important factor for the Coyotes' success this season will be their ability to stay healthy. As our Arizona Coyotes Preview 2019 – 2020 observes, they lost a significant number of games last year which ultimately left them falling short of a playoff berth. The Coyotes have playoff caliber goaltending along with a very solid group on the blueline. They addressed their scoring issues during the offseason as well with the addition of Phil Kessel. As long as this team can stay healthy, look for the Coyotes to contend for a postseason spot this season. We do think that they will be in the Stanley Cup Playoffs.
Arizona Coyotes Preview 2019 – 2020: Projection
Record: 43-29-10, 96 points
Finish: 4th in the Pacific Division, 2nd Western Wild Card
NHL LINKS
Division Link
NHL 2019 Preview Link