NHL Previews
2018 Carolina Hurricanes Season Preview
Will the Canes Make the Playoffs This Year?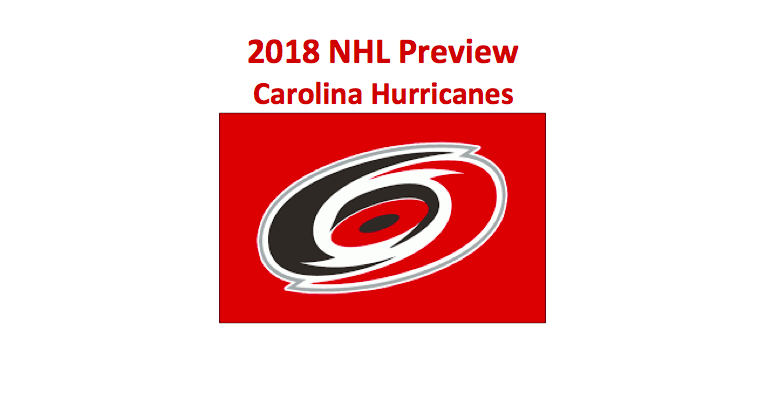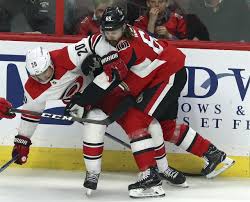 The Carolina Hurricanes are coming off of a disappointing season where they failed to make the playoffs for a ninth straight season. That was despite expectations that they'd be in contention near the end of the year. They never came close to claiming a postseason spot though. The Canes finished the year sixth in the Metropolitan Division with 83 points. Our 2018 Carolina Hurricanes Season Preview sees if the club can stop their playoff drought from hitting double digits.
Offense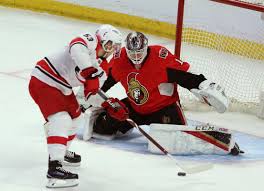 Despite trading away speedy winger Jeff Skinner to Buffalo, our 2018 Carolina Hurricanes season preview finds the Hurricane's still have a decent group of forwards. Sebastian Aho led the team in goals (29) and points (65) in his second NHL season. He will have a very good chance to break the 30 goal plateau this year. Aho could possibly score at a point per game pace. The team will also add second overall draft pick Andrei Svechnikov to the roster. Svechnikov had 40 goals and 32 assists in the Ontario Hockey League. He has the potential to put up big numbers in his first season directly out of juniors.
Carolina will look for more offensive production out of Teuvo Teravainen. The Finnish winger had 23 goals and 41 assists last season. He is coming up on a contract year and will try to increase these numbers this season. Along with his offensive abilities Teravainen finished second on the team in plus-minus with a +8 rating in 82 games played.
Justin Williams, Jordan Staal, and Victor Rask will also be counted on to provide secondary scoring. Williams had 51 points at the age of 36 last season. Staal had 46 points despite dealing with the tragedy of having his youngest daughter delivered stillborn in February. Rask had 14 goals and 17 assists last season. Still, he has shown in the past that he is capable of putting up north of 40 points a season. He will look to bounce back this year.
Defense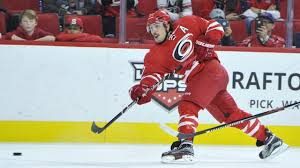 Our 2018 Carolina Hurricanes season preview notes that the Hurricane's biggest strength on their roster is their group of defensemen. Despite trading away their leading point producer from the blueline in Noah Hanifin, they still look very strong. Dougie Hamilton was acquired as the big piece in Hanifin's trade, and for the immediate future looks to be a slight improvement. Hamilton finished the 2017-2018 season tied for the league lead in goals by defensemen with 17. He provides plenty of potential offense from the backend while being able to eating big minutes for the 'Canes.
Carolina's talent on defense doesn't fall off much after Hamilton either. Both Justin Faulk and Jaccob Slavin are capable of playing big minutes. Faulk (8-23-31) played over 22 minutes a game last season and finished second the team in scoring by defensemen. In his three NHL seasons Slavin has blossomed into a terrific piece on the Hurricanes' blueline. Slavin finished the 2017-2018 season with 30 points while leading the team in time on ice, playing 22:35 minutes a game. At the age of 24 he has shown continued improvement and projects to be one of the team's top defensemen once again.
Carolina also made a splash when they signed Calvin De Haan via free agency. De Haan missed much of last season to an upper body injury but when healthy is a very solid defenseman with puck moving ability. In 33 games played last season he had 12 points and a +11 plus-minus rating.
Goaltending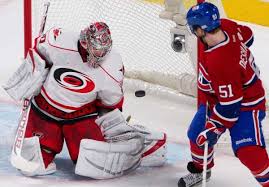 The Hurricanes' biggest question mark is in the crease. Scott Darling was brought in as free agent last offseason to be the team's starting goaltender. Darling struggled tremendously posting a 3.18 GAA as well as a league worst .888 save percentage in 43 games played. He finished the year with a 13-21-7 record. If Darling is unable to find his footing as the Canes' starting netminder, the team will have a very tough time making the postseason.
The backup position for Carolina will look different this season. Longtime Hurricane Cam Ward has departed to Chicago via free agency, and Petr Mrazek has been brought into replace him. While Ward didn't play fantastic last season, Mrazek has struggled in recent years. Last season the Czech goaltender spent time with both the Detroit Red Wings as well as the Philadelphia Flyers, finishing the year with a .902 save percentage and a 3.03 GAA.
Overall, our 2018 Carolina Hurricanes season preview finds that this pickup looks to keep Carolina's pedigree of goaltending in line with that of last season. Simply put, if neither Darling or Mrazek ups their level of play drastically this season, the Hurricane's will not be in a playoff position in April.
2018 Carolina Hurricanes Season Preview: Outlook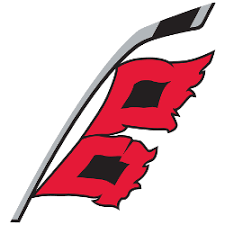 On paper the Carolina Hurricanes look to be an improved hockey team compared to a year ago. While Noah Hanifin may blossom into an elite defenseman, Dougie Hamilton is an immediate upgrade. Our 2018 Carolina Hurricanes season preview believes the 'Canes have a very underrated top four D now with Hamilton, Slavin, Faulk, and Calvin De Haan.
They did trade away Jeff Skinner and get nothing immediately helpful in return, but their offense should still be about average compared to the rest of the league. The only issue with Carolina is the unreliability of their goaltending tandem. Because of Darling and Mrazek's inconsistency, the Hurricanes may find themselves on the outside looking in March when the postseason is right around the corner.
2018 Carolina Hurricanes Season Preview: Prediction
Record: 39-33-10=88 points
Finish: 5th in the Metropolitan Division
Links