NHL Previews
2018 Pittsburgh Penguins Season Preview
'Guins Have Some of the Top Players Anywhere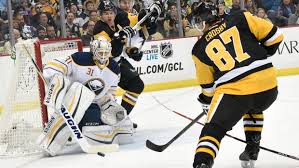 The Pittsburgh Penguins finished the 2017-2018 season as the second-best team in the Metropolitan Division with a 100 point year. Their season ended in the second round of the payoffs. Their demise occurred when they fell to the eventual Stanley Cup Champion Washington Capitals. That meant the Penguins failed to complete the three-peat after winning the Cup in the two prior seasons. Our 2018 Pittsburgh Penguins Season Preview looks to see if they can capture a third title in four years.
Offense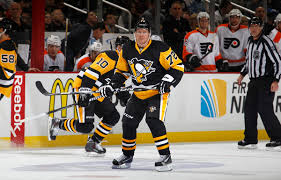 Our 2018 Pittsburgh Penguins season preview notes, the Penguins had no trouble scoring last season. They finished third in the league with an average of 3.29 goals per game. They had three players score more than a point per game. Both Evgeni Malkin and Phil Kessel cracked the 90-point mark. Malkin finished fourth in both goals (42) and points (98) in the NHL. Kessel had 34 goals and 58 assists for a total of 92 points. Sidney Crosby was third on Pittsburgh's roster in scoring with 89 points on the year.
Between Crosby and Malkin, the Penguins enter another season with the best one-two punch at center in the NHL. And while having two of the top three centers in the world on one roster is impressive, Pittsburgh's depth is even more remarkable when looking at the team's third and fourth line centers. Derick Brassard was acquired from Ottawa last season. He fit in as the Penguin's third line center despite have the talent of a top-six forward. Brassard finished the year with 46 points in 72 games. Riley Sheahan slots in as the fourth line center. He had 11 goals and 21 assists while playing in 73 games.
Wings
Jake Guentzel projects to have a solid season on the wing. In his first full NHL season, he finished sixth on the team in points with 48. In the Penguins' 12 postseason contests he had 10 goals and 11 assists. Patric Hornqvist will also be a weapon. The veteran had 29 goals and 49 points last season.
Bryan Rust should have solid season playing on Sidney Crosby's right wing. He has increased his point totals in each of his three NHL seasons. He had 38 points in 69 games during the 2017-2018 season and will have a solid chance to put up at least 40 points while playing with one of the top two pivots in the world.
Defense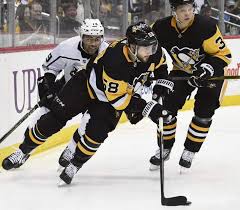 The Penguins have a solid group of defensemen led by Kris Letang. Letang had 51 points from the backend during the 2017-2018 season. He also averaged the ninth most time per game in the NHL. Pittsburgh relied on him to play over 25 minutes per game. In each of the last eight seasons, Letange has played over 24 minutes a game and should be the team's most important piece on the blueline once again this year.
According to out 2018 Pittsburgh Penguins season preview, three others will play large roles. Those players are Brian Dumoulin, Olli Maatta, and Justin Schultz. Dumoulin played as Letang's partner last season and will again this year. He had 18 points and averaged 20:37 minutes per game. Olli Maatta had the second most points by a defenseman on the Penguins roster with 29. Justin Schultz was arguably the team's most defensively responsible player on the blueline. He finished the season with a team leading +22 plus-minus rating, while adding 27 points.
Pittsburgh's biggest offseason addition came in the signing of Jack Johnson to a five-year contract. Johnson played the last six full seasons as a member of the Columbus Blue Jackets. In the 2017-2018 season he played about 19-and-a-half minutes per game. While he will most likely play a lesser role for the Penguins, he adds depth the the team's blueline.
Goaltending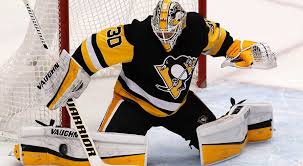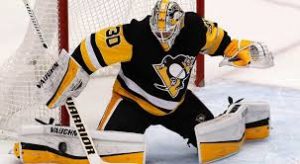 Matt Murray will be the starter in net for the Penguins. He had a .906 save percentage and a 2.92 GAA while playing in 49 games. These numbers were drastically down compared to those of his rookie season, where he won his second Stanley Cup. He had a .923 save percentage and a 2.41 GAA in that season. This could be attributed to both injuries that he experienced, or that he was dealing with mental strain of the passing of his father last season. Our 2018 Pittsburgh Penguins season preview anticipates him to having a bounce back year. We expect him to come back fresh after having the offseason to recover.
The Penguins have two capable backups, both of whom may see playing time. Casey DeSmith played in 14 games and compiled a .921 save percentage along with a 2.40 GAA. Tristan Jarry played in 26 contests and had a .908 save percentage with a 2.77 GAA. While DeSmith was clearly more impressive last year, Jarry is regarded to have the higher career potential. Look for both to play at some point this season.
2018 Pittsburgh Penguins Season Preview: Outlook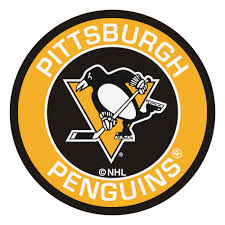 The Pittsburgh Penguins enter this season in a similar position to most years in recent memory. They have one of the deepest groups of centers in the NHL, including two of the top three pivots in the world between Crosby and Malkin. They have a superstar defenseman in Letang as well as pretty decent depth behind him. Matt Murray has shown that he can be an elite goalie, and should be refreshed after the offseason. Our 2018 Pittsburgh Penguins season preview finds that overall this team projects to be very solid.
2018 Pittsburgh Penguins Season Preview: Prediction
Record:48-25-9=105 points
Finish: 1st in the Metropolitan Division
Links