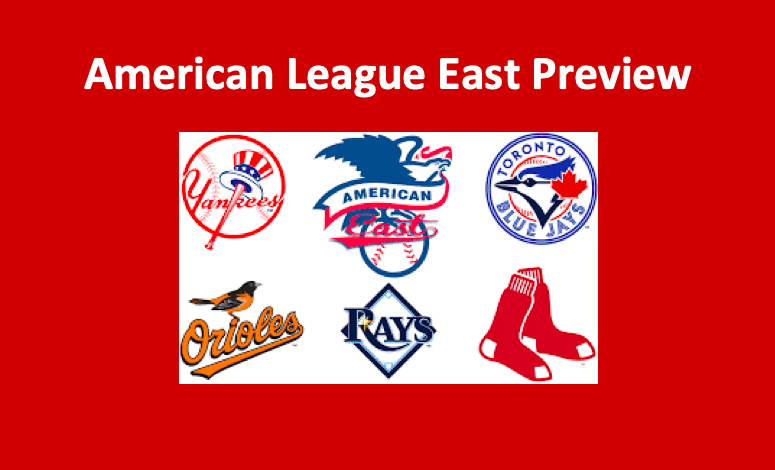 Our AL East Preview 2020 includes a full analysis of every aspect of each team. This AL East Preview 2020 finds that there are three teams undergoing major transitions, the Boston Red Sox, Baltimore Orioles, and Toronto Blue Jays. Of those three teams, the Blue Jays may be the closest to completing their changeover from an also-ran to a competitor in this very tough division. When it comes to taking the AL East, we certainly like the New York Yankees. They are strong in every area. As far as the Tampa Bay Rays are concerned, we expect them to be quite competitive once again. They have a very good shot at a wildcard berth.
AL East Preview 2020 – Teams
Here is a thumbnail sketch of each team. Below, we offer a quick look at what each club has going for them and where each is lacking. Our full preview of each team, which you may access from the links on this page, provides insights into each team's recent performance, their pitching staff, and everyday players. Plus, we evaluate the front office and manger. We project each club's finish as well as their wins and losses. To prepare completely for the upcoming season, make sure to read every part of our AL East Preview 2020.
Strengths and Weaknesses
Strengths
2019 Trey Mancini had a breakout year at the plate
DH Renato Nunez can hit dingers and drive in runs
In his first season, manager Brandon Hyde showed promise
Weaknesses
Not one ace in rotation
Problematic bullpen
Rebuilding moving slowly
Strengths
Great hitters
Starter Rodriguez and closer Workman
Solid ownership
Weaknesses
An aging Chris Sale
Major adjustments at manager and in front office
Mookie Betts and David Price gone
Strengths
Starting rotation
Fine bullpen
Power at the plate
Weaknesses
High expectations
DH Giancarlo Stanton must have a good season
Weak fielding team
Strengths
Top-notch rotation
Outfielder Austin Meadows massive offensively and defensively
Manager Kevin Cash does fine work
Weaknesses
Have to compete with Yankees
Will they ever get a new stadium?
Front office guru Chaim Bloom left for Boston
Strengths
Young, talented hitters
Ace Hyun-Jin Ryu joins rotation
In first season, manager Charlie Montoyo was solid
Weaknesses
They are young and will make mistakes
Rotation lacks depth
Still rebuilding
Our AL East Preview 2020 Projections
As we noted earlier, we certainly find that the Yankees are well situated when it comes to winning the division. In fact, we can see them making it all the way to the World Series. The Rays have developed a reputation for making the most of what they have. They should follow this season in that same manner. The rest are also-rans.