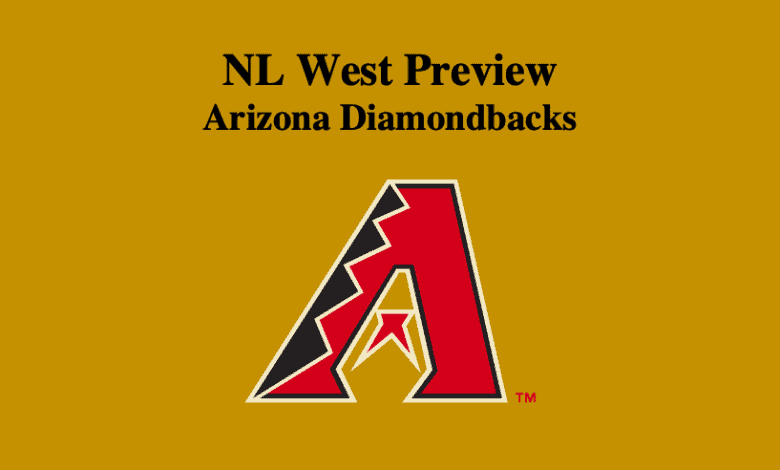 Our NL Arizona Diamondbacks preview 2021 notes that in 2020 this team came in last place. The 'Backs ended the season with a 25-35 record, which, adjusted to a 162-game schedule, is 68-94. Last year, Arizona saw its pitching staff fall apart, and as the season slipped away, they sold off much of their talent. In order to have a run at the postseason this year, the Diamondbacks need everyone to be healthy. It does not look like they will start the 2021 season that way, as five of their key players start the season listed as day-to-day. Hopefully, this trend towards ill-health won't become contagious in 2021.
NL Arizona Diamondbacks Preview 2021 – Pitching
The Arizona pitching staff finished 11th in ERA with a 4.84 mark. Teams hit .252 (10th) against them, while Diamondback pitchers posted a WHIP of 1.43 (11th). They did have 13 quality starts, which tied them for eighth with the New York Mets. They offered up 93 homeruns and 235 walks; both of which were the second-most in the NL. They tied with four other teams for sixth in saves with 13.
Arizona Rotation
Zac Gallen takes the mound first. In 2020, over 12 starts, he went 3-2 with a 2.75 ERA. He uses two curve balls, a curve, and a change. The result is a lot of ground ball outs. Madison Bumgarner is the second man in the rotation. Last season, Bumgarner had health issues. The lefty struggled posting an ERA of 6.48 and a record of 1-4 over nine starts. In his first 17.1 IP, he allowed 18 earned runs and seven homers. After dealing with back strain, he came back in the final month and pitched 10 scoreless innings over his last two starts.
The third man in the rotation is Merrill Kelly. In 2020, Kelly was 3-2 over five starts. His ERA came in at 2.59. Caleb Smith is fourth in the rotation and Luke Weaver starts fifth. Smith, a lefty, started three games. He posted a 2.45 ERA with no wins or losses. Weaver returns after a tough 2020 where he went 1-9 over 12 starts. His ERA was 6.58.
Relief
Yoan Lopez hopes to get back to his former form. Last season, he made 20 appearances. He posted a 5.95 ERA and 1.53 WHIP. He posted two holds and a 0-1 record. Kevin Ginkel also saw his ERA balloon last season, from 1.48 in 2019 to 6.75 in 2020. After five seasons with Houston, Chris Devenski comes to the Diamondbacks. In 2020, he made four appearances, recording a 14.73 ERA. Closer Joakim Soria starts his 14th MLB season with Arizona. Over the last two seasons with the Oakland Athletics, Soria made 93 appearances recording an ERA of 3.76 and WHIP of 1.14. He notched three saves, blew six, and recorded 25 holds.
Arizona Diamondbacks Preview 2021 – Everyday Players
Last season, Arizona's bats were ineffective. The Diamondbacks placed 10th in batting with a .241 average. Other stats include an OBP of .312 (Tied-12th), SLG% of .391 (10th), and OPS of.704 (11th). They totaled 255 RBI (9th), 58 homeruns (14th), 23 stolen bases (9th), 181 walks (13th). They did strike out the second-fewest times of all NL teams (461).
Arizona – Infield
Nick Ahmed is the best defender at in the NL in short. Last season was his best at the plate, as he hit .266 with 29 RBI, five homers, and 10 doubles. Second baseman 2B Josh Rojas, who primarily been a utility fielder able to play a long list of positions, gets his chance to start. He's struggled at the plate and last season made an early exit due to back inflammation.
First baseman Christian Walker had a second solid season at the plate and in the field. In 2020, his best at the plate, he hit .271 with seven homers and 34 RBI. At the other corner Eduardo Escobar, who's in the final year of his $21 million, three-year contract, offers solid defense and a fine bat. However, last season his bat disintegrated as he hit just .212. The season prior, Escobar hit .269 with 35 homeruns and 118 RBI. He also smacked 29 doubles and 10 triples.
Catcher Carson Kelly, who converted from third in 2015, is an average pitch-framer who continues to develop his skills behind the plate. He has 50 RBI, 20 homerun, and .250 BA potential.
Outfield
Our Arizona Diamondbacks preview 2021 notes that centerfielder Ketel Marte, who is day-to-day, has had two solid seasons with the D'backs. He's got speed, plenty of power, and a lot of RBI potential. Note, Marte will also play second base. David Peralta plays left and Kole Calhoun is at right. Peralta, who last season came back from injury, and over 54 games, he hit .300 with 45 RBI and five round trippers. Calhoun, who last season came to Arizona from the Angels. Last season, he was a Gold-Glove finalist. Calhoun has power and RBI chops. However, it's been three seasons since he's cracked the .235 mark in batting average.
NL Arizona Diamondbacks Preview 2021 – Final Word
GM Mike Hazen and CEO Derrick Hall are both open to spending cash and upgrading the team. In 2017, Torey Lovullo replaced manager Chip Hale. In each of his first three seasons, the Diamondbacks posted winning records, making to the playoffs in his first season. He's a solid force who interacts well with his players. Our NL Arizona Diamondbacks preview 2021 notes that this team does have the talent to compete. However, a lot will have to go their way for this Diamondbacks team to get into the playoffs.
Summary – Arizona Diamondbacks Preview
Record: 88-74 (Third-place NL West)