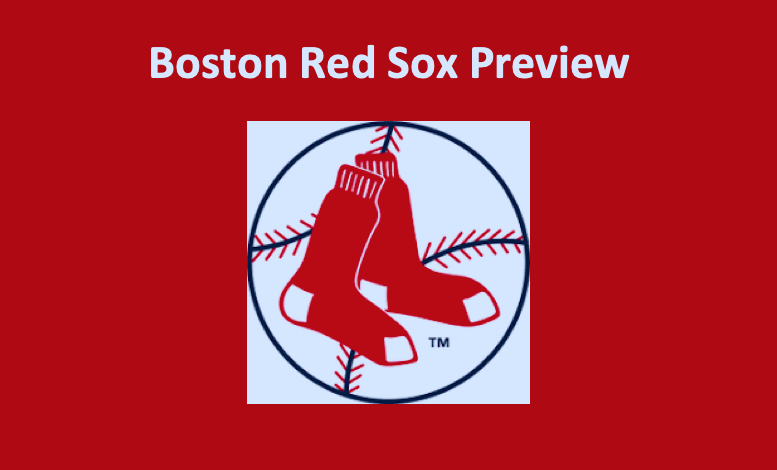 Our 2020 Boston Red Sox preview notes for the first time in four season the Sox missed the playoffs. This 2020 Boston Red Sox preview finds that although this is a very talented team, they are also a club in transition. The BoSox have a new GM, a new manager, are without Rick Porcello and Steve Pearce, and have traded Mookie Betts and David Price to the Dodgers. Last season, the Boston Red Sox won 84 and lost 78 games finishing third in the AL East. Those 84 wins marked a 24-game drop-off from their 108-win 2018-season. That season they won it all beating the LA Dodgers in five games.
Boston Red Sox Preview – Pitchers
The Boston pitching staff struggled last season. Along with dealing with nagging injuries, they simply underperformed. The pitching staff finished seventh in ERA (4.70), ninth in saves (33), and were first in blown saves (31), which is a category you never want to excel in. The staff only posted eight shutouts (eighth). They did allow the fifth-fewest homers (215) and sixth-lowest opponent batting average (.251).
Starters
Ace Chris Sale (6 W – 11 L, 4.40 ERA, 1.09 WHIP) is a major question mark. He struggled with injury issues last season and started just 25 games. His endurance is waning and, seemingly, quickly. Presently, he's on the DD. If Eduardo Rodriguez (16 W – 9 L, 3.81 ERA, 1.33 WHIP) can find his control, he'll post maximum wins. Last season, the lefty broke out, placing sixth in Cy Young voting, partly due to his 48.5% groundball rate. Free agent Martin Perez (10 W -7 L, 5.12 ERA, 1.52 WHIP), a lefty formerly with the Twins, looks to take the third spot in the rotation. Over the last three seasons, he's struggled. If he can keep his slider and sinker low in the strike zone, he'll be successful.
Right-hander Nathan Eovaldi (2 W – 1 L, 5.99 ERA, 1.58 WHIP) is fourth up. He's a hard-thrower who has a tough time accumulating innings. With Price being traded, off-again/on-again starter Hector Velazquez (1 W – 4 L, 5.43 ERA 1.53 WHIP) gets the call. In three major league seasons and 89 appearances with the Red Sox, Velazquez has made 19 starts. Last season, the right-hander struggled.
Relievers
Matt Barnes (5 W – 4 L, 3.78 ERA, 1.38 WHIP), a righty, will pitch the eighth inning more times than not. Last season, he made 70 appearances striking out 110 in 64.1 innings. His upper-90s fastball is tough to make contact with. Ryan Brasier (2 W – 4 L, 4.85 ERA, 1.29 WHIP) achieved good command of his fastball on either side of the plate. Last season, closer Brandon Workman (16 Saves, 10 W – 1 L, 1.88 ERA, 1.03 WHIP) utilizes his curveball more than his fastball and found success. He could be the ninth-inning answer for the Red Sox.
Red Sox – Everyday Players
Our Boston Red Sox preview notes that the team could hit. They were third in the AL in batting average (.269), fourth in RBI (857), and fourth in OPS (.806). The Red Sox finished sixth in homers with 245 and third in extra-base hits with 617 while their slugging percentage of .466 placed them fourth. Their fielding percentage of .986 was third-best in the league while they committed the fifth-fewest errors (82).
Boston – Top of the Order
Right fielder Alex Verdugo (.294 BA, 44 RBI, 12 HR), who came to Boston from the Dodgers in the Betts trade, could lead off for the Red Sox. The lefty is a solid hitter, but he is no Mookie Betts. Presently, he's on the DD. Third baseman Rafael Devers (.311 BA, 115 RBI, 32 HR) bats second. Last season, at the young age of 22, he recorded 90 extra-base hits. In his breakout season last year, he proved to be a smart hitter ably sizing up pitches. At the same time, he's worked hard to be a decent fielder.
Next up, shortstop Xander Bogarts (.309 BA, 117 RBI, 33 HR) has proven to be a patient hitter who seems to smack doubles at will. However, his defensive skills are under average. DH J.D. Martinez (.304 BA, 105 RBI, 36 HR) is the fourth man at the plate. He is one of the most complete hitters in MLB and always a homerun threat.
Red Sox – Middle and Bottom of the Order
Left fielder Andrew Benintendi (.266 BA, 68 RBI, 13 HR) is a solid defender who needs to be more disciplined at the plate. Second baseman Michael Chavis (.254 BA, 58 RBI, 18 HR) hits sixth. Last season as a rookie, he proved to have power. Chavis, a former third baseman, is transitioning to first. Catcher Christian Vazquez (.276 BA, 72 RBI, 23 HR) had a benchmark season at the plate in 2019. Vazquez, who hits seventh, had pop in his bad. He's also skilled behind the plate. Finally, second baseman Jose Peraza (.239 BA, 33 RBI, 6 HR) hits eighth and center fielder Jackie Bradley Jr. (.225 BA, 62 RBI, 21 HR) is ninth in the order. Peraza has been in decline and is probably a placeholder. Bradley is very undisciplined at the plate, but his defensive skills are superior.
Boston – Coaching and Management
The Red Sox dumped their chief executive Dave Dombrowski and hired Tampa Bay Rays executive Chaim Bloom to replace him. Bloom knows talent and small ball inside out. Due to his involvement in a sign-stealing scandal, manager Alex Cora is also gone. Red Sox coach and former Milwaukee Brewers manager Ron Roenicke was recently hired to skipper the BoSox. This will not be an easy first season at the helm.
Boston Red Sox Preview – Our Prediction
This season, the Red Sox are dealing with major transitions both on and off the field. Expect them to have a bumpy and unpredictable road. Our 2020 Boston Red Sox preview projects this team to once again finish third and out of the playoffs. This will be a wait until next year edition of the Boston Red Sox.
Boston Red Sox Summary
Boston Red Sox – 3rd AL East (90 Wins – 72 Losses)