NHL Previews
2018 NHL Atlantic Division Preview
Who Will be the Team to Beat in the Atlantic?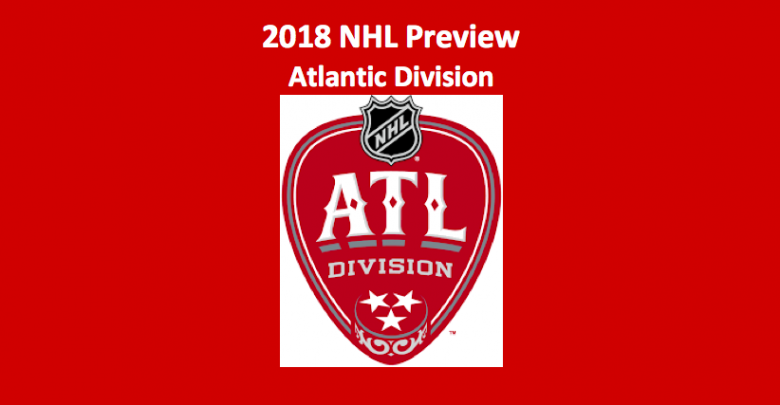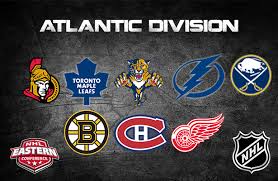 Our 2018 NHL Atlantic Division Preview hub page offers quick information about each team as well as the projected standings at the end of the season. Links to each club's full 2018 preview, providing complete analysis of each Atlantic Division team, are included as well. Use the short, bulleted previews on this page to get a solid idea of each Atlantic Division team's strengths and weakness. Then, for our in-depth previews, use the links to navigate to each club. We've made a lot of solid information to NHL bettors. Use it to get an edge.
2017- 2018 Atlantic Division Season
The 2017-2018 Atlantic Division season saw a polarization in its' standings. While the Tampa Bay Lightning (54-23-5, 113 points) and Boston Bruins (50-20-12, 112 points) finished with the two best records in the Eastern Conference, the Buffalo Sabres (25-45-23, 62 points) and Ottawa Senators (28-43-11, 67 points) finished as the bottom two teams in the entire NHL. Apart from Tampa Bay and Boston, the Toronto Maple Leafs (49-26-7, 105 points) had a solid year finishing in a playoff position for the second straight season. The Florida Panthers (44-30-8, 96 points) were also a competitive team missing the postseason by a single point. The Detroit Red Wings (30-39-13, 73 points) and Montreal Canadiens (29-40-23, 71 points) finished fifth and sixth in the Atlantic Division respectively.
2018 NHL Atlantic Division Preview: Teams
This section of our 2018 NHL Atlantic Division Preview will provide general positives and negatives of each team as they head into the upcoming season. Make sure to look at the most up to date matchup information before placing any NHL bets.
The top line of Brad Marchand, Patrice Bergeron, and David Pastrnak is among the best in the NHL
The Bruins have a very deep group of defensmen
Boston has a good mix of veterans and youth that is still filling out their NHL potential
Tuukka Rask is an elite netminder, and the addition of Jaroslav Halak give Boston a great tandem in net
The club must find a quality scoring wing who can develop chemistry on the second line with David Krejci
Overall, the Bruins look to be a very strong hockey club
Jack Eichel is an elite player that can drive the entire Sabres' offense when healthy
1st overall pick Rasmus Dahlin should jump in and make an immediate impact on the team's blueline
The acquisition of Jeff Skinner from Carolina greatly strengthened the club's top-six forward group
Carter Hutton had a great 2017-2018 season, but has yet to play the role of an NHL starter in his career. He will need to be elite for Buffalo to cut back their 3rd worst goals against from last year.
Casey Mittelstadt may being the rookie of the year running this season
Overall, Buffalo is likely to miss the playoffs, but could surprise in certain matchups
The loss of Henrik Zetterberg to injury this offseason leaves a large hole in the club's top-six forwards
Dylan Larkin and Anthony Mantha are solid players who could fly under the radar for the Wings
Filip Zadina was a steal in the draft and will help address the need for scoring if he makes the NHL roster this season
Detroit's defense is razor thin, and they are likely to be missing their top defenseman Mike Green to start the year
Jimmy Howard and Jonathan Bernier are average NHL goaltenders but give the club a solid tandem
A thin backend and lack of scoring will make it tough for the Red Wings to have a great year
New captain Aleksander Barkov and Vincent Trocheck give the Panthers a very underrated one-two punch at the center position
Assuming Mike Hoffman is welcomed into the locker room, he will be a great addition on the wing
Overall Florida has a very strong top-six forward group
Roberto Luongo was elite when healthy last season, and James Reimer is a quality backup
Aaron Ekblad, Keith Yandle, and Mike Matheson give Florida a quality blueline
After missing the playoffs by a single point, Florida looks improved and should challenge for a position in the postseason
Trading away forwards Max Pacioretty and Alex Galchenyuk leaves the Habs with little scoring depth
Jonathan Drouin looks is extremely talented but has had trouble achieving quality results thus far in his career
Star defenseman Shea Weber will miss majority of the season, crippling a thin D-corps
Carey Price had a down season last year but is arguably still the most talented goaltender in the NHL
The Canadiens' lack of depth at the center ice position is troubling
Offseason moves have made Montreal a weaker club than they were last season. Do not expect a successful season from the Habs.
Trading away franchise defenseman Erik Karlsson yielded very little in return, and will be an irreplaceable player
Mark Stone is a very good forward, but could be traded at some point this year
Thomas Chabot is a talented young defenseman and is likely to see a lot of ice with Karlsson gone
Craig Anderson and Mike Condon had rough 2017-2018 seasons and will have little help in front of them this year
Ottawa lacks depth everywhere in their lineup
Look for the Senators to be in the NHL's basement in the 2018-2019 season
Nikita Kucherov, Steven Stamkos, and Brayden Point should have no trouble driving an offense that led the NHL in scoring last year
Supplemental scoring should not be an issue for the Bolts either
Norris Trophy winner Victor Hedman leads arguably the deepest group of defensemen in the league
Mikhail Sergachev looks to be developing into an elite offensive defenseman
At the age 24 of Andrei Vasilevskiy has already developed into an elite goaltender
Tampa looks like a top team again this season
The signing of John Tavares was the largest free agent move in recent memory and instantly turned the Leafs into a Cup contender
The youthful Auston Matthews, Mitch Marner, and William Nylander are all elite scoring forwards
Leading goal scorer James van Riemsdyk may have left Toronto, but they club should have no problem replacing his offense
Jake Gardiner and Morgan Rielly are very solid defensemen but the club is lacking depth on the backend
Frederik Andersen is one of the most underrated goaltenders in the NHL
The Maple Leafs should be expected to finish among the top of the NHL in scoring and be in a playoff spot at the end of the season
Projected Standings
Final Thoughts: 2018 NHL Atlantic Division Preview
Overall, the Atlantic Division looks to have some of the league's best teams as well as some of the worst. Tampa Bay, Toronto, and Boston all look to be postseason locks, while Montreal and Ottawa are primed for a rough year. Florida is a solid club and should be in playoff contention as well. Make sure to check with Betting Brain for NHL news, free picks, and to receive any information useful to NHL bettors.
Other Links
Eastern Conference Main Page
Western Conference Main Page
NHL Main Page