NHL Previews
Buffalo Sabres 2017-2018 NHL Season Preview
Can Eichel Take the Sabres to the Playoffs Yet?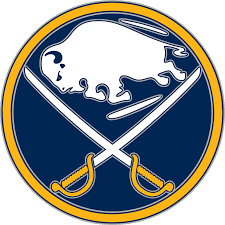 The Buffalo Sabres missed the playoffs once again during the 2016-2017 NHL season. They finished the season last in the Atlantic Division with a 33-37-12 record and 78 points. This offseason Buffalo was one of the busier teams, naming both a new GM and head coach as well as making may on ice moves. The Buffalo Sabres 2017-2018 NHL Season Preview will see if it is enough for them to make their first playoff appearance since 2010-2011.
Forwards
Buffalo is led by North Chelmsford, MA native Jack Eichel. Eichel led the team in scoring last season despite missing 21 games to an ankle injury. Despite the missed time, he scored at a 0.93 point per game rate, for 57 total points. Eichel has been dynamic during his first two years in the NHL thus far and looks to be poised for more success.
Projected to play on either side of Eichel are Evander Kane and Jason Pominville. Kane led Buffalo in goals last year, scoring 28 and adding 14 assists. The talented winger also led the team in shots on goal and penalty minutes. Pominville was acquired in a trade with the Minnesota Wild. Pominville, who was drafted by the Sabres in 2001, put up big numbers in his previous tenure with Buffalo. Although he is in decline and cannot be expected to produce like earlier in his career, he should still be productive while playing on Eichel's right side. Last season Pominville scored 47 points in 78 games played.
Other crucial pieces to the Sabre's group of forwards include Ryan O'Reilly and Kyle Okposo. Ryan O'Reilly might be the most complete player on this roster as of now. The veteran center is one of the most defensively responsible centers in the game and is still capable of putting up decent numbers. Last year he finished second on the team in scoring with 55 points in 72 games. He also finished with one of the better plus-minus rating on a roster that had the third worst goal differential in the Eastern conference at -1. If everyone stays healthy Buffalo should have few issues putting the puck in the net.
Defense
The Sabre's biggest weakness will be their team of defensemen. They are led by Rasmus Ristolainen, who logged the most time on ice for Buffalo last year. The Finn averaged 26:28 minutes per game while posting 45 points. After Ristolainen the depth on the blue line starts to fall off. Zach Bogosian is the team's next best player on the backend. The third overall pick from 2008 finished the year with a -17 plus-minus rating. He is projected to play with Nathan Beaulieu who was traded from Montreal this summer. As a Hab, Beaulieu compiled a +8 rating to go along with 28 points in the 2016-2017 season. Rounding out the blue line for Buffalo will be Marco Scandella, who was acquired with Pominville, Matt Tennyson, and Viktor Antipin.
Goaltending
Buffalo's starter in the crease is Robin Lehner. In the 2016-2017 season, Lehner played very well. The Swede compiled a .920 save percentage and a 2.68 GAA while seeing action in 59 games, the most he has played in a season thus far in his career. The 26-year-old is still on the upswing of his career and can be expected to continue his development.
Chad Johnson was signed as a free agent to serve as Lehner's backup. A career understudy, Johnson played for Buffalo two seasons ago. He started 45 games that season with a .920 save percentage and a 2.36 GAA. Johnson played 36 games last year as a member of the Calgary Flames, posing slightly less impressive numbers, including .910 save percentage and 2.59 GAA. Johnson is still a solid backup and should be able to provide stability when Lehner needs a rest.
Buffalo Sabres 2017-2018 Season Preview: Overall Outlook
The Buffalo Sabres look to have a better season than in previous years. Led by a talented group of forwards including Jack Eichel, Ryan O'Reilly, and Evander Kane they look to be ready to score. In the crease they are solid with Robin Lehner poised to improve upon his already quality play. The team's downfall may be their backend. With little depth in that department, they look much weaker than average in this position. The importance of a strong blue line has become very apparent in recent years, and the Sabres do not stack up here. While much improved over the offseason, it will be though for them to make the playoffs because of this.
Key Takeaways
Buffalo is solid upfront with Jack Eichel and Ryan O'Reilly pacing the offense
The team also has a solid starting netminder in Robin Lehner, who looks to be ready to improve upon his already quality start to his career
The Sabre's blue line might be their biggest downfall. Rasmus Ristolainen is their only stud defensemen, and they have little depth at this position.
Buffalo Sabres 2017-2018 Season Preview Projection: 36-36-10, 82 points, Finish:7th in the Atlantic