NHL Previews
2018 Detroit Red Wings Season Preview
Aging Red Wings Need to Rebuild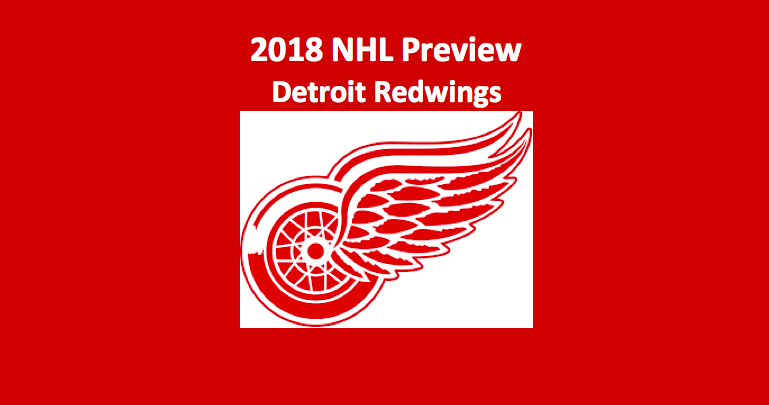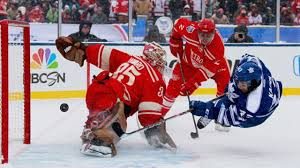 The Detroit Red Wings missed the playoffs for the second straight year after the end of their 25-postseason streak. They finished fifth in the Atlantic Division with a 30-39-13 record and 73 points. Our 2018 Detroit Red Wings Season Preview examines whether the club is ready to make the transition back to being an NHL powerhouse. To do so some elements will really need to fall into place. Here's where this version of the Detroit Red Wings stands going into the 2018 season.
Offense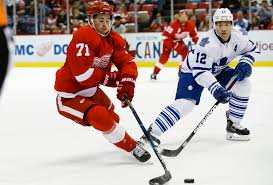 Detroit had the league's fourth worst offensive output in the NHL. Our 2018 Detroit Red Wings season preview finds it does not project to be much better this season. One problem is it looks like long time Red Wing, Henrik Zetterberg's career is over. Zetterberg has been a key part of the Wings' roster since being drafted in the 7th round of the 1999 NHL entry draft. He was still productive last season at the age of 37, finishing second on the roster in scoring with 56 points. Unfortunately, due to major back issues, Zetterberg looks unable to play this season.
Detroit's biggest threat will be Dylan Larkin who is coming off of signing a 5 year, 30.5-million-dollar contract. Larkin had 16 goals and 47 assists last season, and looks to be Detroit's cornerstone for the near future. Along with Larkin, Anthony Mantha had a solid 2017-2018 season and is likely to be a major factor in the club's offense. Mantha led the Wings' roster in goals with 24 and added a matching 24 assists to his point total last year.
Winger Added
The Red Wings picked up the steal of the draft this offseason, when they selected Winger Filip Zadina sixth overall. The Czech was ranked third among North American Skaters and was projected to be picked in the third to fourth overall range. He slid a little. If the Red Wings brass think he is NHL ready, he could be a step in the right direction towards answering Detroit's scoring woes. Zadina put up 44 goals and 38 assists in 57 QMJHL games last season. Our 2018 Detroit Red Wings season preview notes that he is a natural goal scorer. Zadina would almost certainly provide an immediate boost to the club's goal scoring.
Gustav Nyquist, Andreas Athanasiou, and the newly signed Thomas Vanek could all factor in to the team's scoring this season as well. Nyquist (21-19-40) finished fourth on the team in points last season as well as second in goals. Athanasiou had 33 points but has shown steady improvements in his game through his first two full-time NHL seasons, and has the speed and skill to contribute more this year. Vanek had 24 goals and 32 assists as a member of Vancouver and Columbus last season and should provide a boost to the team's offense.
Defense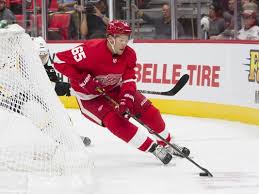 The Red Wings have an aging group of defensemen that doesn't look to be the strongest. They are Led by Mike Green, the team's lone All-Star, who had a solid season. He had 33 points in 66 games played while leading the team in time on ice at 22:05 minutes per game. He will be a crucial player for the club, as he has the ability to generate scoring from the backend.
Trevor Daley and Danny DeKeyser are also expected to play significant minutes. Both averaged over 20 minutes per game last season (20:42 and 20:19 respectively). DeKeyser was the only defenseman on the roster to play the entire season and finish with a positive plus-minus rating (+2). Daley is likely to play decent minutes again this season as he hits the age of 35.
The Wings' defense is rounded out by Niklas Kronwall (4-23-27), Jonathan Ericsson (3-10-13), and Nick Jensen (0-15-15). Overall our 2018 Detroit Red Wings season preview finds this group of defensemen are getting too old to compete. Especially with the increase speed and and injection of youth in the NHL.
Goaltending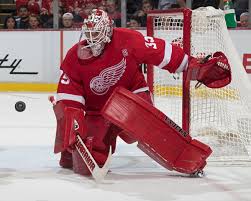 While the Red Wings certainly do not have elite level goaltending, they have a decent tandem that should hold them in games. Jimmy Howard played in 60 contests for Detroit last season and was definitely serviceable. He finished with a 2.85 GAA and a .910 save percentage. These numbers were slightly worse than the league average at 2.78 and .912 respectively.
Detroit brought in Jonathan Bernier to complete their tandem in net. Bernier had playing time in 37 games as a member of the Colorado Avalanche last season, and handled the workload fairly well. He had 2.85 GAA average and a .913 save percentage on the season. He should be able to provide Howard some more rest than he got last season, and ultimately creates a solid presence in the Red Wings' Crease.
2018 Detroit Red Wings Season Preview: Outlook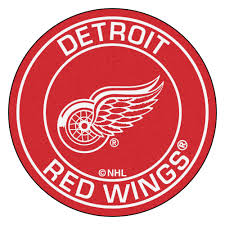 Overall our 2018 Detroit Red Wings season preview projects the Red Wings to be a non-playoff team this season. Missing Zetterberg is a big blow to a team that had trouble scoring last season and they have a pretty weak and aging group on the blueline. Their young talent has the potential to produce offensively but it is still unlikely they put up high goal totals. They have alright goaltending, but with the roster playing in front of Howard and Bernier, it looks unlikely that Detroit will be successful this season. The strength of the Atlantic's divisions top teams also doesn't bode well for a Red Wings postseason appearance, but they do look better than both Ottawa and Montreal.
2018 Detroit Red Wings Season Preview: Prediction
Record: 31-38-13=75 points
Finish: 5th in the Atlantic Division
Links