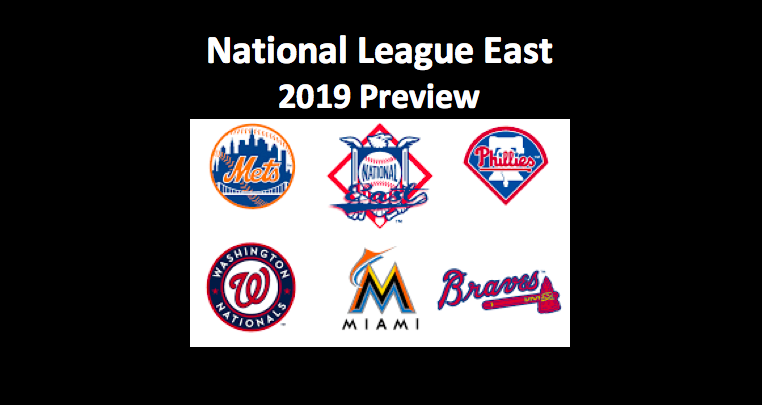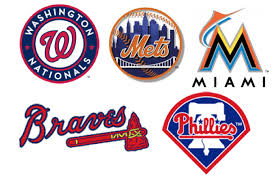 The Atlanta Braves surprised everyone last season, as they fasted-tracked their rebuilding efforts and took first in the division. In researching and compiling our 2019 NL East Preview, we expect them to be able to repeat that effort and result. Of course, the Washington Nationals will be highly competitive. Although they no longer have Bryce Harper. The Phillies do. In fact, Philadelphia has managed to upgrade their offense and defense in some major ways. The team from the City of Brotherly Love will finish second and the Nationals third. After that, it's the New York Mets in fourth and the Miami Marlins fifth.
Be sure to read our capsules on each team, which are below, and then check out our detailed articles on all five NL East clubs. You'll find team and individual stats, overviews of each club's rotation and batting order, and information on management and the front office. Also, we look at each team's history over a minimum of the past five years and up to 30 years. Along with our 2019 NL East Preview, we provide 2019 previews of all MLB teams and divisions in the National League and American League.
This team includes Ronald Acuna Jr., an amazing talent at the plate and in the field. With the Nationals dealing with losses, the Phils getting some major upgrades, the Mets in the midst of a bizarre regime change, and the Marlins in the bottom of the barrel, we don't see why this team can't repeat. They have a solid rotation, good bullpen, and productive offense. Do not underestimate the Atlanta Braves.
This small-market, low-budget team has a lot of young but raw talent, a fine manager in Don Mattingly, and a very savvy Derek Jeter in an executive role. The Marlins have jettisoned most of their premium players over the past few years, enriching other teams, and will take the field with players who will be tested over the course of 162 games. Think of the Marlins as rebuilding from the foundation up. They may be the worst team in the league.
With former baseball agent Brodie Van Wagenen taking over as GM, second-year manager Mickey Callaway at the helm, and CEO Jeff Wilpon sticking his nose into everyone's business, this season has all of the hallmarks of a disaster in the making for the Mets. An aging Robinson Cano joins the team from Seattle after being suspended for 80 games last season for PED violations. After developing our NL East preview on the Mets, we're not feeling positive about this team in 2019. Don't ask us why. Just a hunch.
Manager Gabe Kapler may have been considered controversial in his first season at the helm in Philly. But he did get the team to 80 wins. They had not seen that number in six years. The Phils, who had solid pitching in 2018, feature young ace Aaron Nola at the top of the rotation. The addition of Jean Segura, Andrew McCutchen, and Bryce Harper should be a major upgrade for an offense that last season was inconsistent. Plus, don't forget first baseman Rys Hoskins. He's a leader and a major force at the plate, in the field, and in the clubhouse. Every MLB club should be wary of this team.
In our NL East preview, the Nationals have a top-notch pitching staff, but they've lost some important players over the past few years. This season, right fielder and power hitter Bryce Harper is gone, as is one of their most durable starters, Tanner Roark. The pitching staff does include premium starters Scherzer, Strasburg, and Corbin and top-notch closer Doolittle. Everyday players like Soto and Rendon have pop in their bats. First, second or third place for this team? We choose third.
2019 NL East Preview
Projected Order of Finish
Atlanta Braves
Philadelphia Phillies (Wild Card)
Washington Nationals
New York Mets
Miami Marlins
LINKS